Galvani Bridge
2021. március 10. 16:00
The tramline for the future Galvani Bridge is being planned. The new, two-track, four-kilometre tramway will run from Fehérvári Road in Buda across the new Danube bridge and North Csepel, and over the new Ráckeve-Danube bridge to Gubacsi Road in Pest.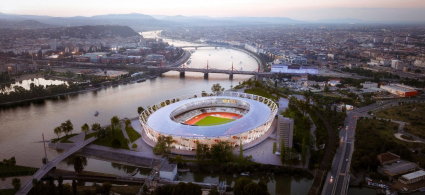 2020. december 10. 09:00
The construction of the Budapest Athletics Stadium has begun started in the 9th District. The explosive demolition of Vituki tower block is set to begin the project. The rehabilitation of the former industrial zone and the nearby riverbank will create new open sports and recreation park for the public in the area bordered by Rákóczi Bridge, the Csepel suburban railway line, the northern part of Csepel Island and the Danube.