Ignác Roskovics
2021. július 27. 14:30
As a result of the years of work of many experts, from 20 August we can admire the St. Stephen's Hall in the Buda Palace in its old light. The years of work are now coming to an end, almost all the former decorative elements have been put in place. Once again, the bust of St. Stephen stands on the world-famous Zsolnay fireplace, the pyrogranite images depicting the kings and saints of the Árpád dynasty have also been placed, and the huge chandeliers and special wall sconces have also been installed. After the opening on 20 August, it will be free to access the St. Stephen's Hall for a few days.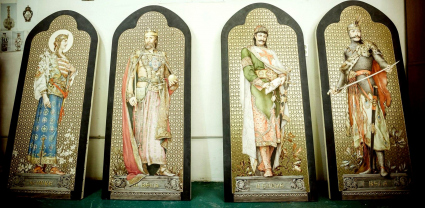 2021. június 14. 09:00
Ignác Roskovics was one of the popular painters of the last decades of the 19th century and the turn of the century. Among the ecclesiastical and historical works that define his oeuvre, the twelve paintings made for the St. Stephen's Hall in Buda Castle stand out, based on which ceramic paintings were made in the Zsolnay factory. The works, ten of which depict the most important kings and saints of the House of Árpád, and two depict scenes from the life of St. Stephen, will be on display again from 20 August in the recreated St. Stephen's Hall.