Párisi Department Store
2022. január 2. 15:00
The Magyar Divatcsarnok [Hungarian Fashion Hall] moved from Rákóczi Road to Andrássy Avenue in 1957, to the former building of the Párisi Nagy Áruház [Párisi Department Store], which was nationalized after the war and used as a book storage. In the 1956 revolution, the store of the Fashion Hall at 72 Rákóczi Road was so damaged that a new location had to be found. The building on Andrássy Avenue was available, only 10 wagons of unsold books had to be disposed of.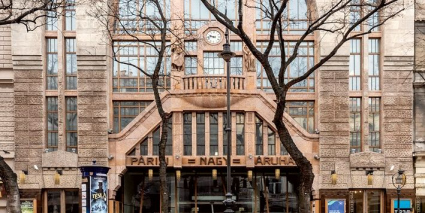 2021. március 3. 11:00
The Paris Department Store at 39 Andrássy Avenue opened to the public 110 years ago, on 3 March 1911, after its previous building at 38 Rákóczi Road burned down, and the store moved to its new location. However, the new building of the Paris Department Store was larger and more luxurious than its predecessor. It was opened to shoppers until the end of World War II.