János Pilinszky
2021. november 27. 09:00
Budapest gave Pilinszky the experience of the city: when he was young, he absorbed the colours and atmosphere, and although he got to know many big cities in the world (he visited Rome, Paris, London, Vienna or New York), the real remained Budapest for him. The poet, born 100 years ago, spent his infancy in the city centre, in the immediate vicinity of the Károlyi Garden, he lived with his family for long in Molnár Street, he got his first home on Izabella Street at the age of forty. Cafés, editorial offices, bars and cinemas were also important venues for his life and poetry.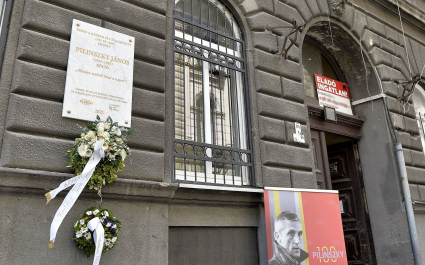 2021. május 27. 19:30
The Imre Kertész Institute has commemorated János Pilinszky, who died forty years ago and was born a hundred years ago. As the opening of the half-year event series, a memorial plaque was unveiled today at the poet's former home on Izabella Street. Pilinszky's life will be presented at an outdoor exhibition on Benczúr Street.