Károli Gáspár University of the Reformed Church
2023. február 27. 15:00
Thirty years ago, the Synod of the Reformed Church, at its meeting on 24 February 1993, decided to found the Károli Gáspár University of the Reformed Church on the foundations of the Pest Reformed Theological Academy. The choice of name caused some controversy, but his work, the first complete Hungarian Bible translation, was in favour of Gáspár Károli, as it serves as the basis of universal Hungarian culture. University education started at 28 Ráday Street, the former seat of the theological academy, but due to the growing number of students, new locations had to be found. Nowadays, the students of the reformed university can study in such patinated buildings as the Károlyi-Csekonics Palace on Reviczky Street or the former Municipal School for Girls on Aréna Street.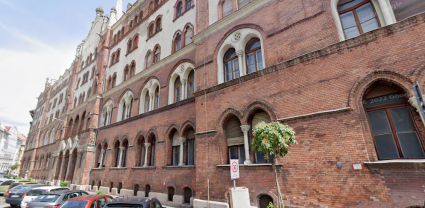 2022. november 16. 17:00
According to previous plans, the Károli Gáspár University of the Reformed Church would move into the former Central Pawnbroker Offices monument building on the corner of Kinizsi and Lónyay Streets in the 9th District. However, the public procurement procedure announced in the spring was declared ineffective due to a lack of funds.