Literature
2022. január 27. 20:00
In the 2nd district, additional signs were placed under the street signs bearing the names of famous creators. The boards provide quotes either said or written by the creator or about the creator. The street sign named after Sándor Petőfi, Attila József or Kálmán Mikszáth, who was born 175 years ago, became richer with valuable additions.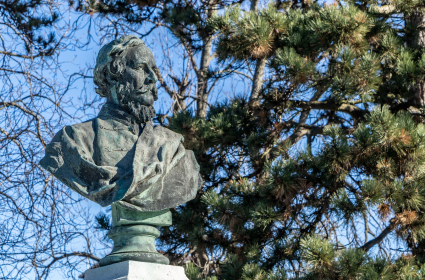 2021. február 2. 14:00
His statue stands on the Kossuth Monument next to the Parliament among the greatest figures of the Reform Period. His bronze statue rises proudly above a square that bears his name in the Budapest city centre. A respected secondary school was named in his honour, and the house named after his novel The Carthusian still stands on Svábhegy. He was also the politician to introduce compulsory education. The writer, politician and statesman, József Eötvös died 150 years ago. A leading figure of the Reform Period and subsequent decades, his policies are as much part of his oeuvre as his novels. Visit the sites that memorialise the nobleman in Budapest.