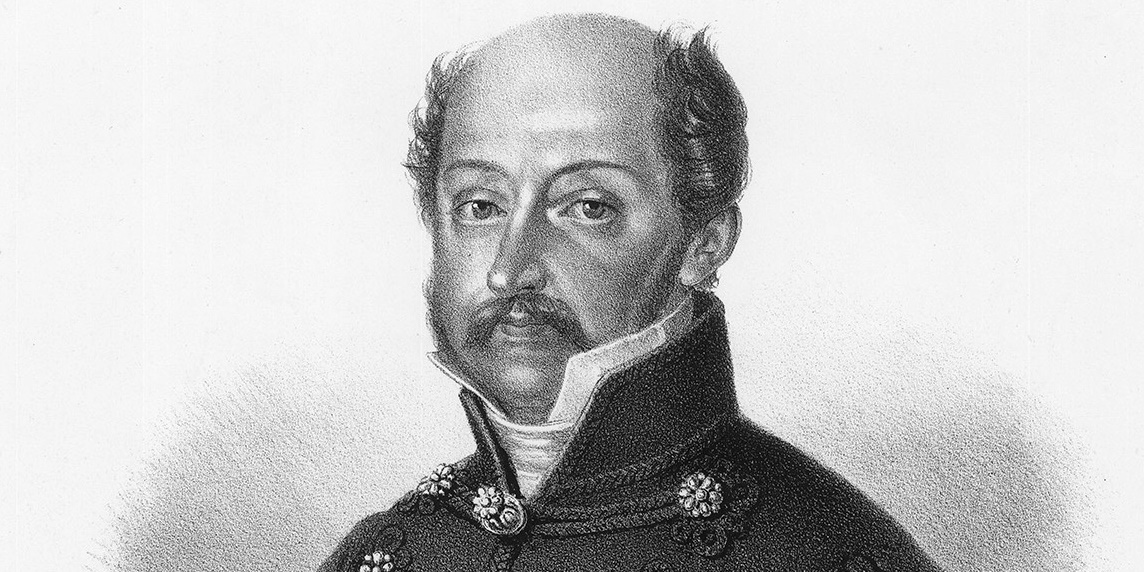 The Pest audience adored his love poems - Sándor Kisfaludy was born 250 years ago
Hungarian version of the article: Szerelmes verseiért rajongott a pesti közönség – 250 éve született Kisfaludy Sándor
September 27, 2022 at 11:00 AM
Sándor Kisfaludy's first volume, Himfy szerelmei - A kesergő szerelem [Himfy's Loves - The Bitter Love], published in Buda in 1801, was a worthy opening of 19th-century Hungarian literature. Kisfaludy, who described his passionate love life in lyrical form, became an influential scientist and writer at a young age and was elected a member of the Hungarian Society of Scientists and the Kisfaludy Society. With his support, his brother Károly Kisfaludy published his famous yearbook, Aurora, which promoted Hungarian literature. Sándor Kisfaludy was born 250 years ago today.
Sándor Kisfaludy was born on 27 September 1772 in Sümeg. His father Mihály Kisfaludy was a Zala County landowner. Later, the family moved to Tét, after the father became chief constable of Győr county. In 1788, Károly Kisfaludy, the younger brother, also a famous poet, was born here. Their mother, Anna Sándorffy, died when he was born.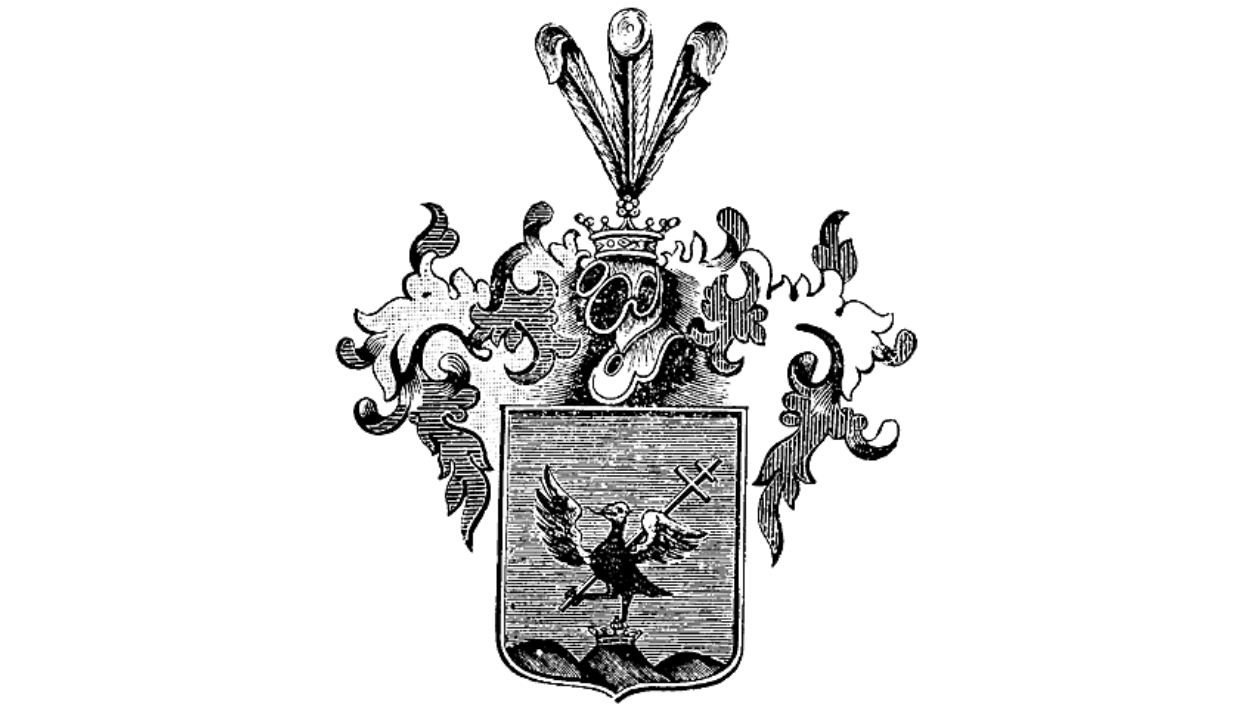 Coat of arms of the Kisfaludy Family. It was one of the oldest families in Transdanubia (Source: hungaricana.hu)
Sándor graduated from Győr Catholic High School (today's Gergely Czuczor Benedictine High School), then he studied philosophy for two years and law for one year at the Royal Academy of Law in Pozsony (now Bratislava). These years basically determined his education, his interest, and his passion for theatre. It was here that he became interested in poems, German literature and acting. He regularly visited the theatres in Pozsony, and as a result, he started translating plays into Hungarian. In the meantime, he became acquainted with the works of influential Hungarian artists such as Péter Pázmány and Miklós Zrínyi.
His literary interests increasingly distracted him from legal studies. Following his readings, he began to write himself. He performed poorly at the academy, so his father called him home and obliged him to deepen his studies.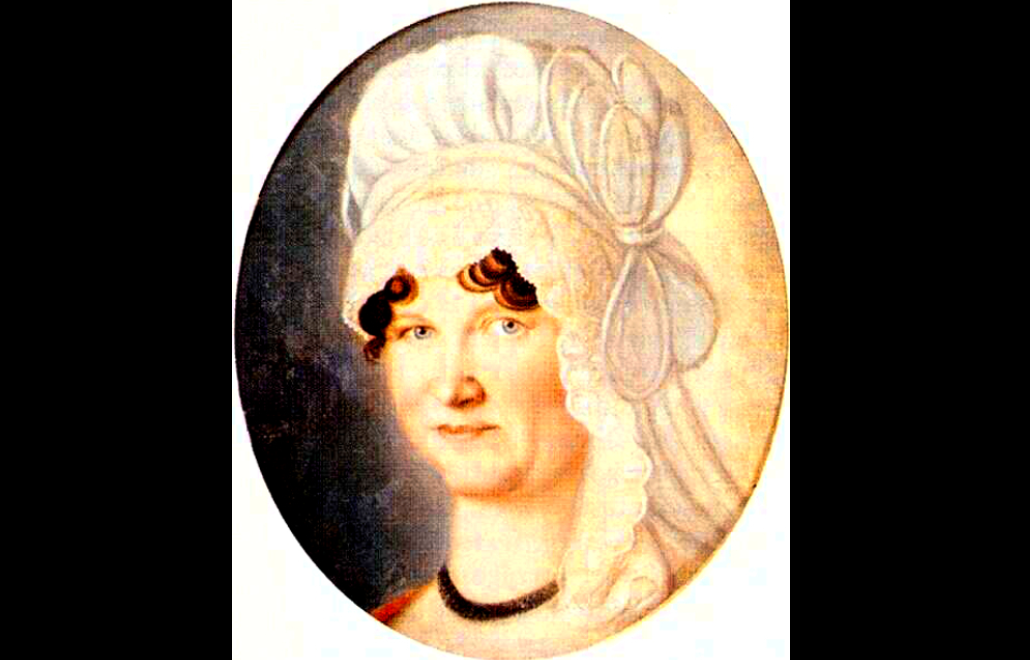 Portrait of his wife, Róza Szegedy (Source: oszk.hu)
In 1792, he enlisted as a soldier to be exempted from the compulsory studies imposed on him. He first got to Transylvania, where he became a cadet in the hussar regiment. In 1793, King Francis I appointed him to the Hungarian Royal Bodyguard in Vienna with the rank of lieutenant at the suggestion of Zala County. According to the name list of the Hungarian Royal Bodyguard, he was a member of it between 1793 and 1795.
Viennese metropolitan life, culture and entertainment captivated Kisfaludy. He was in the company of prominent German writers, actors, and musicians. He lived a passionate love life, the defining woman of the years in Vienna was Mária Medina, a ballet artist of Spanish origin. During a vacation in Badacsony, he met Róza Szegedy, the daughter of a rich noble family, whom he asked to marry, but she refused.
In 1796, he was transferred to Milan, then he was taken prisoner of war in the town of Draguignan. It was here that he met Miss Julie-Caroline D'Esclapon. Under the influence of the educated woman, he began to read the masterpieces of French literature, but Caroline also gave him Petrarch's works. The first pieces of Himfy Poems, the most beautiful songs of bitter love, which he wrote for Caroline, are related to this period.
In 1796, according to other sources, 1797, he was released from captivity. He soon resigned his rank and again asked Róza Szegedy for her hand in marriage, who this time said yes. They were married in 1800. He first settled in Kám and then in Sümeg with his wife.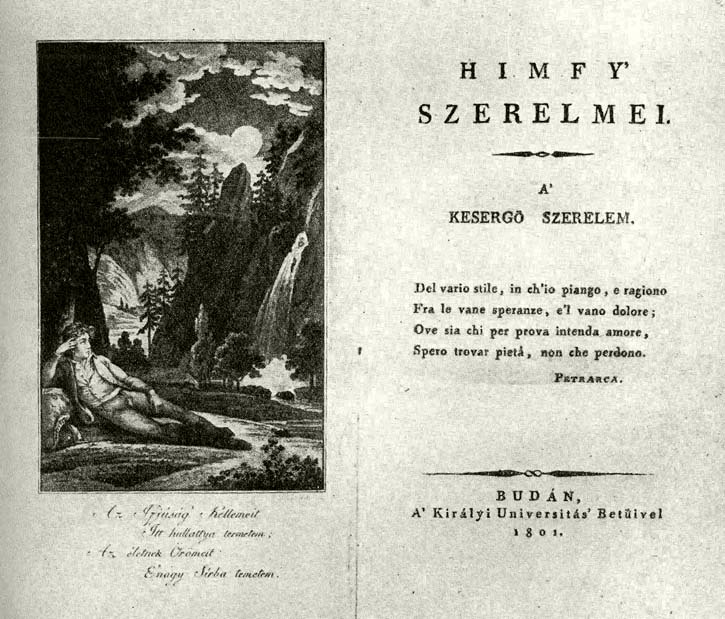 The first edition of Himfy was published in Buda in 1801 (Source: oszk.hu)
According to Géza Hegedűs, 19th-century Hungarian literature began with the publication of A kesergő szerelem [The Bitter Love] in 1801, written by the author under the pseudonym Himfy. There had not been such a successful book in the country for a long time. "Even those who did not usually read poems, or if they did, they choose non-Hungarian ones, read them with delight. Adherents and supporters of literature were delighted to note that the continuous literary preparation since Bessenyei had not been in vain, and behold, the Hungarian masterpiece was born."
In 1807, the second part of the work, A boldog szerelem [The Happy Love], was published. The poet emerged from obscurity and the country celebrated him. The Pest audience enthusiastically received both volumes of poems, according to literary experts, there has not been a Hungarian lyricist with a similar impact since Balassi.
In 1809, commissioned by Palatine Joseph, he wrote the voluminous semi-official pamphlet entitled Hazafiúi Szózat a' Magyar Nemességhez [Patriotic Speech to the Hungarian Nobility]. In the meantime, he had a dispute with Ferenc Kazinczy, who criticised him. Kisfaludy was not an enemy of language innovation, he only refrained from the exaggerations of the innovators.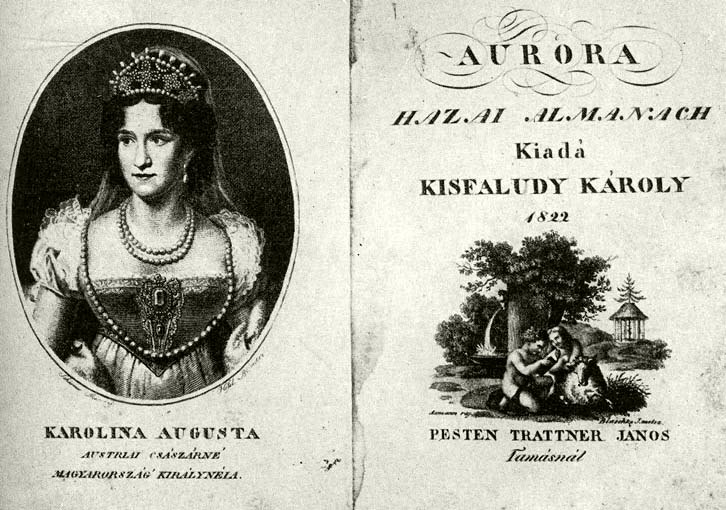 Aurora's first issue. The publication was supported by Sándor Kisfaludy (Source: oszk.hu)
In 1820, he won the Marczibányi Prize and 400 HUF. (In his will, István Marczibányi asked the National Museum to give 400 HUF every year to the author of the most famous work published in the previous year). He lent the competition prize to his younger brother, Károly Kisfaludy, who started the Aurora yearbook for the promotion of Hungarian literature partially from this money. Aurora played an important role in transforming Pest into a literary centre and in revitalising literary life. Aurora's voice was now determined by the new generation of writers, such as the works of Kazinczy, Bajza or Vörösmarty, instead of writers deemed "difficult".
In 1830, the predecessor of the Hungarian Academy of Sciences, the Hungarian Society of Scientists, was founded. It started its operation with six departments and chose Kisfaludy as a rural regular member of its linguistics department. Linguistics department members were Károly Kisfaludy, Mihály Vörösmarty, and Ferenc Toldy, rural members were Sándor Kisfaludy, Ferenc Kölcsey, Endre Pázmándi Horvát, Izidor Guzmics.
Count István Széchenyi offered one year's income from his estates at the 1825 Diet of Pozsony to found the Academy. The relief on the facade of the Academy was created by Barnabás Holló in 1893 (Photo: Zsolt Dubniczky/pestbuda.hu)
Although the Society of Scientists was founded in Pozsony, in 1831 it rented premises in Pest, on the first floor of the Deron House. The two-story house on Kirakodó Square (today's Széchenyi Square where the Gresham Palace stands now) was built in 1828-1829 by the wholesaler Antal Deron according to the plans of József Hild. It was bought in 1833 by János Nákó, a merchant of Macedonian origin. On the one hand, the meetings of the Society of Scientists took place here, and on the other hand, office work was done here.
The Nákó House, where the Society of Scientists began its operations. Gresham Palace is in its place today. Graphics by Carl Vasquez from 1837 (Source: FSZEK Budapest Collection)
In 1833, the company moved to a house built on the plot between what was then Urak Street (now 3 Petőfi Sándor Street) and Gránátos Street (now 6 Városház Street), which belonged to the writer, lawyer and printing press owner István Trattner-Károlyi. The building was designed by József Hild and was extended with a third floor in the 1840s. (The final building of the Academy was completed only after Kisfaludy's death, in 1865.)
Meanwhile, Kisfaludy's beloved wife Róza died in 1832. The following year, in 1833, the academic grand prize was shared between Sándor Kisfaludy and Mihály Vörösmarty. This case had caused huge debates among literary people. On the one hand, István Horvát and József Dessewffy criticised the juxtaposition of Vörösmarty, who was a quarter of a century younger, and the author of the Himfy Poems.
On the other hand, Ferenc Toldy calls Himfy Songs repetitive, narrow, and old-fashioned, and takes a stand with Mihály Vörösmarty. As he writes: "Sándor Kisfaludy sang the love of one heart and thus one kind of love, while Vörösmarty sang not only the love of the most diverse situations but also the love of the most diverse individualities."
István Trattner-Károlyi's house still stands today. From 1833 until the construction of the Academy, the Society of Scientists operated in the rooms facing Városház Street (Photo: Zsolt Dubniczky/pestbuda.hu)
This debate and the sharing of the prize were both the root cause of Sándor Kisfaludy resigning his academic membership in 1835. He was then elected an honorary member, which he accepted.
In the meantime, in 1834, he married again. He married his relative, Amália Vajda, who was forty years younger. After seven years of marriage, he also buried his second wife. His last years were overshadowed not only by his illnesses but also by changes in politics and literature. He critically observed the activities of the new generation, the progressive writers of the reform era, the Vörösmarty–Bajza–Toldy triad.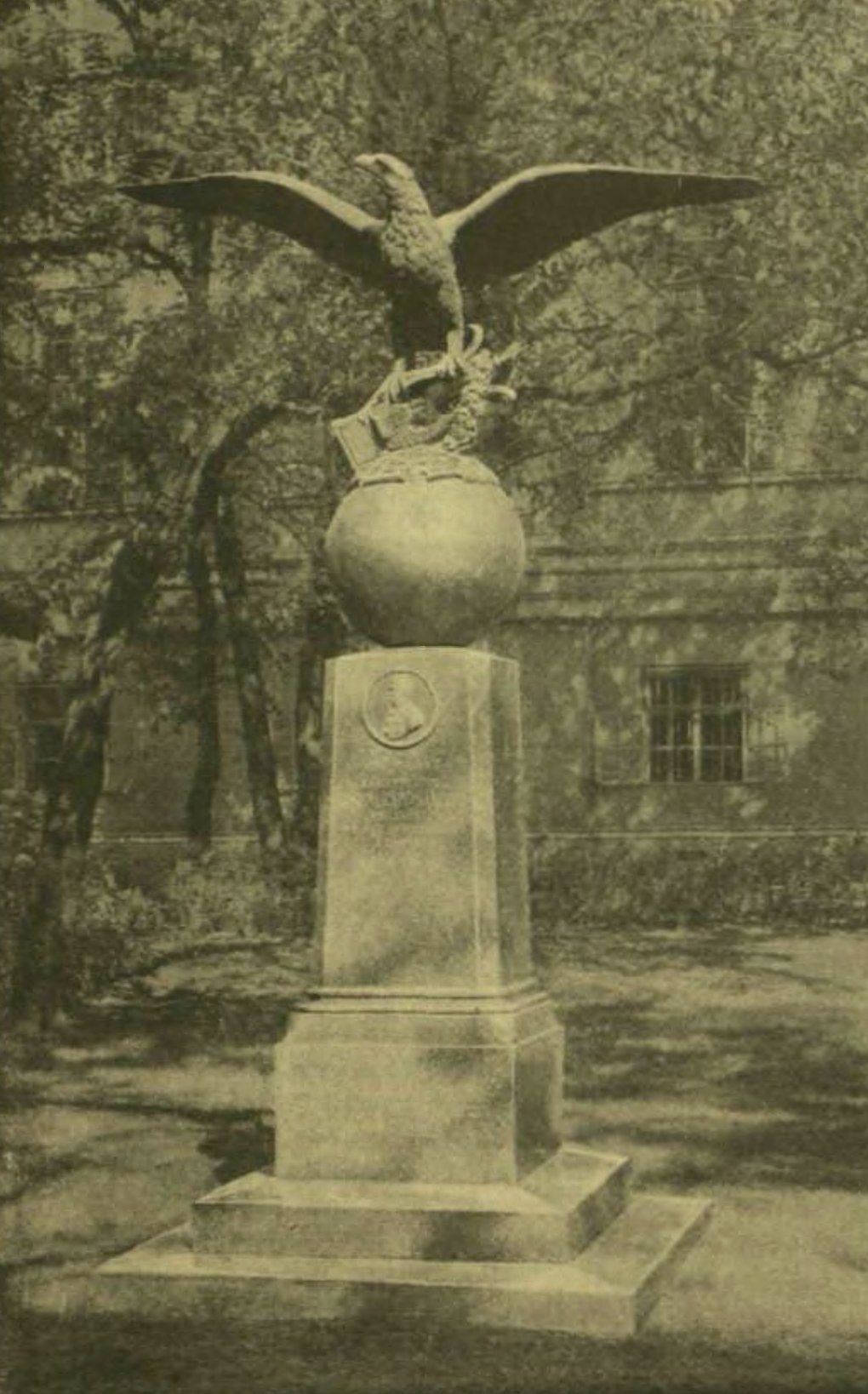 The Himfy Monument in 1903 in the garden pof the National Museum (Source: oszk.hu)
He died in retirement on 28 October 1844 in Sümeg.
A statue was made in 1848 in honour of the poet of The Bitter Love and The Happy love. The 150 cm high bronze eagle standing on a globe was first placed temporarily in a corridor in the National Museum on a wooden pedestal, on which was written: "Himfy-Lyre in memory of Sándor Kisfaludy, made by the daughters of Hungary and Transylvania. 1848." In 1903, a stone plinth was made for it and it was moved to the Museum Garden, where it can still be seen today.
Cover photo: Portrait of Sándor Kisfaludy (Source: oszk.hu)