Zsigmond Móricz was born "on this lovely island of happiness and peace", in Tiszacsécs, Szatmár County, on 2 July 1879 (according to some sources, on 29 June). One of the greatest figures of 20th-century Hungarian realist prose literature came from a Reformed family, his father Bálint Móricz was an up-and-coming peasant, and his mother Erzsébet Pallagi was a descendant of a clerical family. The enterprising father's businesses usually failed, so the family lived in constant poverty. Despite this, parents tried to teach their children at the highest possible level. Zsigmond was first a student at the Reformed College in Debrecen, then continued his secondary studies in Sárospatak, and finally took his matriculation exam in Kisújszállás.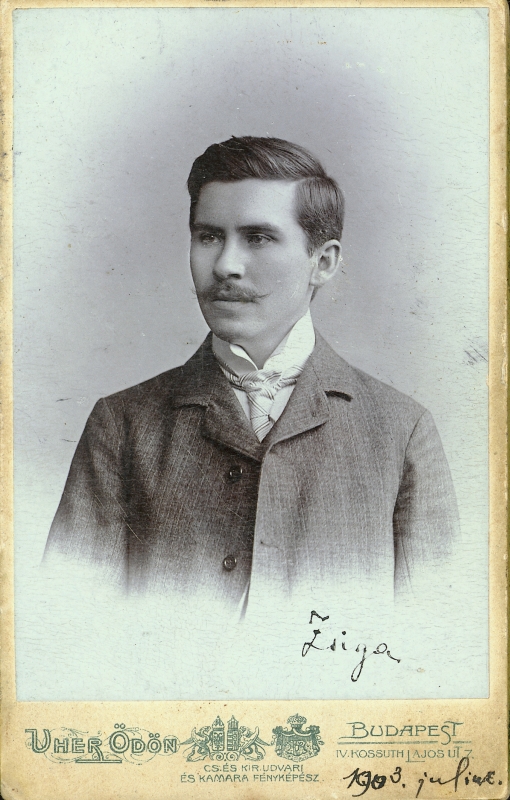 The young Zsigmond Móricz (Source: pim.hu)
In Debrecen, he first studied theology and then law at the university, and also participated in the editing of the Debrecen Newspaper. His first short story was published in the Debreceni Ellenőr under the title A bécsi bútor [The Viennese Furniture]. In the autumn of 1900, he moved to the capital and studied law and humanities at the University of Budapest. He also took part in the lectures of László Négyesy's famous style exercises, just like his colleagues, Dezső Kosztolányi, Mihály Babits, Gyula Juhász or Árpád Tóth, whom he met here.
In the end, he did not graduate. Through his relatives, he got a job as an accounting trainee at the Ministry of Religion and Public Education and then worked for a short time at the Central Statistics Office. From 1903, he worked in István Tisza's newspaper, Az Ujság, as a news reporter and editor of the children's section.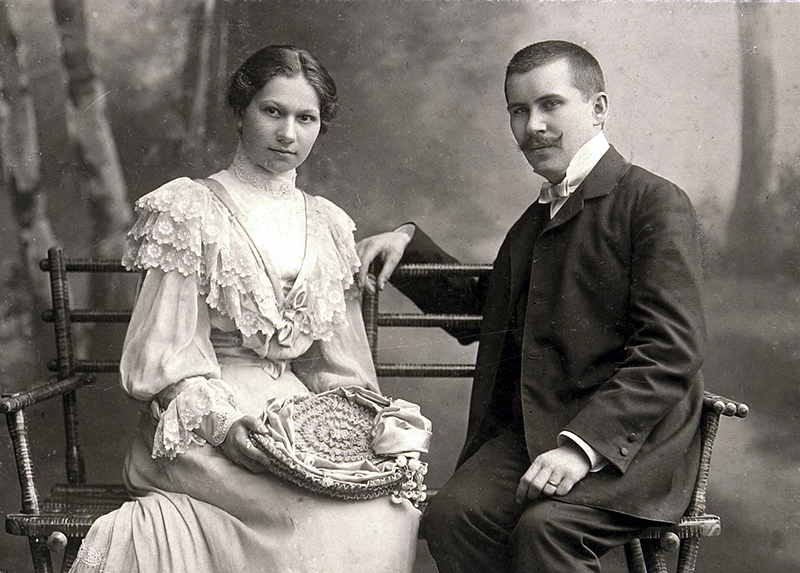 With his first wife, Janka Holics, in 1905 (Source: pim.hu)
He met his future wife, Eugénia (Janka) Holics, in Kispest. The girl received a teacher's certificate in Pozsony [Bratislava] in June 1901, and with the help of a friend, Boriska Fükő, she got a job at the civil girls' school in Kispest (the predecessor of today's Endre Ady Reformed Primary School). Móricz and Janka met at this school during a tea ceremony in 1902. Móricz then lived with a friend from Kispest, the local postmaster Miklós Majthényi.
Their relationship had a great impact not only on the life of Zsigmond Móricz but also on his entire oeuvre. Their wedding was held on 5 January 1905, on Janka's birthday. Their shared home was on the third floor of the apartment building at 91A Üllői Road. They lived here between 1905 and 1911.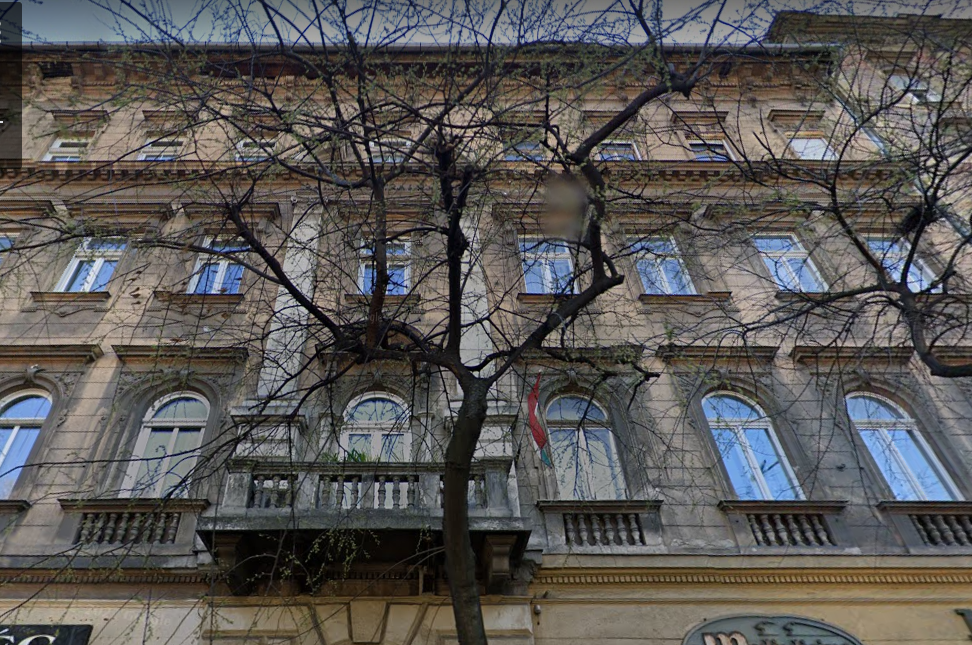 From 1905, the home of Zsigmond Móricz was at 91A Üllői Road (Source: googlemaps.com)
The year 1908 important in Móricz's life and career. It was then that his story entitled Hét krajcár [Seven Pennies] was published in the Nyugat, which he wrote after the death of his second child, Bandika. (The child died at the age of thirteen months, his first son, who was also given this name, lived for eight months. After that, they had three daughters.) This short story brought Móricz the recognition of the contemporary literary circle. "It was very late, after I was twenty-eight years old when I realised that you can actually only describe what hurts. Which wounds a person," he wrote in one place about the success. A year later, his book of short stories with the same name was published, about which Endre Ady wrote praise.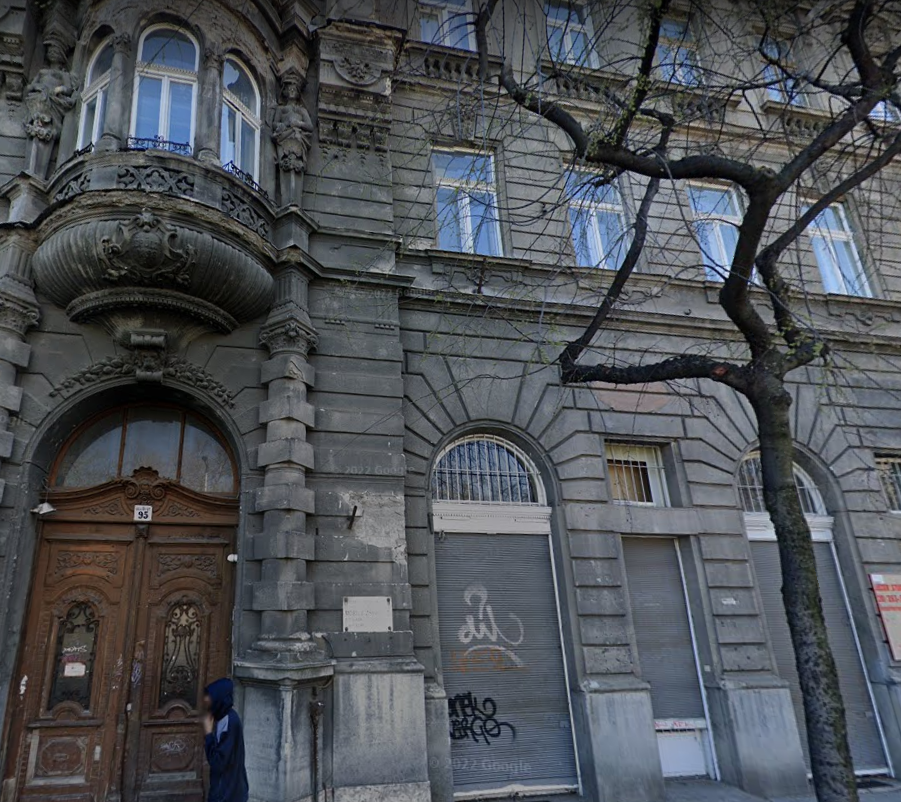 Móricz lived in this house at 95 Üllői Road until 1926 (Source: googlemaps.com)
As a result of the recognition, they were able to live in better financial conditions, so they moved to a larger, now three-room apartment at 95 Üllői Road. They lived here until 1926. (According to some sources, Móricz lived at 95 Üllői Road between 1906 and 1926, but they just moved from a small to a larger apartment. This date is also on the plaque of the house. At the same time, he himself writes in the foreword to the volume Pipacsok a tengeren [Poppies on the Sea] that at the beginning of his career they lived at 91A Üllői Road, and literary historical research also confirms this.)
Recognition and success had a liberating and enriching effect on him, and his books were published one after the other (Tragédia, Sárarany, Az Isten háta mögött, A galamb papné, Tavaszi szél, Magyarok, Kerek Ferkó). No one among his contemporaries knew the poor peasant, those who are getting richer, the rural intelligentsia or the gentry better than him. It was here, on Üllői Road, that he wrote his autobiographical novel Légy jó mindhalálig evoking his college years in Debrecen in 1920.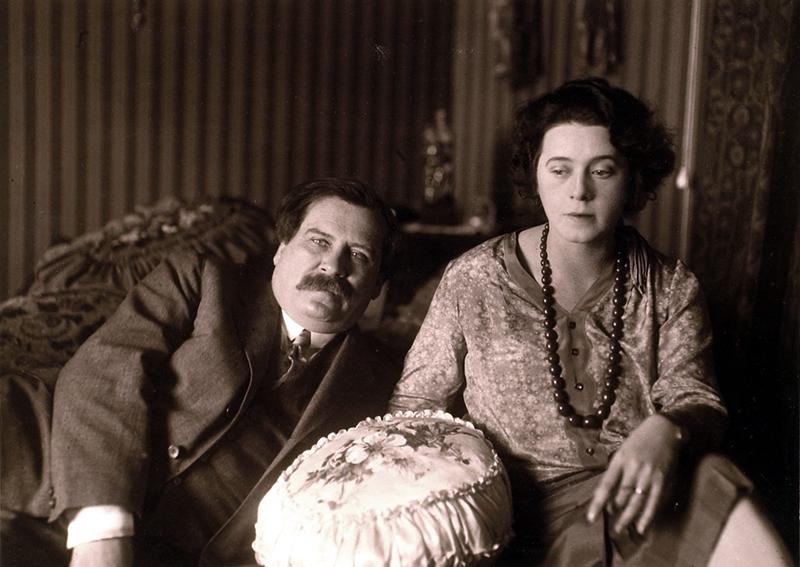 His second wife, actress Mária Simonyi (Source: pim.hu)
He met the actress Mária Simonyi in 1924 during the rehearsals of the play "Búzakalász". His wife, who was the first reader and critic of his writings, soon realised that her husband was in love. After several scenes of jealousy, on 2 April 1925, she ended his life with her own hand. This is how she justified her actions in her farewell letter. "As long as I'm alive, you can't get rid of being in debt to someone and you can't pay off that debt because of me."
The writer and Mária Simonyi got married in 1926, and he and his daughters moved to the fourth-floor apartment of the woman at 2-3 Fővám Square that same year.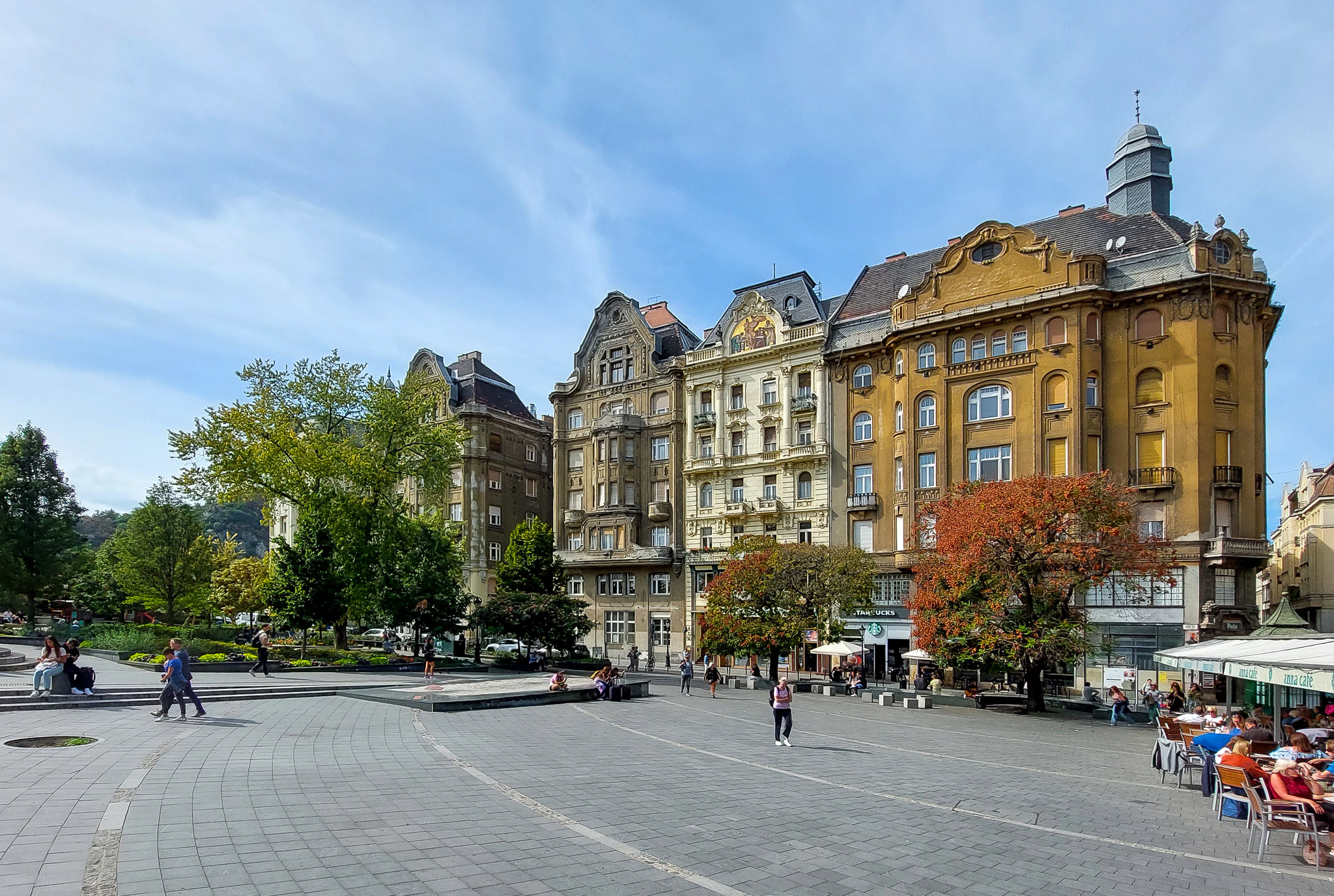 After the death of his first wife, Zsigmond Móricz moved with his daughters to the apartment at 2-3 Fővám Square (Photo: Balázs Both/pestbuda.hu)
The writer lived and worked in the apartment on the fourth floor of the apartment building for ten years, between 1926 and 1936.
The elegant, five-room apartment was a bit cramped, since, in addition to the married couple and the girls, Mária's mother, sister, the cook and the maid also lived here. Móricz was given the largest room as a study, which also had a balcony. Although there was direct access to his mother-in-law's room through a door, this was barricaded with a large bookcase. The volumes entitled Rokonok, Úri muri and Barbárok were also born in this apartment, as well as hundreds of articles.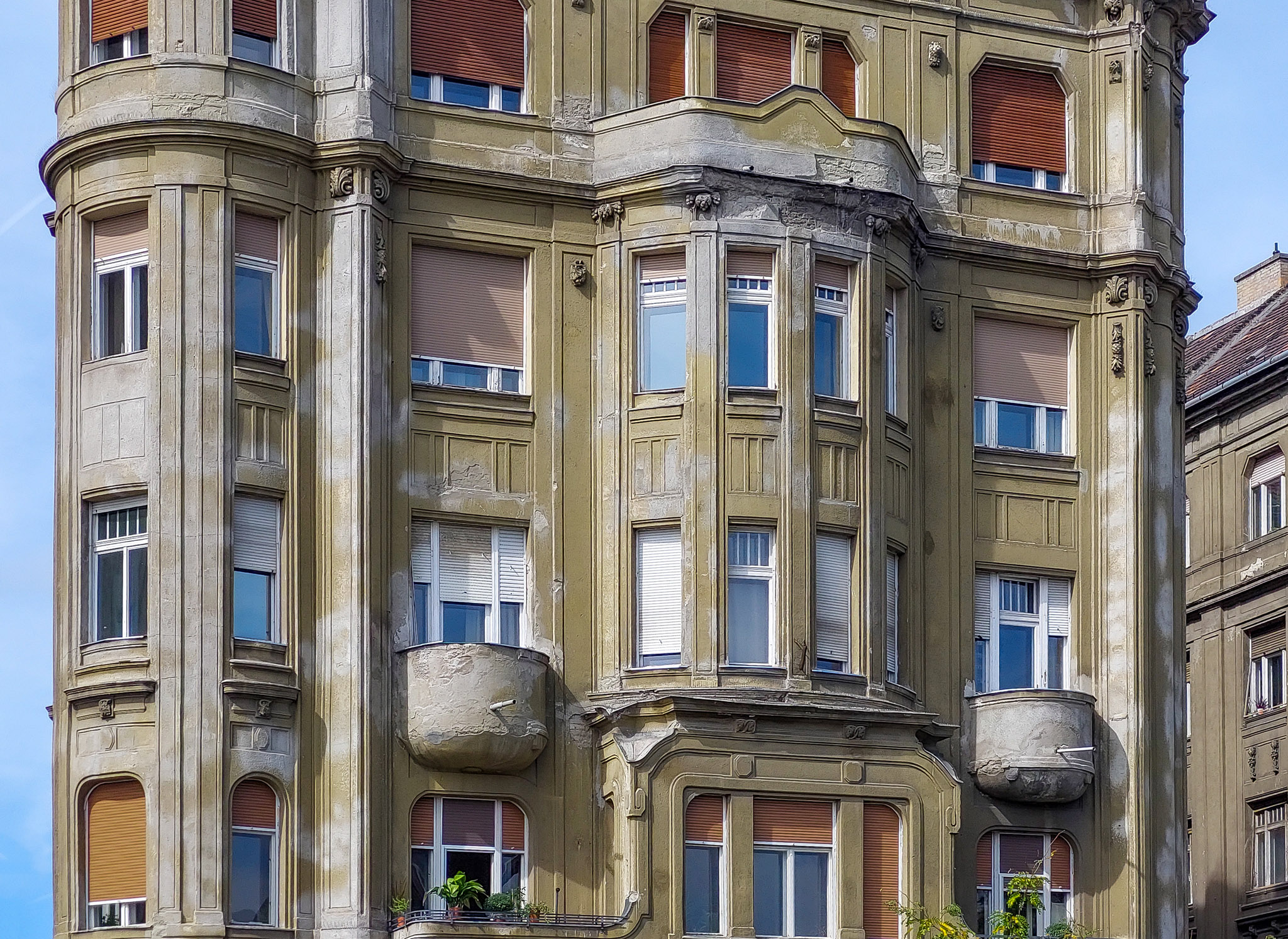 The Móricz Family lived on the fourth floor of the Fővám Square house (Photo: Balázs Both/pestbuda.hu)
"I live here on Fővám Square and my balcony opens onto the Danube bank. Amazing view. Opposite it is Gellért Hill, the Gellért Hostel, the calm building of the University of Technology, and a view down to Csepel. The radio masts are like strange threads stretched from the ground to the star burning in the sky. But the most interesting is the bustling Danube bank, the market. Life begins even before the first ray of sunlight. Small ships come ashore, porters' carts move, the vendors open their stalls and the large square comes to life, a field of flowers opens up, and in every season huge mountains, from spring lettuce to autumn cabbage mountains, each season sends their crops to the heart of the capital. It's a beautiful and moving picture, and as a sight, it's one of the most beautiful that the city has to offer. There is only one thing that constantly hurts my eyes. The vendor tents", wrote Zsigmond Móricz in the May 1928 issue of Est.
In the meantime, his career grew richer and richer. In December 1929, together with Babits, he became the editor of Nyugat, managing the prose section until 1933, when he emerged as one of the main figures of the populist writers' movement. He edited Kelet Népe from 1939 to 1942, until his death.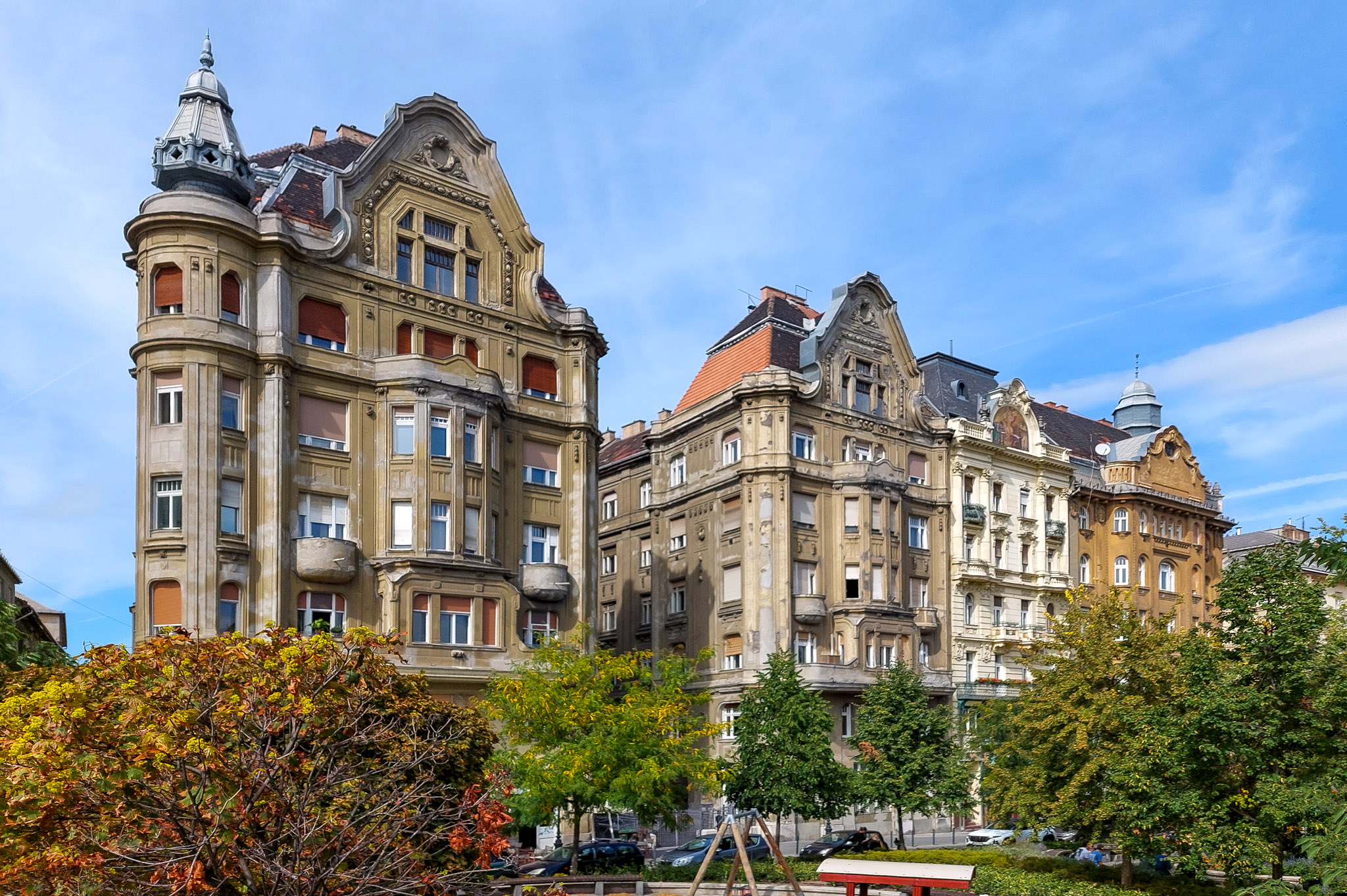 In the apartment, Móricz had a study with a balcony (Photo: Balázs Both/pestbuda.hu)
On 25 September 1936, Móricz was walking across the then Franz Joseph Bridge (now Liberty Bridge) when he met Erzsébet Litkei (Erzsébet Margit Litkei, from 1941 Erzsébet Litkei-Móricz). She was about to commit suicide. The writer hugged the girl, who claimed to have lived in an orphanage before. He adopted Erzsébet - whom he named Csibe - and took him in. (Literary historians have different opinions about whether Csibe was the love of the writer, or whether she really only cared for him as an orphan). Based on the girl's narratives and the stories of her life, the Csibe short stories were born, followed by the novel Árvácska in 1940. Later, Móricz also adopted Erzsébet's son and took him under his name. Imre Móricz passed away last year.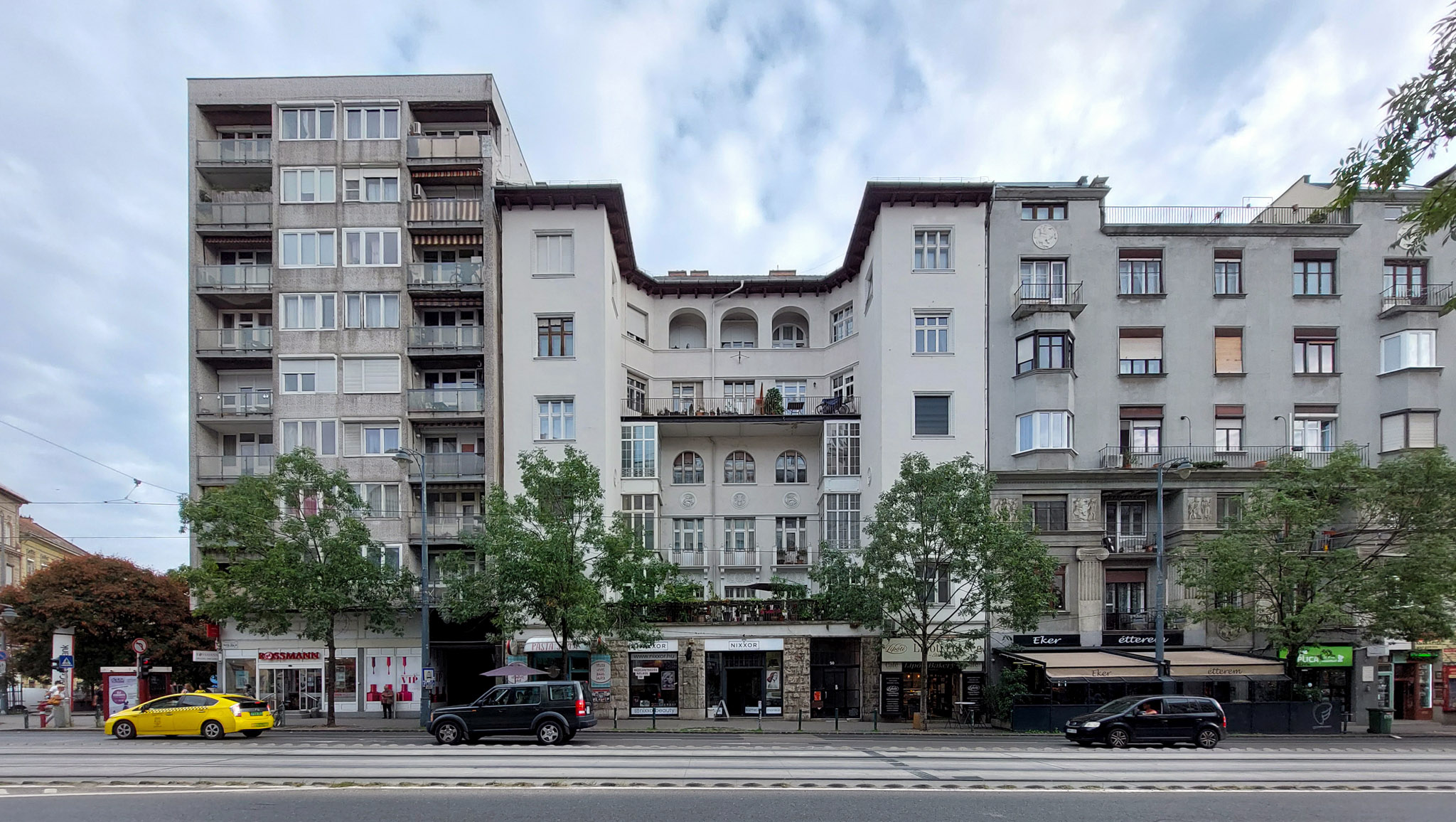 Móricz's last home in Budapest was at 50 Bartók Béla Road in 1936–1937 (Source: lechnerkozpont.hu)
In the meantime, Móricz divorced his wife in 1936 and lived for a short time in the house at 50 Bartók Béla Road (then Fehérvári Road 48). The five-story, pre-modern style apartment building, located on a plot with an irregular floor plan, was built in 1914 based on the plans of Béla Málnai and Gyula Haász. The seven-axis building, which fits into a closed street line, was designed by the designers in such a way that the middle five axes jump back from the building line from the first floor, thus creating a small front terrace, a U-shaped French courtyard. The designers were commissioned by Sándor Kalmár, the founder and owner of the Fortuna Rum- és Likőrgyár Rt., for his apartment. Móricz rented apartment number 1 on the fifth floor of the house.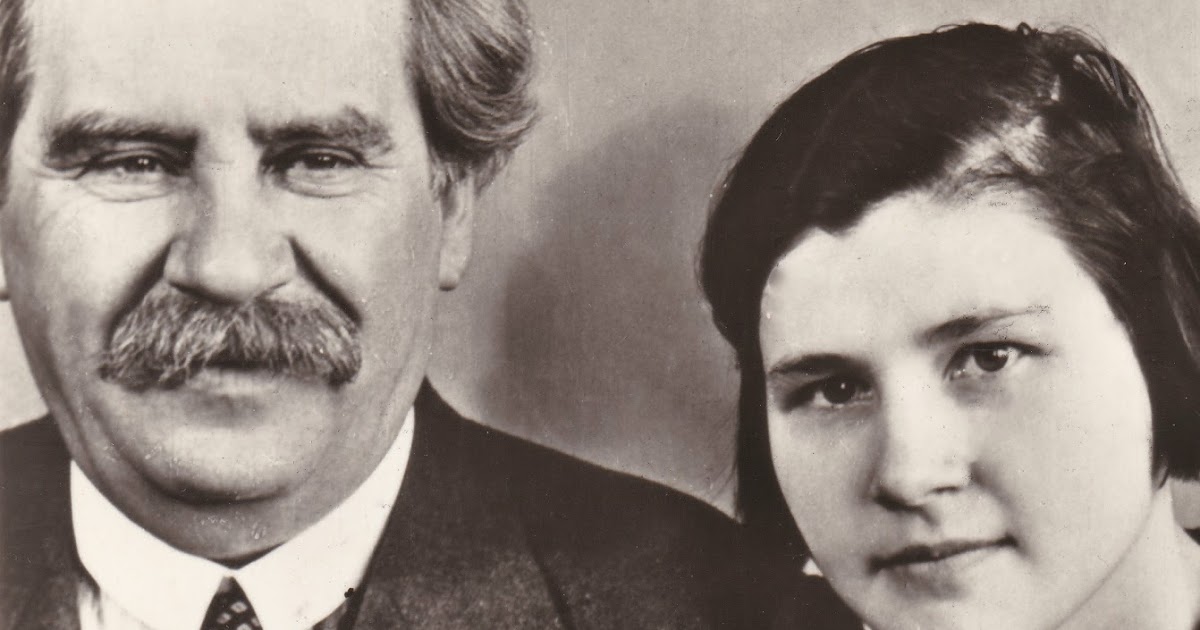 With Csibe around 1936 (Source: pim.hu)
According to Virág Móricz's recollections, in December 1937, her father permanently moved out with Csibe to Leányfalu, to their summer house. The novels written about Sándor Rózsa were born here. After his stroke, he was taken from his home to the Korányi Clinic in Budapest, where he died in the early hours of 5 September.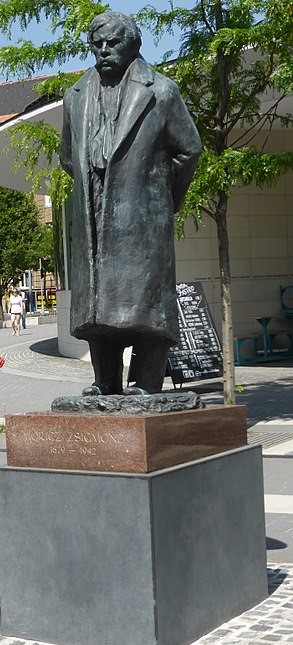 The bronze statue of Zsigmond Móricz was made by Imre Varga in 2004. The work on Móricz Zsigmond Square is a copy of the statue placed in Tiszacsécse in 1978 (Source: ujbuda.hu)
Cover photo: Zsigmond Móricz in the study of their apartment on Fővám Square (Source: pim.hu)