Outer Ring Road
2021. szeptember 4. 10:00
Today, Outer Ring Road is one of the busiest roads in Budapest, lined with beautiful residential houses. Its construction lasted for 25 years, to open it, houses had to be demolished, a railway station had to be moved away, an area had to be filled, but finally, 125 years ago, on 31 August 1896, the Budapest Public Works Council could officially hand it over to the Budapest community.
2021. augusztus 25. 13:00
The former legendary hotels of Budapest were almost completely destroyed in the Second World War and in the 1950s, and in the Rákosi era, no money was spent on building luxury hotels in the country, as there was no solvent demand for it. The situation changed after the defeat of the revolution and war of independence of 1956: tourists from the West and the currency they spent here became important to the country's new leadership. Large-scale hotel developments began, among them one of the first was rebuilding the former luxury hotel, Royal, which reopened in August 1961.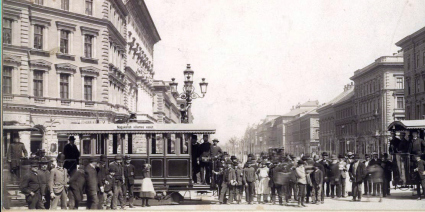 2021. június 9. 09:00
A flood drain, a navigable waterway serving industrial sites, or a more elegant route? In the 19th century, several plans were made for the location of the Outer Ring Road. The issue was closed by law 150 years ago.