Pázmány Péter Catholic University
2021. november 11. 14:30
The results of the design competition were announced, which were won by Közti Zrt. And Hamburg C Kft. Thus, according to his ideas, the new building complex of the Pázmány Péter Catholic University can be built behind the National Museum in the spring of 2026, in the area bordered by Pollack Mihály Square, Szentkirályi Street, Múzeum Street and Bródy Sándor Street, in the 8th district.
2021. július 26. 17:00
The monumental values of the Károlyi Palace and the Esterházy Palace must be preserved and the spirituality represented by Catholic education must be displayed - these conditions must also be met by the 12 architectural firms that were given the opportunity to design the campus of Pázmány Péter Catholic University in Józsefváros. The task must be completed by September, and the results will be announced in November.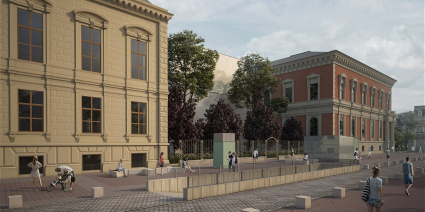 2021. április 17. 14:00
The campus of the Pázmány Péter Catholic University planned to use the former buildings of the Hungarian Radio will significantly change the cityscape. During the investment, which is expected to be completed by 2027, several significant buildings will be renovated in the area behind the National Museum, such as the Esterházy Palace, which also includes the former Marble Hall of the National Radio and the dilapidated Károlyi Palace. New buildings will also be erected.