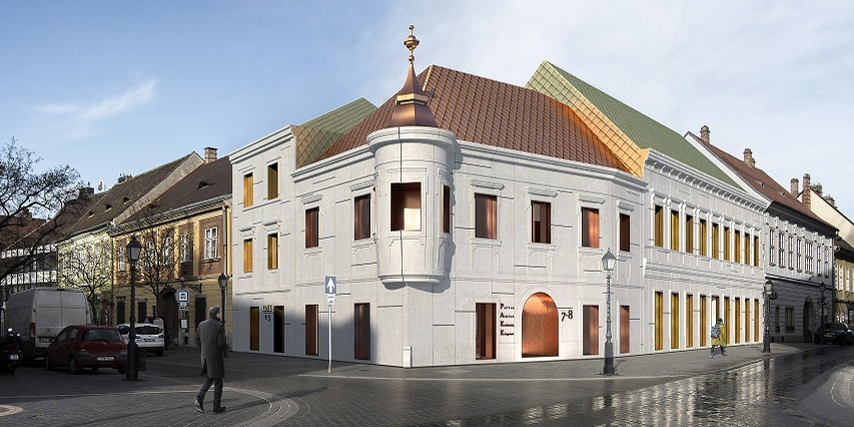 The plot of the demolished Burg Hotel was transferred to the property manager of the MNB
Hungarian version of the article: Az MNB ingatlankezelőjéhez került a lebontott Burg Hotel telke
August 5, 2022 at 5:30 PM
The former Diplomatic House on Szentáromság square was demolished at the beginning of 2022, and a new conference center will be built in its place, the visual plans of which have already been presented. The plot was recently transferred to the property manager of the MNB.
The building, located at no. 7–8. Szentáromság street was demolished earlier this year. According to a notice published on the website of the Magyar Nemzeti Bank, the plot of the building designed by György Jánossy and László Laczkovics has now been transferred from the property of the Pallas Athéné Domus Meriti Foundation (PADME) to the property manager of the Magyar Nemzeti Bank.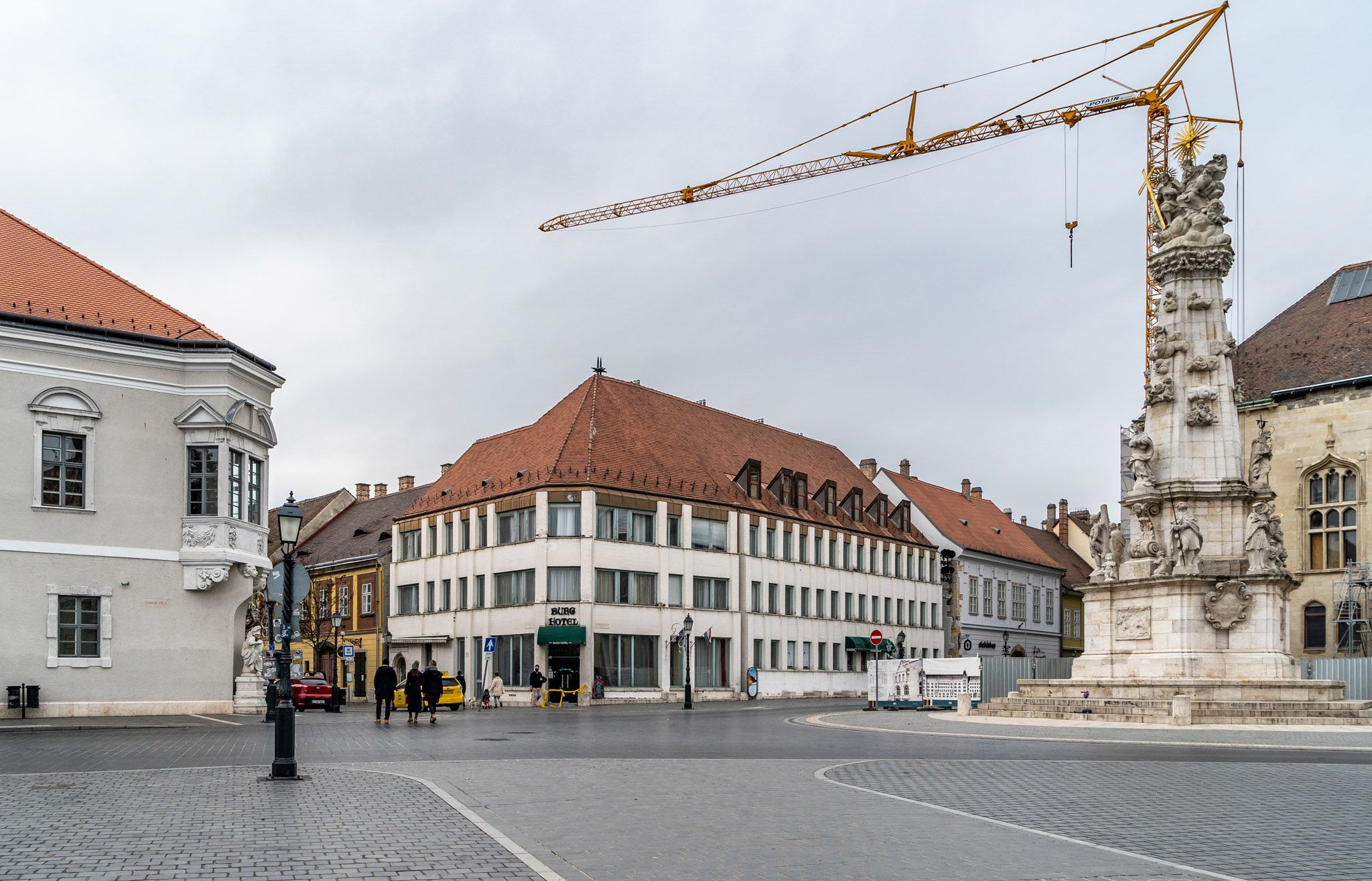 The Burg Hotel building on Szentáromság square in 2020, the building was demolished at the beginning of 2022 (Photo: Both Balázs/pestbuda.hu)
It is written that MNB-Ingatlan Kft. intends to implement a building reconstruction in a style that matches the historical image of the Castle District and the UNESCO World Heritage environment on the property it has acquired. As we wrote earlier, RAPA Architects Kft. and its responsible senior designer, Ádám Reisz, were entrusted with the design tasks.
The future building complex will operate as a scientific conference center. In the spirit of this, as they write, the interior spaces are designed in such a way that they are suitable for the implementation of educational programs, workshops, domestic and international conferences. According to the announcement, the investment aims to restore the image of the property that was destroyed in the war after almost eighty years, which has been functioning as a hostel for the last 40 years, facing the Mátyás Church.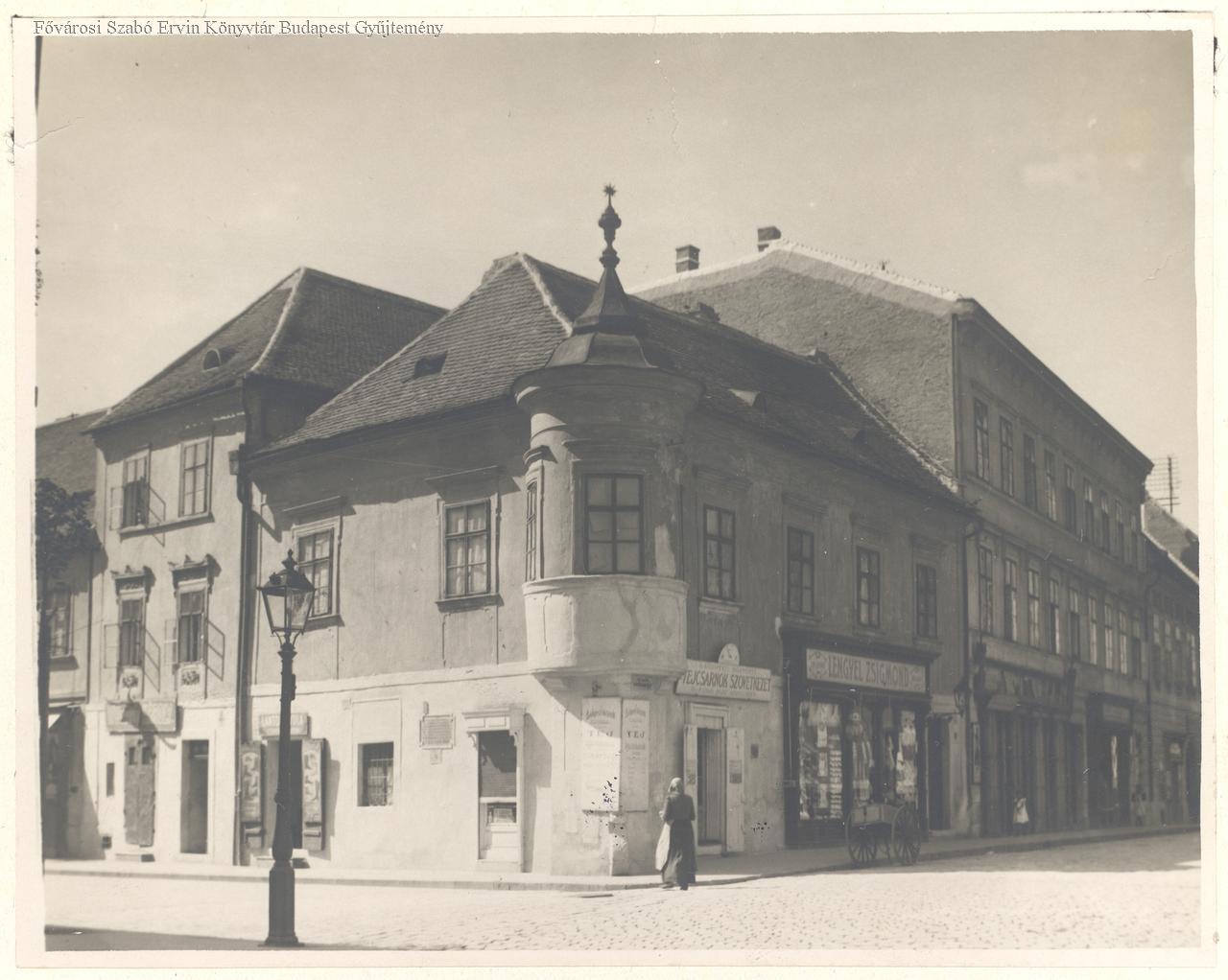 There were three smaller houses until World War II, the new building will resemble them externally (Photo: FSZEK Budapest Collection)
On the corner lot located at the junction of Szentáromság street and Országház street (today 7–8 Szentáromság square and 1–3 Szentáromság square), before World War II, there were still three buildings, two of which were completely destroyed during the bombing of Budapest, but the third also suffered serious damage and was demolished instead of rebuilt. After that, an undeveloped plot of land was undeveloped in the area for a long time, on which the Diplomataház (the later Burg Hotel) was finally built between 1979 and 1981.
As the announcement states, this building was finally built in accordance with the style of the 80s and created a practically new structure and appearance on Szentáromság square in the architectural style of the time, although during the reconstruction and monument protection works of the post-war years, experts and designers when examining each place in the castle district, the historical layers, the physical and spiritual space occupied in the urban fabric were taken into account.
Cover photo: Visual plan of the new house (Source: RAPA Architects/Szabolcs Császár)