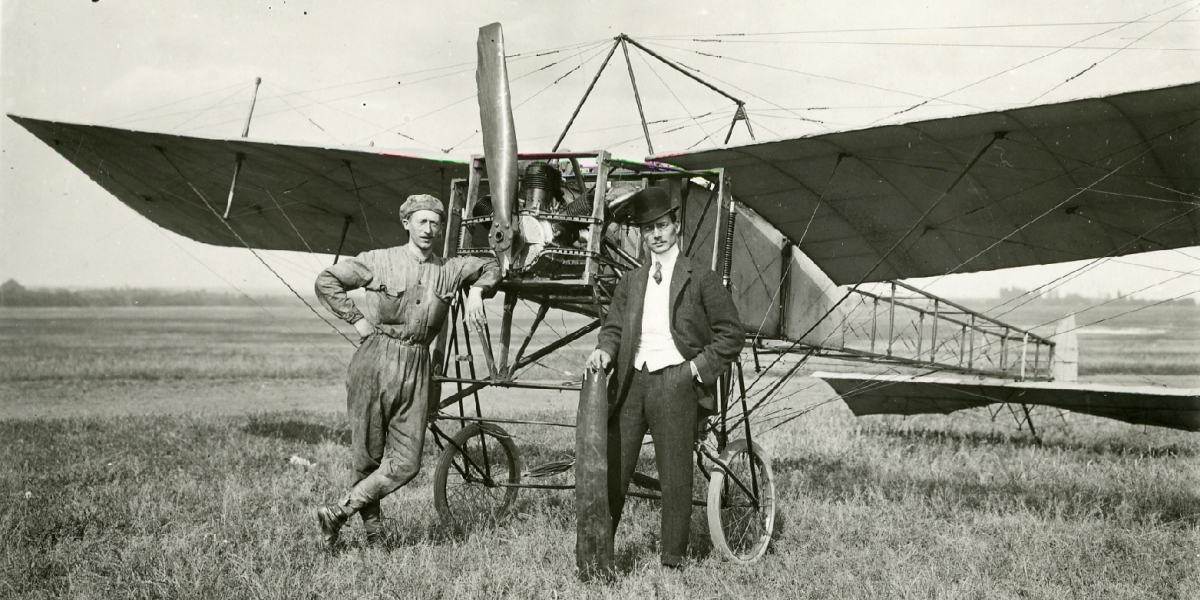 The first Hungarian flew over Budapest 110 years ago
Hungarian version of the article: 110 éve repült Budapest fölé az első magyar
November 12, 2021 at 9:00 AM
One of the most colourful personalities in the heroic age of aviation was Guido Prodam. The adventurous pilot learned to fly in Rákosmező, and he was the first Hungarian to fly over the Budapest downtown 110 years ago. During his journey, he flew along the Danube, he also flew above the Chain Bridge, the Buda Castle and the Technical University.
It is no coincidence that the name of Guido Prodam sounds Italian, as he was born in Rijeka in 1882, his parents János Prodam and Erzsébet Deotta were actually more Italian, only Guido declared himself Hungarian.
Guido Prodam originally studied pharmacy in Cluj-Napoca (Kolozsvár), was a pharmacist in Torontál County, and after his wife's early death in 1910, he moved to Budapest with his two children and joined the flying experiments in Rákosmező. He learned to fly, and in the summer of 1911, he flew Endre Horváth's plane called Horváth III/A.
Aviation was still in its infancy worldwide in 1910-1911, and aeroplanes were more of an experimental means by which brave pilots made increasingly daring flights. The people of Budapest were the first to see an aeroplane two years earlier, in 1909, when Blériot, who flew over the La Manche, held demonstration flights in the Hungarian capital.
Guido Prodam and Ernő Horváth (Photo: The Hungarian Museum of Science, Technology and Transport, No.: TFGY.8031.1)
By 1910, a small hangar town had developed in Rákosmező, where Hungarian aircraft designers and pilots experimented. Guido Prodam learned to fly with the plane of one of the first aircraft builders, Ernő Horváth. Ernő Horváth was a high school mathematics and physics teacher who, due to his short-sightedness, quickly stopped flying (after crashing once), instead, he built aeroplanes, and was able to build a 35-horsepower engine with state support into Horváth III/A's aircraft.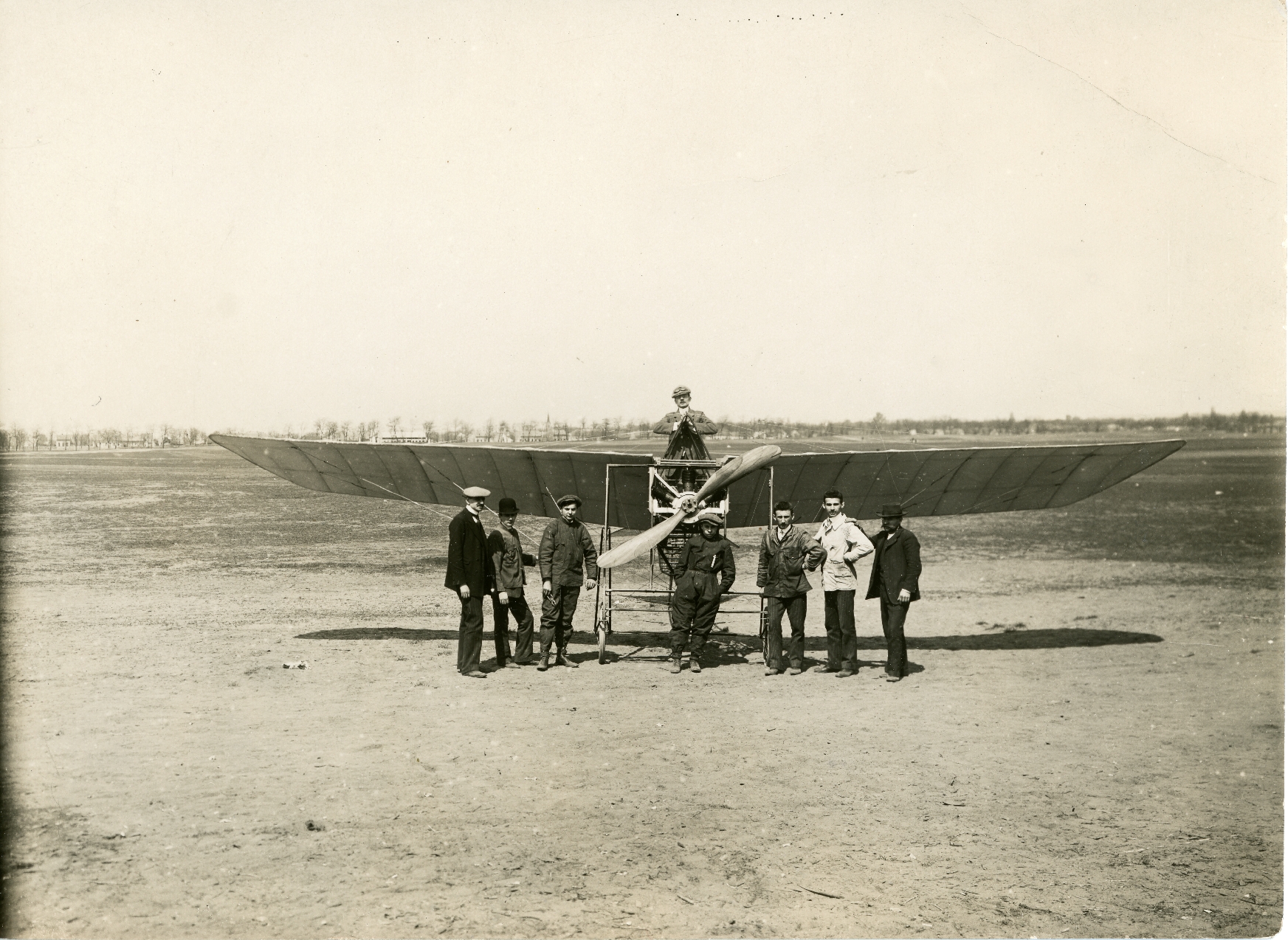 Ernő Horváth in front of his plane in Rákosmező (Photo: The Hungarian Museum of Science, Technology and Transport, No.: TFGY.13565.1)
With this plane, Guido Prodam flew over the downtown of Budapest, about which Pesti Hírlap wrote on 5 November 1911:
"Temptation of God! Prodam's flight can only be faithfully described by this term. To fly at an altitude of 100 and 120 metres above a metropolis, the extent of which, measured in any direction, is nowhere less than four or five kilometres, testifies to incredible recklessness. A minimum altitude of 1800 to 2000 metres is required for the pilot to be partially safe to have sufficient space and time to search for a landing position in the event of engine stalling.
An unexpected engine defect on this flight would have been absolutely fatal for Prodam and who knows what kind of disaster it would have been if the plane had crashed in a busy, frequented location. No matter how welcome and significant the results have been with this flight, the brave pilot, Guido Prodam, and Ernő Horváth, the designer of the plane, must be retaliated here. There is a legal measure abroad for this, the aviators should only leave the aerodrome after the pilot test has been taken before the appropriate forum."
The last sentence of the outraged article concerned the fact that Prodam did not have a pilot exam at the time.
The route of the remarkable flight really led over the busiest parts of the downtown. The plane took off from Rákosmező at noon, then reached the Danube over Újpest, from where it flew to the Chain Bridge, then flew over the Buda Castle and the Technical University and turned back to Rákosmező at the Connecting Railway Bridge. He did all this at a height of barely 100 metres. The whole "stunt", for which he had an official permit, lasted a total of 12 minutes. At the end of the flight, a large-scale banquet was given in honour of Guido Prodam.
Flight in Rijeka (Photo: The Hungarian Museum of Science, Technology and Transport, No.: TFGY.3977.1)
The aviation was still in its infancy at that time that a few days later Prodam set another record, he flew a dizzying 20 kilometres from Budapest in 16 minutes, although he got lost in the fog and did not land in his original destination, Pécel but in Maglód.
Shortly afterwards, on 10 November, he drew attention to himself with another heroic flight, flying over the Adriatic Sea in Rijeka as the first Hungarian. Incidentally, he passed the pilot's exam only in January 1912, and he received the country's third pilot's license.
After his success, Guido Prodam naturally stayed with aviation, not only flying but also teaching, and designing aeroplanes. He was a military pilot in World War I but in 1918, his plane was shot down on the Italian front. They talked about his death at home, but he survived the crash of the plane and was cared for in an Italian hospital, returning home in 1919 as a disabled soldier. He had to give up flying, so he returned to his original profession and worked as a pharmacist, as well as in motorsports.
Guido Prodam died in 1948. In 1960, a street was named after the brave pilot in the 16th District of Budapest.
Cover photo: Guido Prodam and Ernő Horváth next to Horváth's 2nd plane in 1911 (Photo: The Hungarian Museum of Science, Technology and Transport, No.: TFGY.3961.1)