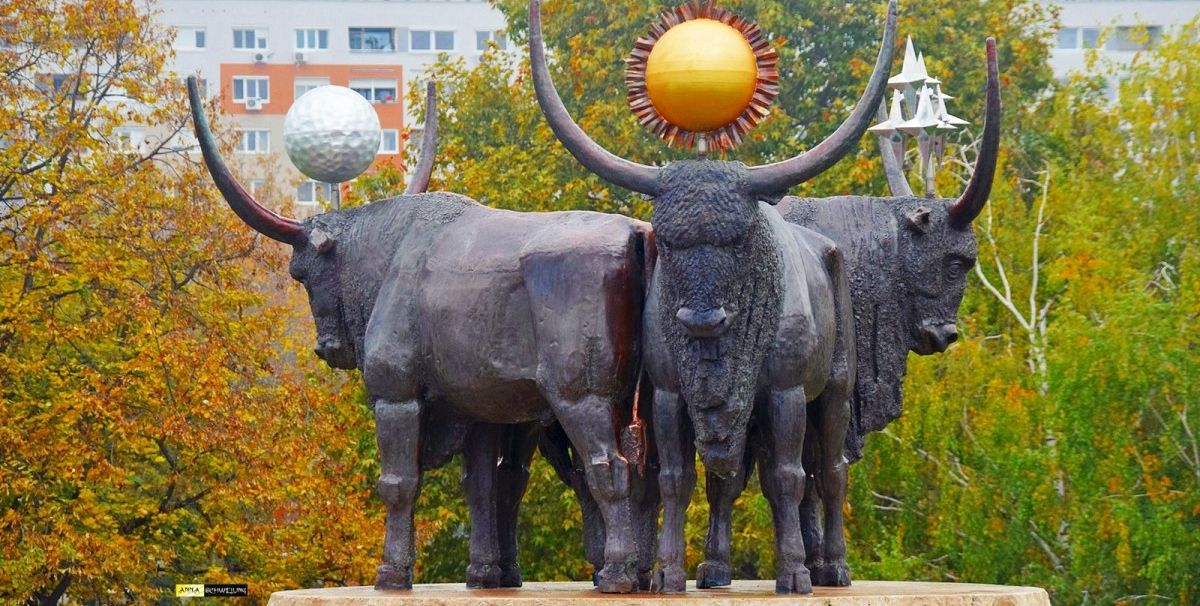 Original ornaments returned to Bull Statue in Újbuda
Hungarian version of the article: Visszakapta eredeti díszeit az újbudai Bikás szobor
November 5, 2020 at 5:00 PM
The statue entitled Monda ('myth') in Bikás ('bull') Park has been restored. The original ornaments symbolising the Sun, Moon and Starts above the heads of the bulls have been replaced.
Ujbuda.hu reports that the restoration of the Monda statue in Bikás park has been completed. The statue was renovated in two phases. Stone elements were restored in the Spring, while metal sections in the autumn.
The well-known statue has been in display in the park next to the Kelenföld housing estate since 1980. The green is generally popular in the area as it includes walking paths, a playground, several sports courts and quiet areas as well. The housing estate was built alongside the Kelenföld city centre between 1974 and 1979.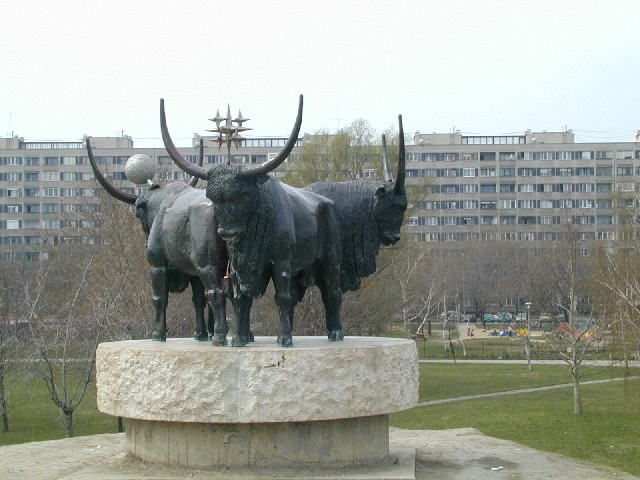 The Monda statue on top of Bikás Hill before restoration (Photo: Ujbuda.hu)
The statue was placed of an artificial hill in the park among to the houses. The green was later named after the characteristic bulls of the statue: Bikás park.
Each of the three animals carries a symbol between their horns, as known from Hungarian folk tales (hence the statue's official title): the Sun, Moon and Stars.
Over the last decades, the ornaments have disappeared several times. This may have been caused by children and youths climbing atop the statue, leading to the symbols becoming loose over time and eventually breaking. The metal ornaments were replaced each time but disappeared again.
The ornaments have now been restored to their original condition again. The Sun, Moon and Starts appear above the bulls' heads.
The entire park was rebuilt a few years ago. When the Bikás Park metro station on the M4 line was opened in 2014, the fields around the hill were restored. The renovated sports centre was expanded with a running track, a football pitch, a basketball court and a tennis court.
Source: ujbuda.hu, pestbuda.hu
Cover photo: The statue of bulls in Bikás Park has been restored (Photo: Ujbuda.hu)