A smart bench playing the works of Fryderyk (Frédéric) Chopin and Ferenc Liszt, performed by pianist Gábor Farkas, was handed over on 23 March, Hungarian-Polish Friendship Day, in City Park, reports MTI.
The smart bench was presented to Budapest by the Polish Institute to commemorate the world-famous composers of the two nations. Sebastian Keciek, the ambassador of the Republic of Poland in Budapest, emphasised at the ceremonial handover: it is a great pleasure for him that the gift of the cultural institute is handed over on Hungarian-Polish Friendship Day. He reminded everyone that not far from City Park, on Heroes' Square, people can find the figures of Ladislaus I and Louis the Great, two people who are close to both the Hungarian and Polish nations. These two symbols are now joined by a third in the form of the smart bench, he said.
According to the ambassador, the activities of the Polish Institute in this war period serve to strengthen the relationship between the two countries. As he said, he is confident that this cooperation will further strengthen this thousand-year-old friendship.
Everyday work at the Polish Institute takes place in the spirit of Polish-Hungarian friendship and cultural cooperation, emphasised Joanna Urbanska, director of the institute. "Our gift comes from our hearts, so I am sure that its users will also give it a warm welcome," added the director.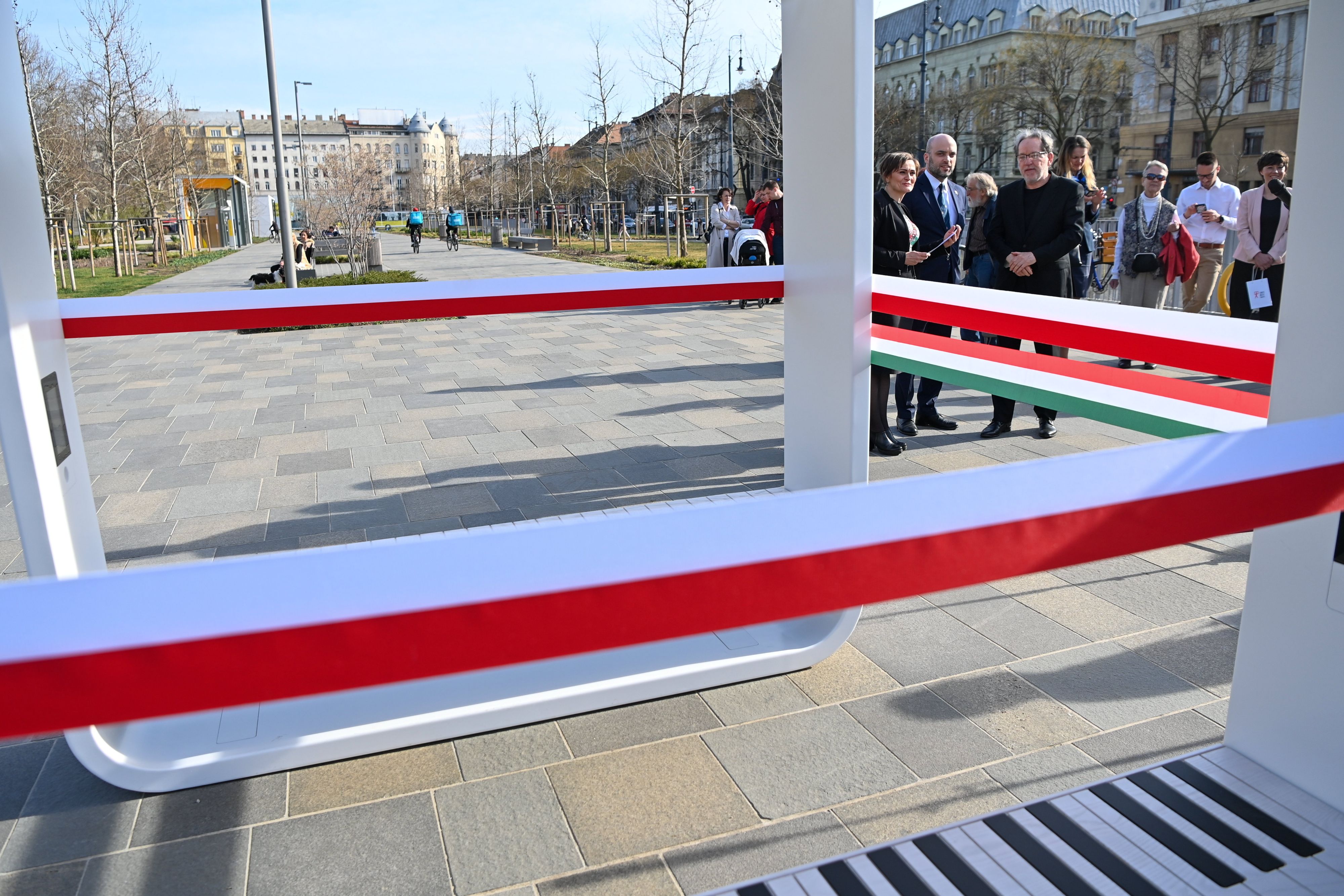 Joanna Urbanska, Director of the Polish Institute, Sebastian Keciek, Ambassador of Poland in Budapest and László Baán, Ministerial Commissioner of the Liget Budapest Project (left to right) at the handover of the smart bench playing the works of Fryderyk Chopin and Ferenc Liszt in City Park, Budapest, on Hungarian-Polish Friendship Day, 23 March 2023 (Photo: MTI/Tibor Illyés)
According to László Baán, Ministerial Commissioner of the Liget Budapest Project, there are no other two nations in Europe that have a friendship dating back a thousand years. The gift offered by the Polish Institute connects two great geniuses, Liszt and Chopin, in the form of a smart bench, said László Baán, who believes that Chopin and Liszt are among the world's greatest composers. "This bench symbolises that a truly deep friendship is present in everyday life in addition to the highest culture," he pointed out.
According to László Baán, the smart bench reminds people that a thousand-year-old friendship not only existed in the past, but also continues in the future, and the smart furniture also symbolises this continuity.
Máté Gallai, head of KUUBE Hungary Kft., a developer and manufacturer of environmentally friendly street furniture, said: the information on the street furniture is displayed on touch screens, on which people can choose from the works of Chopin and Liszt. It works with solar energy, people can also charge a phone, it also works as a WIFI hotspot and shows the UV index, air pressure, humidity and air pollution.
Source: MTI
Cover photo: A musical smart bench was handed over on the City Park Promenade (Source: Városliget Zrt.)