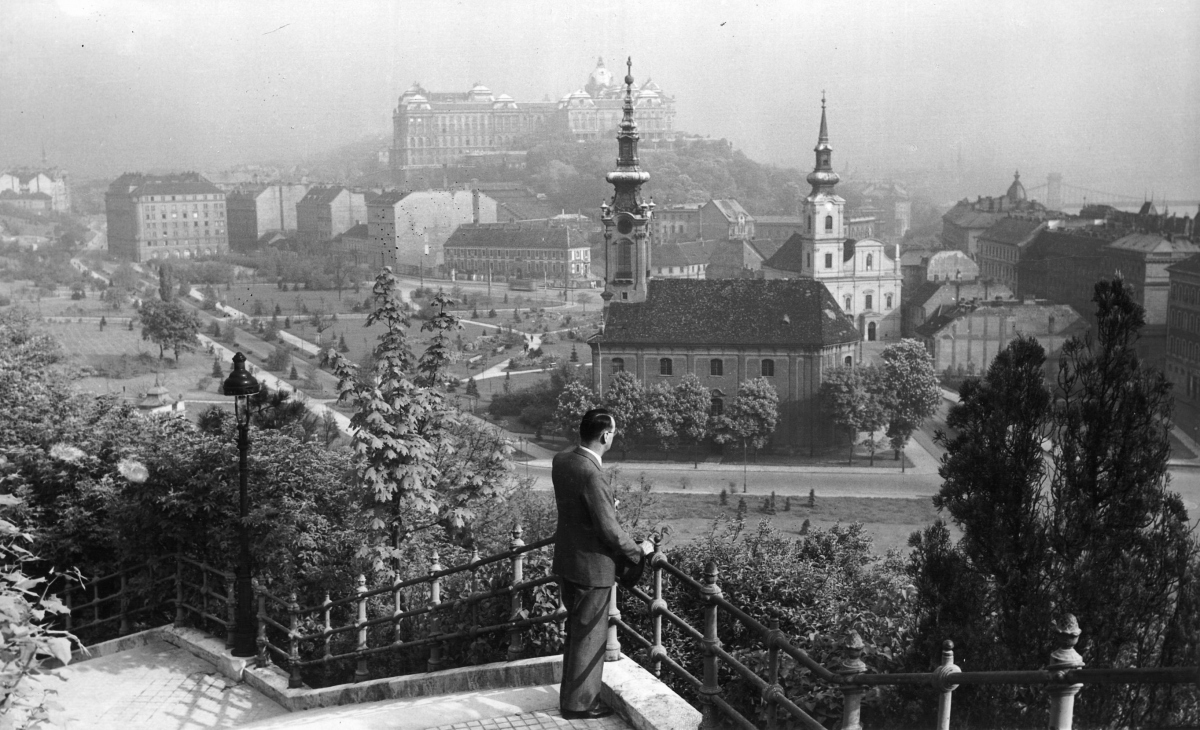 Serbs fleeing the invading Ottoman forces fled north and settled – among others – near Buda. The Catholic Serbs lived under Buda Castle, while the Orthodox typically lived on the banks of Ördögárok, between Gellert Hill and Naphegy, in Tabán. That is why this area was called Rácváros (rác being an old Hungarian word for Serbian). This part of the city was almost completely destroyed in the siege of Buda in 1686.
During the reconstruction, the Serbian community built a wooden church in 1690 in honour of Saint Demetrius, which was later rebuilt from stone. Then in 1741, they commissioned Ádám Mayerhoffer, a builder from Pest, to build a larger church. Construction began on the market square of Rácváros, at the meeting point of Görög and Hadnagy Streets on 1 May 1742, and in November, the vault and the roof of the church were ready. It was consecrated on 3 June 1751. The characteristic spire of the church was completed in 1775.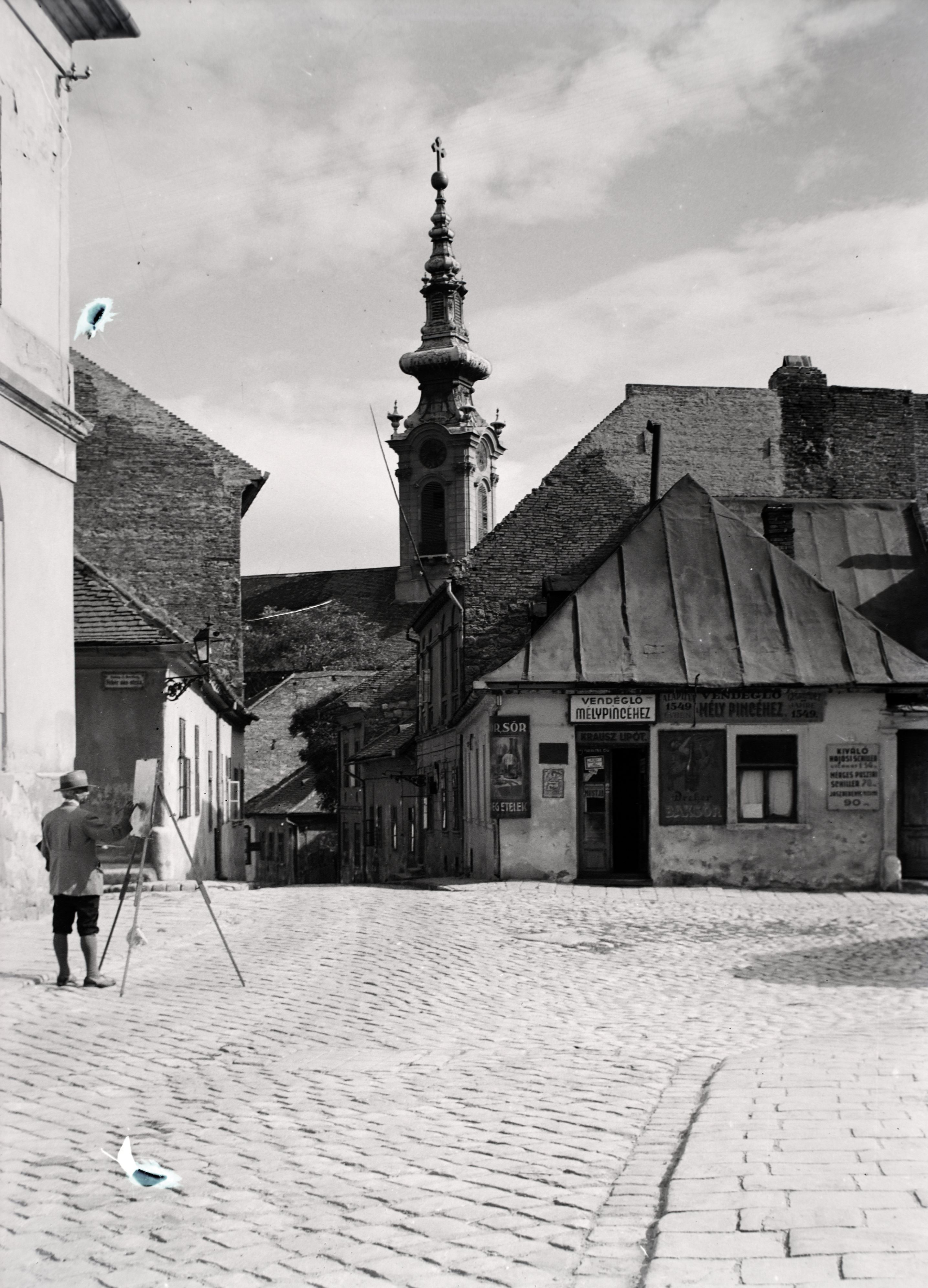 The ornate tower of the Serbian Church of Saint Demetrius seen from Szarvas Square in 1923. Fehér sas Street runs on the left, opposite, in the centre run Görög Street, Virág Benedek Street runs on the right (Source: Fortepan/No.: 171629)
In the 1810 fire, most of the church's furnishings were destroyed and only replaced a decade later. The flood of the Danube in 1838 also caused significant damage, but urban planning of the Tabán in the 1930s spared the church. It was severely damaged in World War II. on 14 January 1945, on the day of the Orthodox New Year, the nave was hit by a bomb, the roof burnt down, and the spire was destroyed. However, many artefacts were saved.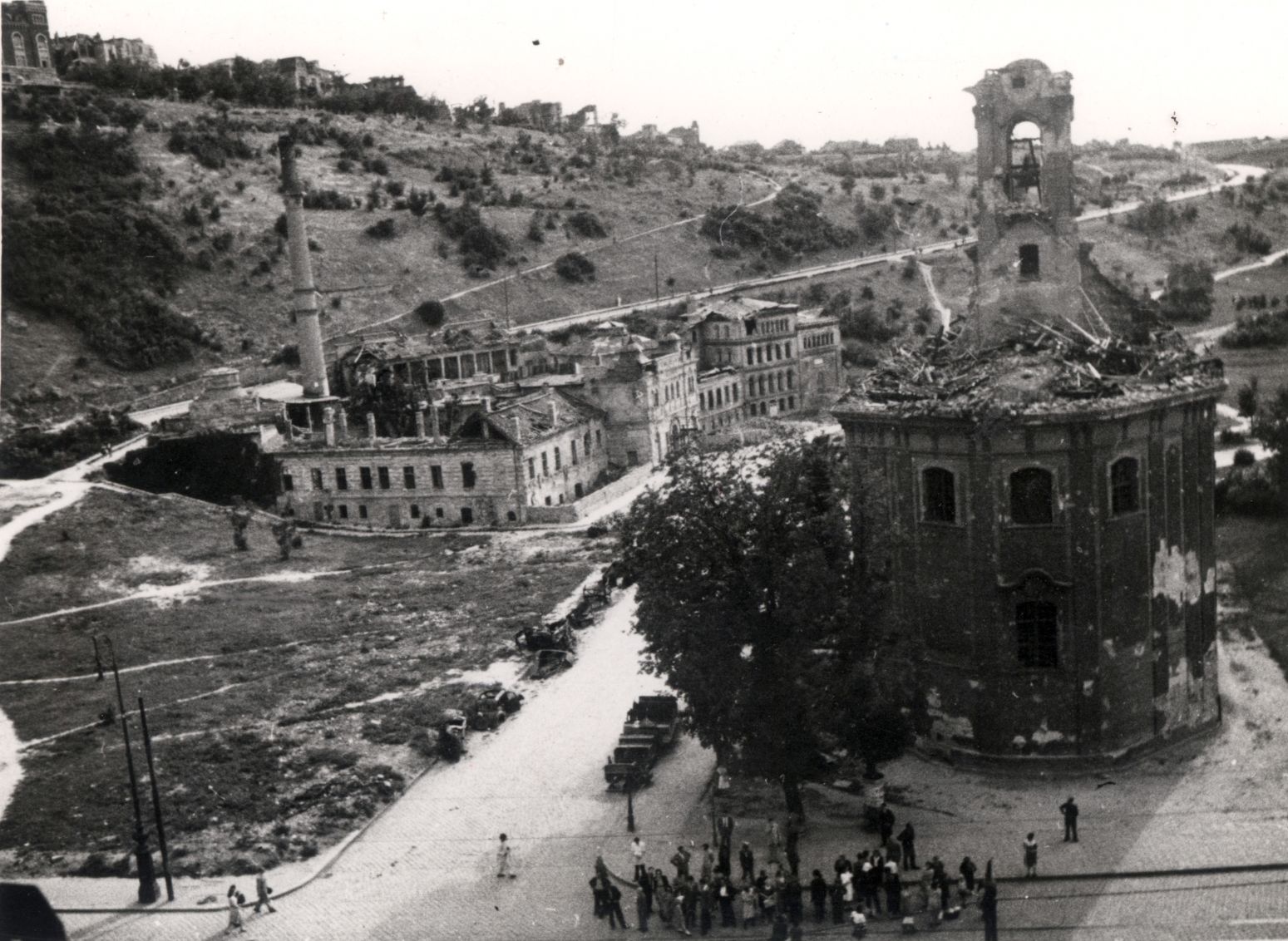 The church was bombed in 1945, the nave was damaged, the roof burned down, and the spire was destroyed. The ruined Rác Bath can be seen on the left (Source: Fortepan / Image ID: 186678)
After the devastation of the war, the monumental church could have been saved but was demolished by the communist dictatorship in 1949. The remains of the building were carried to the Vármező, and the furnishings were moved to the Serbian church in Pest.
A small belfry now commemorates where this church once stood. The 4.2-meter-high limestone belfry designed by Kristóf Petrika and László Rétházi was erected by the Serbian Nationality (minority) Government in 2014, on the 65th anniversary of the demolition of the church.
A Belfry preserves the memory of the former Serbian church in Tabán (Photo: Zsófia Viczián / pestbuda.hu)
The inscription on the bell tower also reminds passers-by of the events:
"This monument was erected by the Serbian Nationality Government – with the blessing of Bishop Lukijan of Buda and with the support of the Ministry of Human Resources – in the year of our Lord 2014 in memory of the Demetrius of Thessaloniki Church, built in 1751 and demolished in 1949."
Cover photo: The Serbian Church of Saint Demetrius, behind it the Church of St. Catherine of Alexandria, photographed in 1942 (Source: Fortepan / No.: 105709)