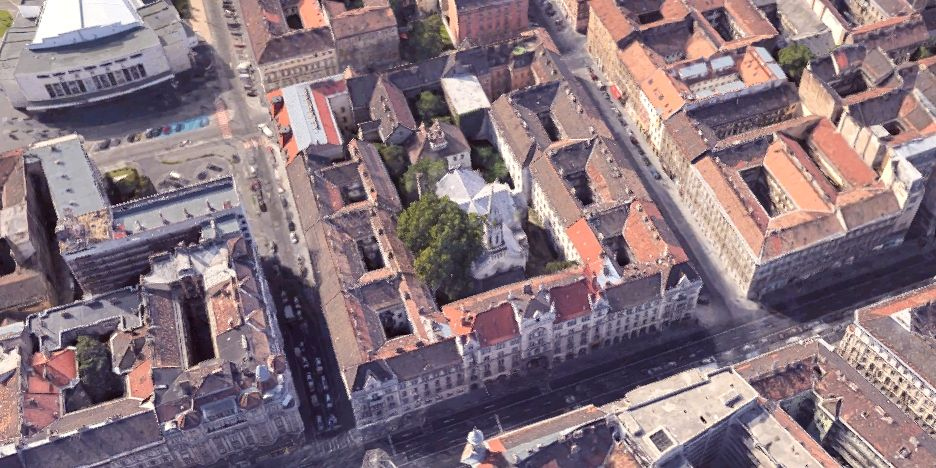 Slovak Lutheran Church to become cultural centre
Hungarian version of the article: Kulturális központ lesz a házak között rejtőzködő szlovák evangélikus templomból
The former Slovak Lutheran church in Pest, No. 57 Rákóczi Road, is being renovated and transformed into the cultural and community centre of Slovaks in Hungary. The Hungarian and Slovak Governments are supporting the multi-phase works – the parties signed an agreement today.
Walking along Rákóczi Road, we would not even think that there is a church behind the building at number 57, namely the Slovak Lutheran Church, which will be renovated shortly and transformed into the cultural and community centre of Slovaks in Hungary. Last year, the Hungarian government provided HUF 765 million for the repurchase of the church, which had been in a state of neglect for decades, and now, according to the MTI, it has been agreed that the renovation will be supported by both the Hungarian and Slovak states.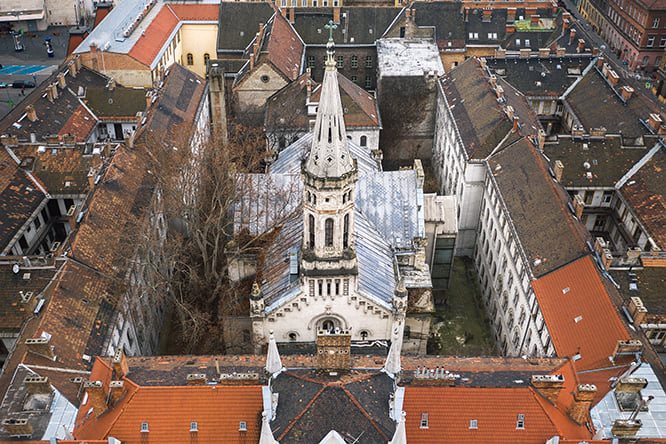 The Slovak Lutheran Church is not visible from the street. It is obscured by the Luther House built around it. The dilapidated church will be renovated and will function as a cultural centre (Source: Facebook page of the National Slovak Self-Government)
The history of this special building began in 1834, when the Slovak Lutheran community in Pest, led by pastor and teacher Jan Kollár, formed a new congregation with the approval of Emperor Francis. With the help of Palatine József, they got a plot of land on Kerepesi (now Rákóczi) Road. A school and a rectory were built here, then in 1856, according to the plans of the architect József Diescher, the construction of the neo-Romanesque church began, which was completed in 1863 due to financial difficulties. However, its furniture was only installed in 1867.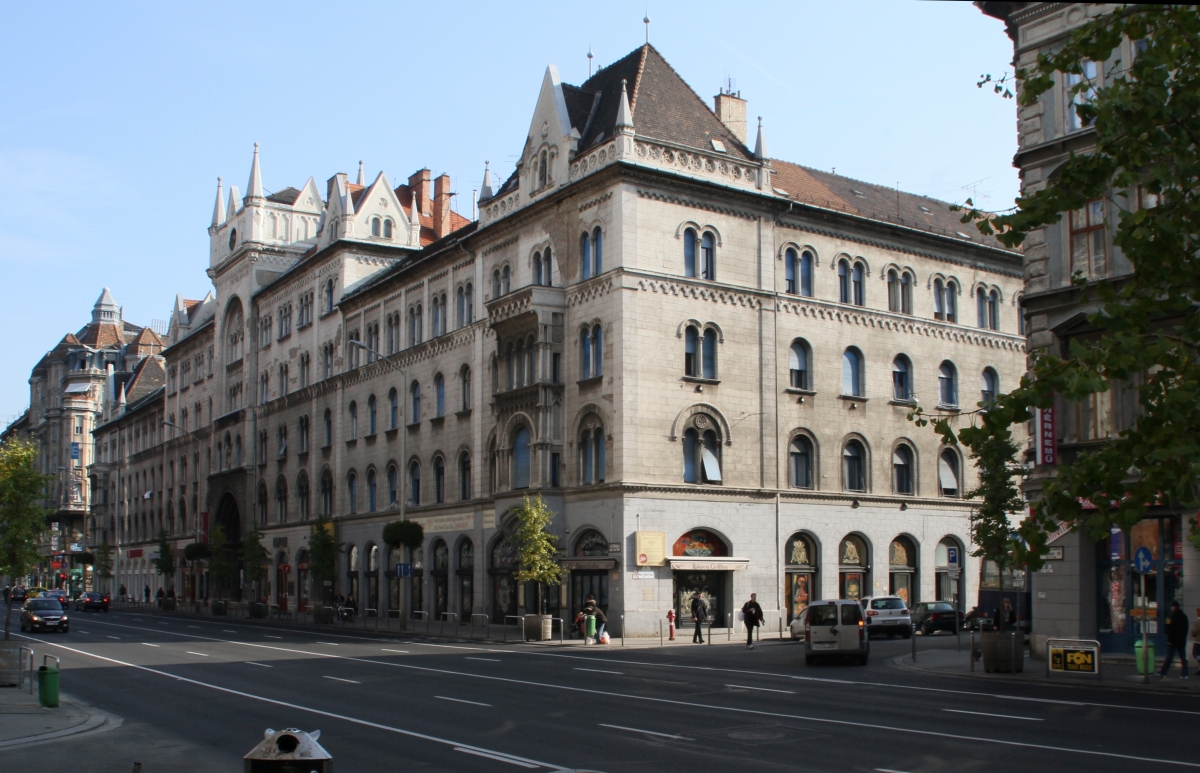 The Luther House from Rákóczi út; the church stands in the courtyard of the building (Source: reformacio.mnl.gov.hu)
To alleviate the financial problems and ensure the congregation's livelihood, a multi-storey residential building was built in 1893–94, which was designed by the architect Gyula Schweiger. This is the so-called Luther House, which surrounds the church and at the same time makes it "invisible". The church can only be approached through an ornate gate. Above the gate a statue of the house's namesake, Martin Luther.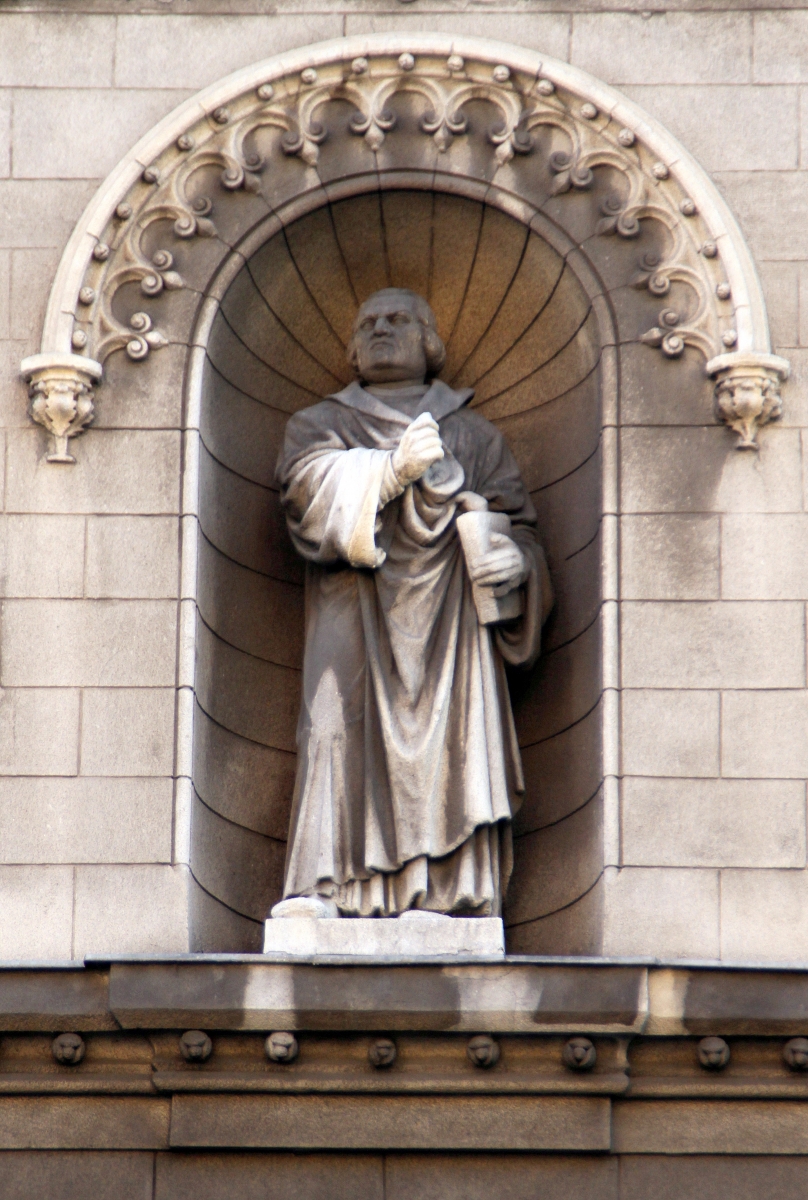 Above the gate of the Luther House stands a statue of its namesake (Source: reformacio.mnl.gov.hu)
As a result of the two world wars, the congregation, which had previously numbered 6,000, was almost completely wiped out, and the church was damaged. In the second half of the 1960s, the Hydraulic Engineering Research Institute purchased the crumbling church to house its library and large lecture hall. The gallery was demolished, and the interior was converted to three levels with the installation of slabs. Then, after the fall of communism, the church was privatized and used for commercial and service purposes: it also housed a casino, a dance studio and a gym.
Cover photo: The Slovak Lutheran Church in the courtyard of 57 Rákóczi Road (Source: Google)