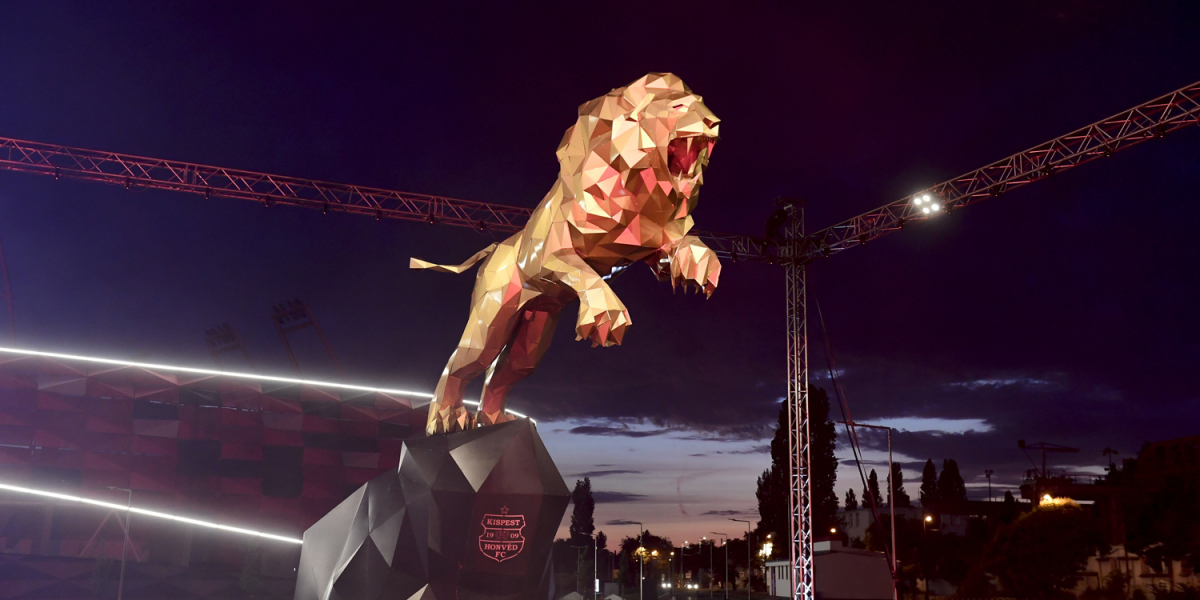 The statue of Honvéd's Golden Lion was inaugurated in front of the Bozsik Stadium in Kispest
Hungarian version of the article: Felavatták a kispesti Bozsik-stadion előtt a Honvéd Aranyoroszlán-szobrát
One of the newest statues in the capital was erected in the 19th District, in front of the entrance to the renovated Bozsik Stadium. The 6-ton stainless steel lion statue, made of 5-6 thousand elements, was made for 4-5 months, and its special feature is that it can be illuminated with red light from the inside, giving it a glowing effect.
The statue of the Golden Lion in front of the Bozsik Arena, the new stadium of the Budapest Honvéd football team in Kispest, has been inaugurated - MTI reported. The sculptor Miklós Szőke told the telegraphic office that they had voted for him based on his work so far and gave him a completely free hand. "The dynamic pose is a symbol of the resurgent club and its role as a gatekeeper is the same as in the case of the Chain Bridge. The prismatic cover of the stadium also returns in the case of the statue." - said the sculptor, who revealed that the stainless steel work, which weighs roughly six tons, consists of 5-6 thousand elements.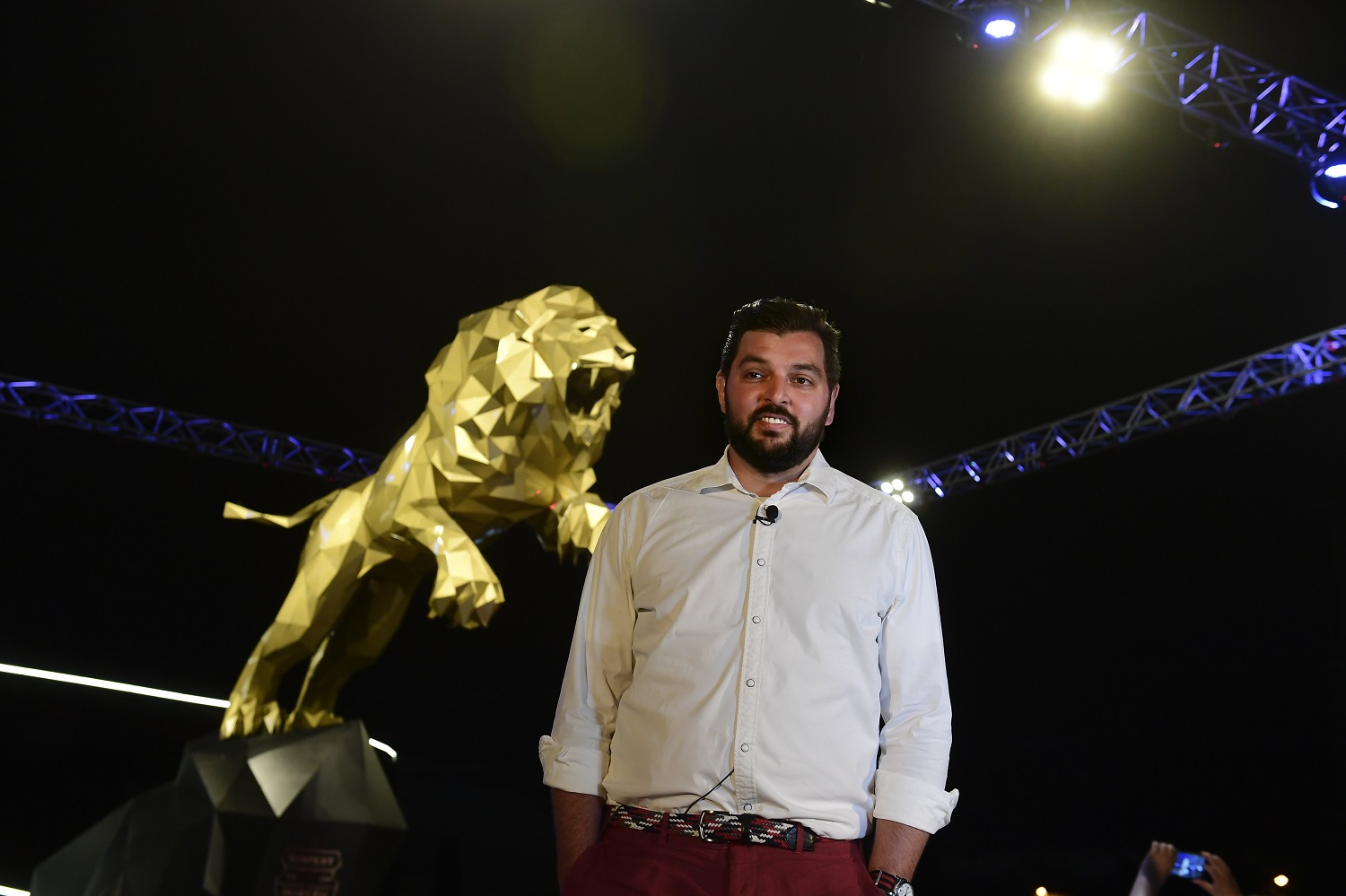 Sculptor Gábor Miklós Szőke, behind him the Golden Lion of the Honvéd (Photo: MTI/Szilárd Koszticsák)
The artist also talked about working with his team of sculptor, static, welder and locksmith on the sculpture for four to five months, one of the special features of which was the red internal glow. He explained that the forward-jumping pose was also statically challenging, with the sculpture held by an underground concrete base.
"We did not want a statue, but the statue." - said Dániel Mendelényi, co-owner of the Kispest club, who revealed that although the work phases were followed, the final appearance of the statue was a surprise to them as well.
The Golden Lion, a symbol of the association, was placed in one corner of the stadium. The concrete wreath surrounding the facility is decorated with the names of the legendary players of the Kispest team - the work was placed to László Dajka's name.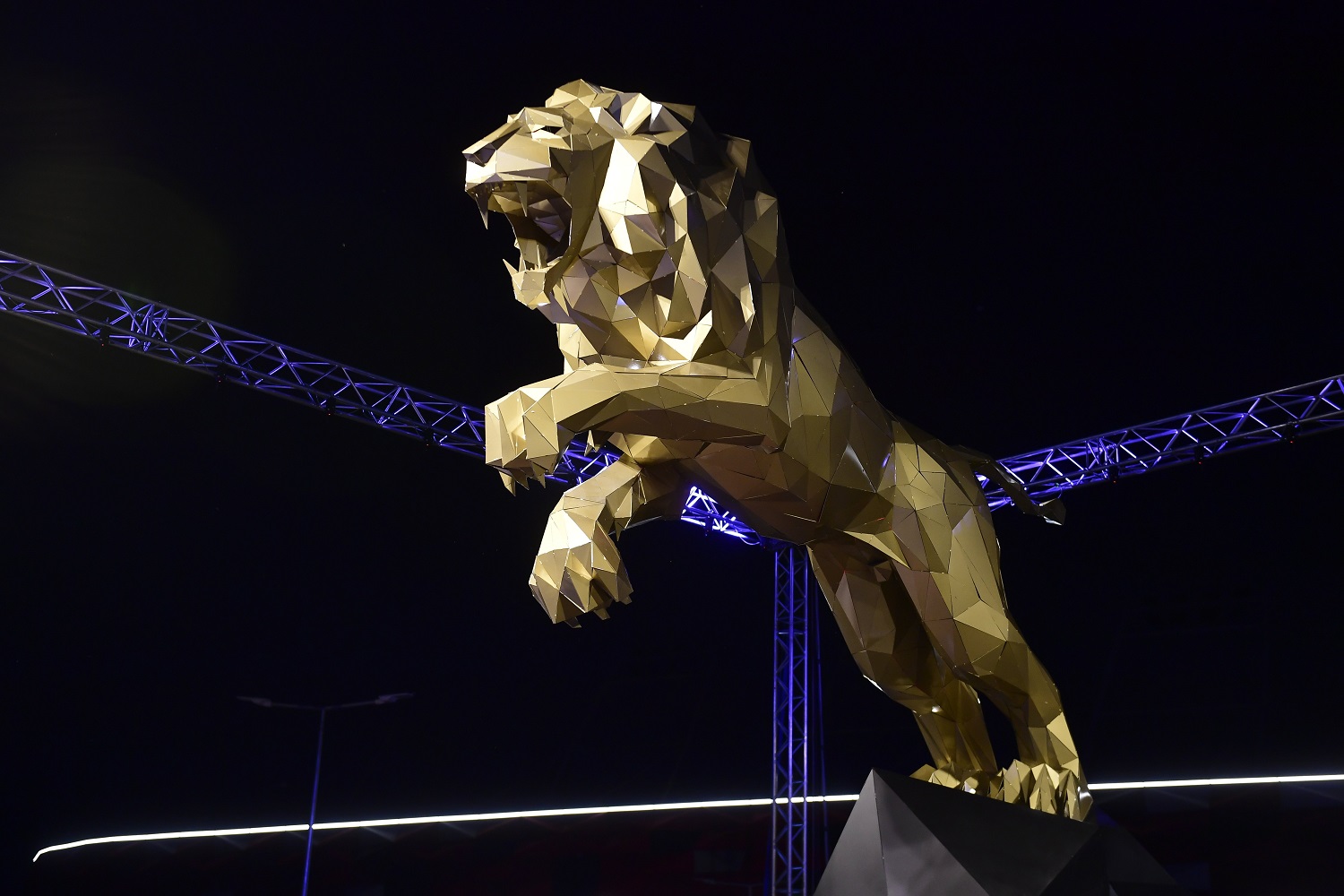 The roughly 6-ton work was made in 4-5 months (Photo: MTI/Szilárd Koszticsák)
"It's quite a touching moment for me. Whenever I look at the statue, I get goosebumps. From our team, the lion was more suitable for Imre Garaba or Antal Nagy, I was at most a well-behaved panther." - said the club's five-time champion footballer to MTI. "This honour also comes with responsibilities. So far, I have been gone through fire and water for Honvéd, where I have spent my entire career, but now, I am going to do it with twice my power." Although the Bozsik Arena was already used at the U21 European Championships in the spring, the inaugural match will take place on 24 July, when the Budapest Honvéd will host the Spanish winner of the Europa League, Villarreal.
Cover photo: The Golden Lion statue in front of the Bozsik Stadium in Kispest (Photo: MTI/Szilárd Koszticsák)