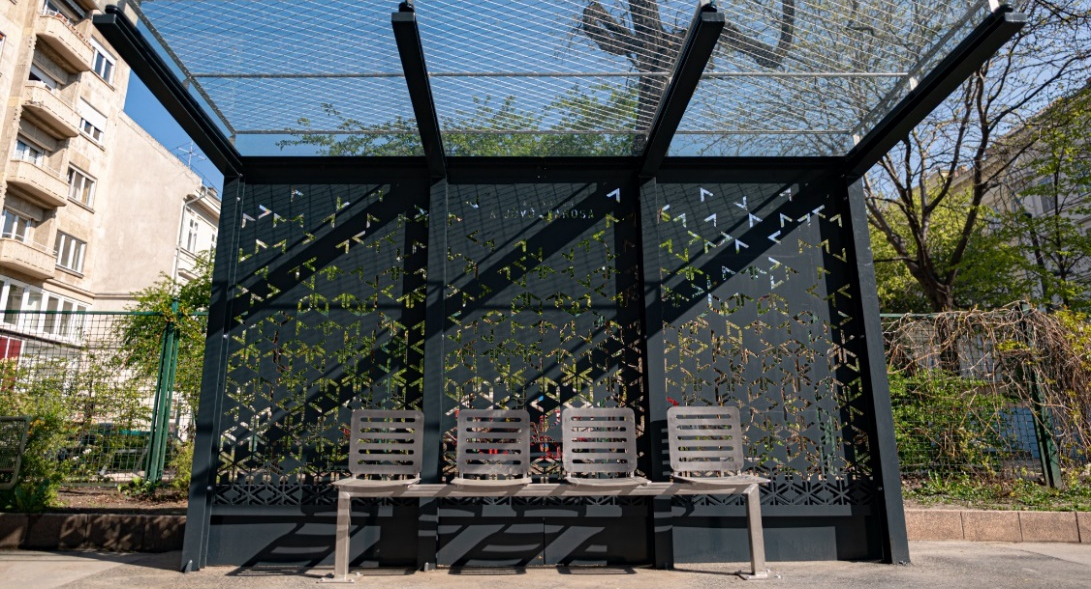 Another four green bus waiters have been set up in Downtown
Hungarian version of the article: Újabb négy zöld buszvárót alakítottak ki a Belvárosban
April 22, 2022 at 2:00 PM
The number of bus waiters planted and planted with plants in the city center has further expanded. The green waiting places have been handed over in Hild Square, Servita Square, Podmaniczky Square and Jászai Mari Square, so there are now eight green bus waiting areas in the city center.
The local government of the 5th district continued its bus waiter greening program, this time the newest green waiting places planted and run in the 5th district were handed over in Hild Square, Szervita Square, Podmaniczky Square and Jászai Mari Square, they write.
In 2020, green bus waiting areas were established in József nádor square , in 2021 on the north and south sides of Erzsébet square and in Nyugati square, so now eight stops provide a pleasant green environment for passengers waiting for buses.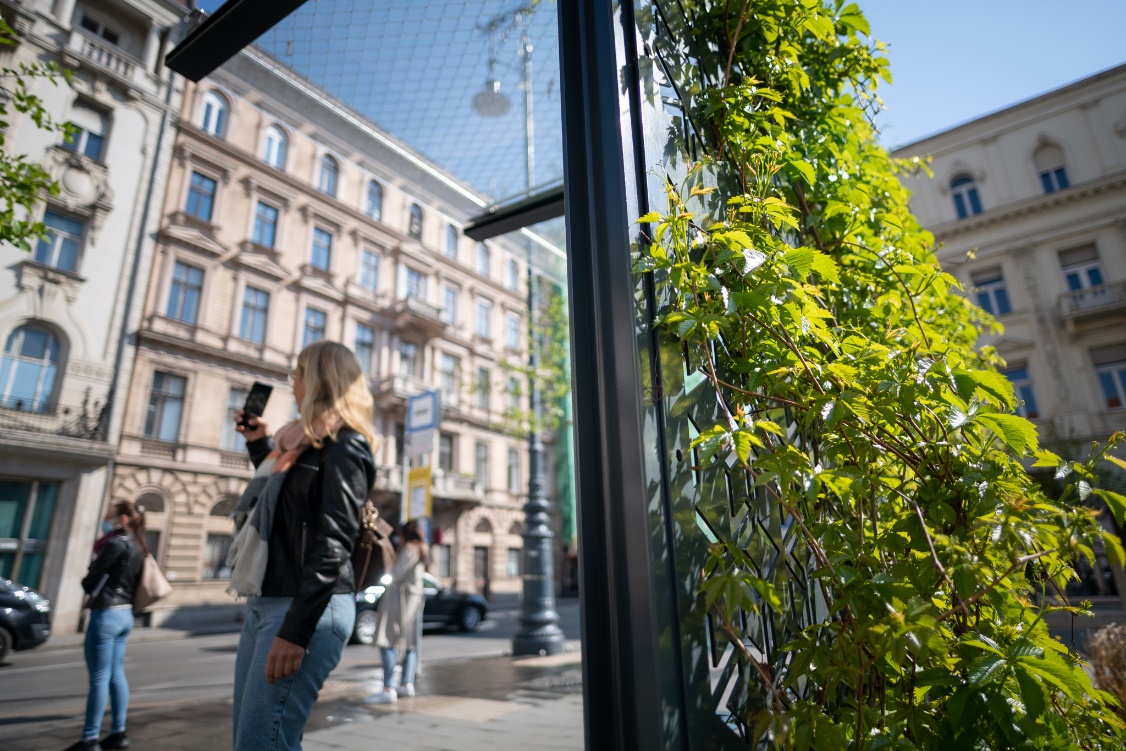 Green bus waiting area was handed over for the first time in József nádor square (Photo: Downtown Local council)
According to the local council, green bus stops not only provide better comfort for those waiting, but also contribute to reducing the urban heat island effect, have a positive effect on the microclimate, improve air quality, and play a role in capturing dust and gaseous substances.
Instead of a glass back wall, bus waiters are equipped with a tread made of anthracite-gray perforated sheets of the same color as the support structure, and the plants are supplied with water, where technically possible, by mechanized irrigation and on-site recovery of precipitation.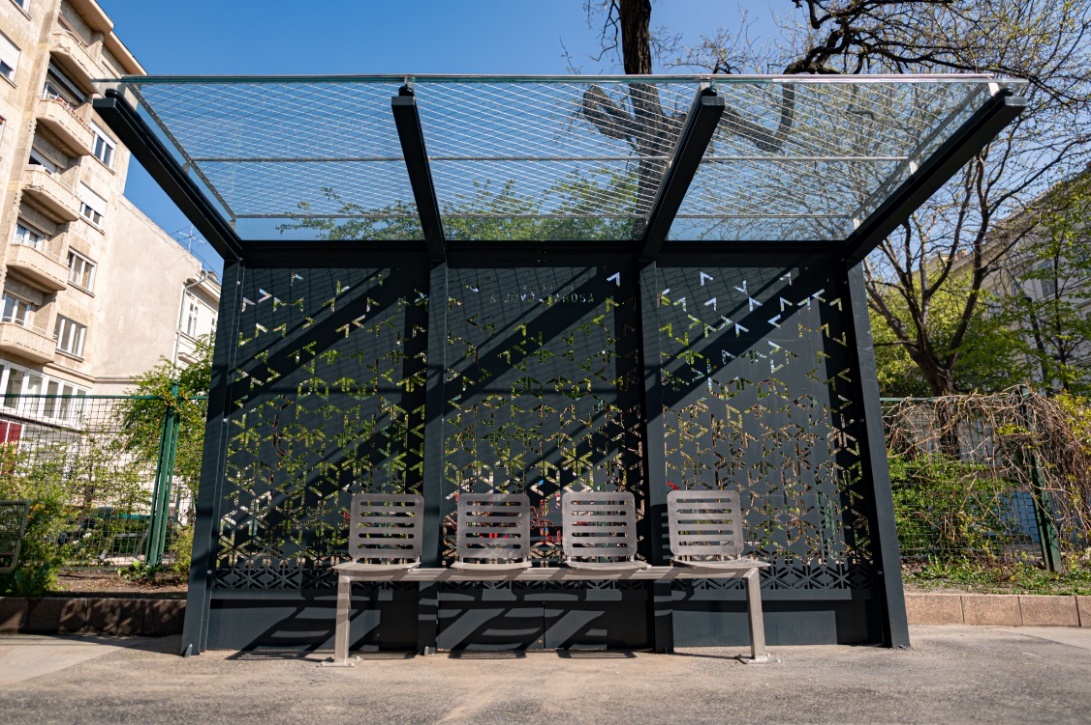 One of the four new green bus stops handed over in 5th District is Hild Square, which will soon be covered with rapidly evolving vegetation (Photo: Downtown Municipality)
Among the green bus shelters, the stops in József nádor square, Nyugati square, the northern side of Erzsébet square, Szervita square, Podmaniczky square and the bus waiting plant in Hild square were temporarily included in the plant cassette, after which the square was renovated.
The surroundings of the waiting rooms on the south side of Erzsébet Square and on Jászai Mari Square made it possible to place them in a plant cassette suitable for water storage. In the planting medium behind the back wall of the stops, black wild grapes were planted next to tangled onion. The waiting room on József nádor square, which was handed over as the first element of the stop-greening program, met its expectations in a short time, the wild grapes, which proved to be an excellent urban tolerant plant, ran up and greened the facility in half a year.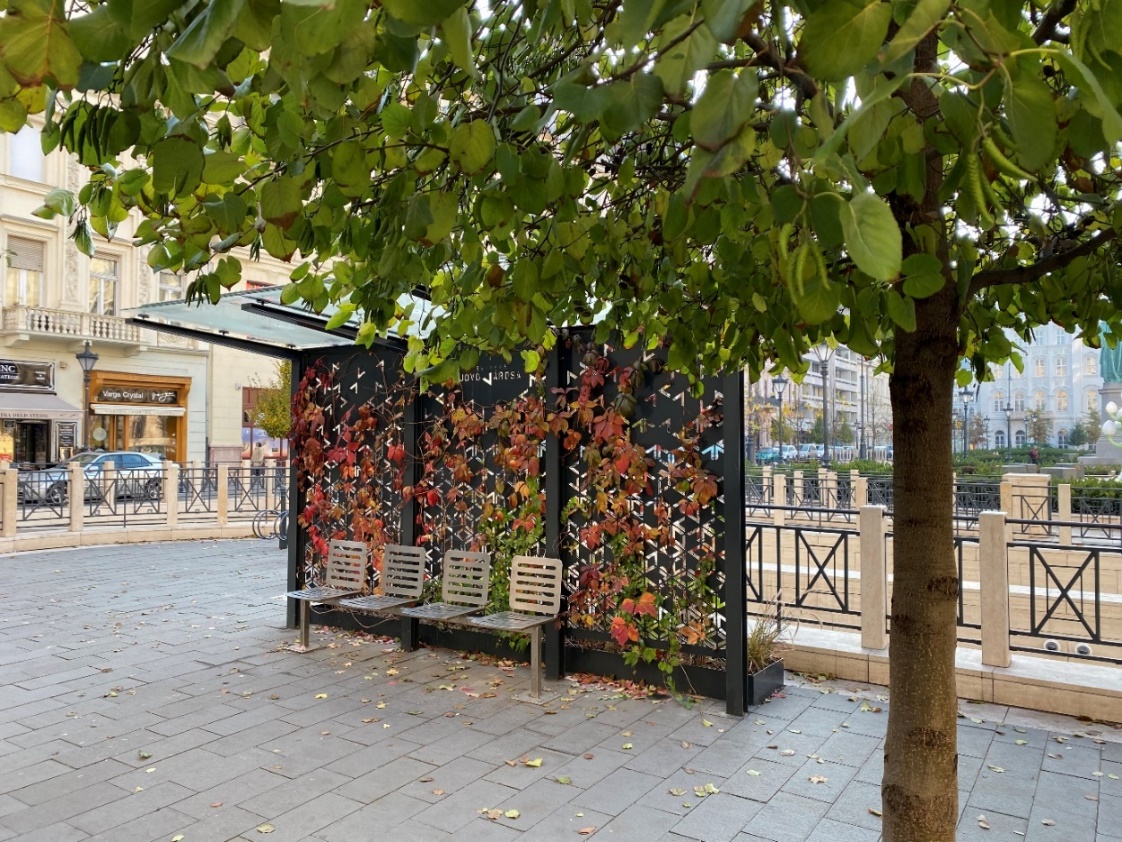 The stop covered with wild grapes offers a nice view (Photo: Downtown Municipality)
For the second year in a row, those living in the area and those who visit it regularly have been able to keep track of the seasonal changes in the vegetation of the stop - fresh green and autumn rusty - so that with the arrival of spring more and bigger leaves , new shoots adorn the stop.
Cover photo: Four more green bus waiting areas have been built in the Downtown (Photo: Downtown Municipality)