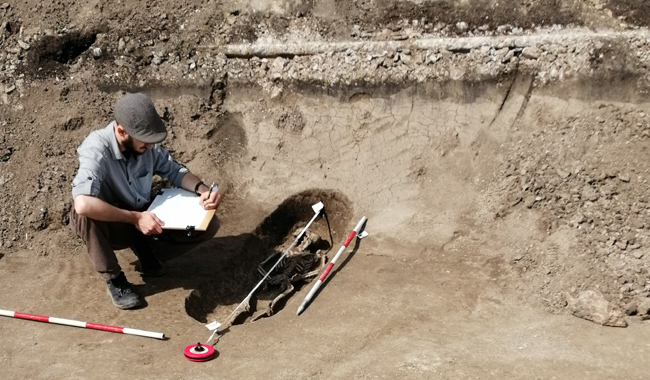 Archaeologists found an Árpád-era cemetery next to Budafoki road
Hungarian version of the article: Árpád-kori temetőt találtak a régészek a Budafoki út mellett
The excavations took place from April to June along the Budafoki road, north of the Kondorosi road, one of the surprises of the excavation was the discovery of an Árpád-era cemetery. Traces of the residential buildings of a settlement more than seven thousand years ago were also found in the area.
Archaeologists from the Budapest History Museum (BTM) excavated an area of almost five thousand square meters from April to June in the in the district's rust zone - can be read on the regeszet.aquincum.hu page, where excavation leader Dávid Kraus reported on the best results. His writing reveals that the southern part of the Budafoki road site was already known during the 2019-2020 excavations, when details of a Neolithic and an Árpád-era settlement came to light.
The article published on the archeology portal of the BTM reveals that in recent months, the archaeologists have been working on a plot of land further away from the Keserű-er (Kondorosi road), to the north of the previous sites, but at the same distance from the Danube. From the article, we can learn that one of the surprises of the 2022 excavation was the discovery of an Árpád-era cemetery, from which thirteen graves fell into the excavated area.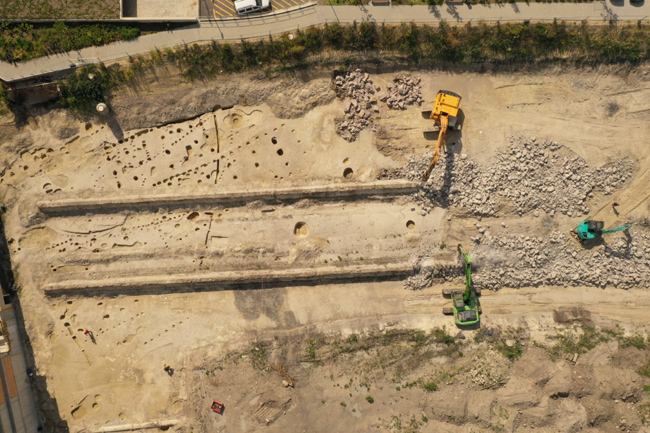 Archaeologists unearthed a 7,000-year-old village on the Budafoki road (Photo: regeszet.aquincum.hu)
A few silver-copper alloy rings were found in poor burials. Two robbed graves lead to the conclusion that the jewels and items of clothing deemed more valuable could have been taken by contemporary grave robbers.
The archeology portal also reports that the most spectacular and complex part of the excavation is the Neolithic residential zone consisting of hundreds of column sites, which shows the location and floor plans of the buildings that stood here 7,000-7,200 years ago. From a bird's eye view, the excavated foundation pits of the wooden pillars of the houses - which have now disappeared without a trace - pierced the ground into a cheese-like surface. The long, regular rows of columns outline the longitudinal (external) walls of the houses that once stood here.
A small Roman bronze coin and a bronze pin from the 3rd to 4th centuries were also found in the area. century, a Bronze Age vessel (from around 2500 BC) and a fragment of a vessel with a human face model were also found. The three wells that provided fresh drinking water to the population and livestock of the settlement were found in the area north of the residential buildings, the archeology website said.
The full article can be read here.
Source: regeszet.aquincum.hu
Cover photo: An Árpád-era cemetery was excavated in the 11th century. district, along Budafoki út (Photo: regeszet.aquincum.hu)