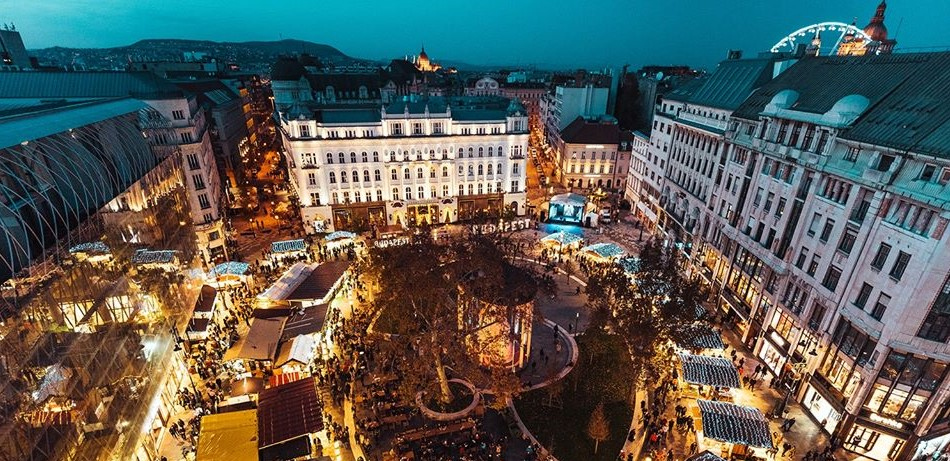 Christmas Market on Vörösmarty Square cancelled
Hungarian version of the article: Elmarad a Vörösmarty téri karácsonyi vásár
October 13, 2020 at 6:44 PM
Due to expectations that the COVID-19 epidemic will reach its peak in Hungary during the advent period the traditional Christmas market held every year on Vörösmarty Square has been cancelled.
Preliminary estimates by professional, healthcare officials and government sources indicate that the corona-virus pandemic will reach its peak in Hungary towards the end of November and in December. As a result, the Budapest Festival and Tourism Centre (BTFK) had decided to cancel the Christmas market this year, based on advice from the capital's Operational Corps – announced the BTFK to the MTI on Monday.
The release highlights that similar measures are being taken by major cities in neighbouring countries as the response the pandemic continues.
This year's market has been cancelled due to the COVID-19 pandemic (Photo: Budapest Christmas Market)
"The BFTK hopes to support Hungarian artisans and craftspeople, and will organise a campaign to promote the buying of handmade products as gifts this Christmas as well," – the press release shared with the MTI quotes Csaba Faix, CEO of the Centre as saying.
Csaba Faix added that the majority of artisans and craftspeople have webshops, in which buyers can order gifts and support the Hungarian crafts industry. The BFTK hopes that others will join the initiative, as Easter and Christmas are the main sources of income for this sector of the service industry.
Source: MTI
Cover photo: Bird's eye view of the 2019 Christmas Market (Photo: Budapest Christmas Market)