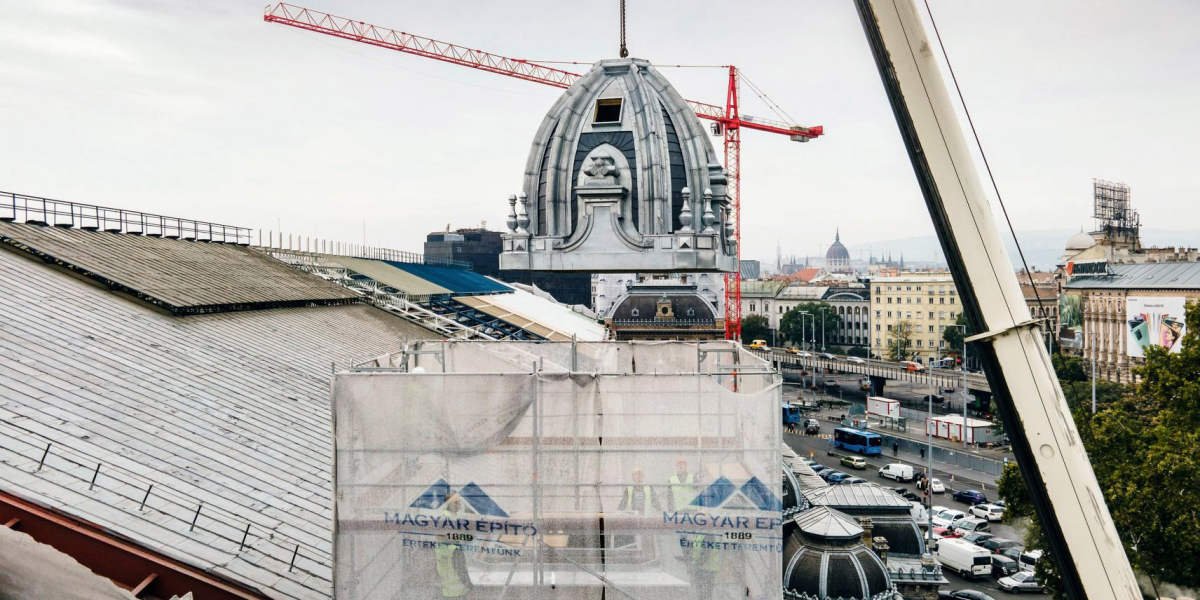 First renovated spire of Western Railway Station completed
Hungarian version of the article: Elkészült a Nyugati pályaudvar első toronysisakja
October 24, 2020 at 5:00 PM
Renovation of the 8,200 square metre roof of Nyugati Pályaudvar, the Western Railway Station has reached a spectacular stage. The first of the spires for the towers on the rear facade has been raised into place. Meanwhile, the new glass panels of the roof are being installed, and the roof structures of the towers on the main facade toward Teréz Boulevard are being removed.
Renovation of Budapest's oldest, 143-year-old, railway station is in full swing. Much needed repairs are being carried out on the 8,200 square metre roof of the building designed by the Austrian August de Serres and Gustave Eiffel – who later achieved worldwide fame with the Eiffel Tower. The first fully restored spire of the building has been raised to its place. The spire was hoisted by a huge crane and placed on its pedestal on the left-side tower of the rear facade (near the Westend shopping centre) – announced MÁV.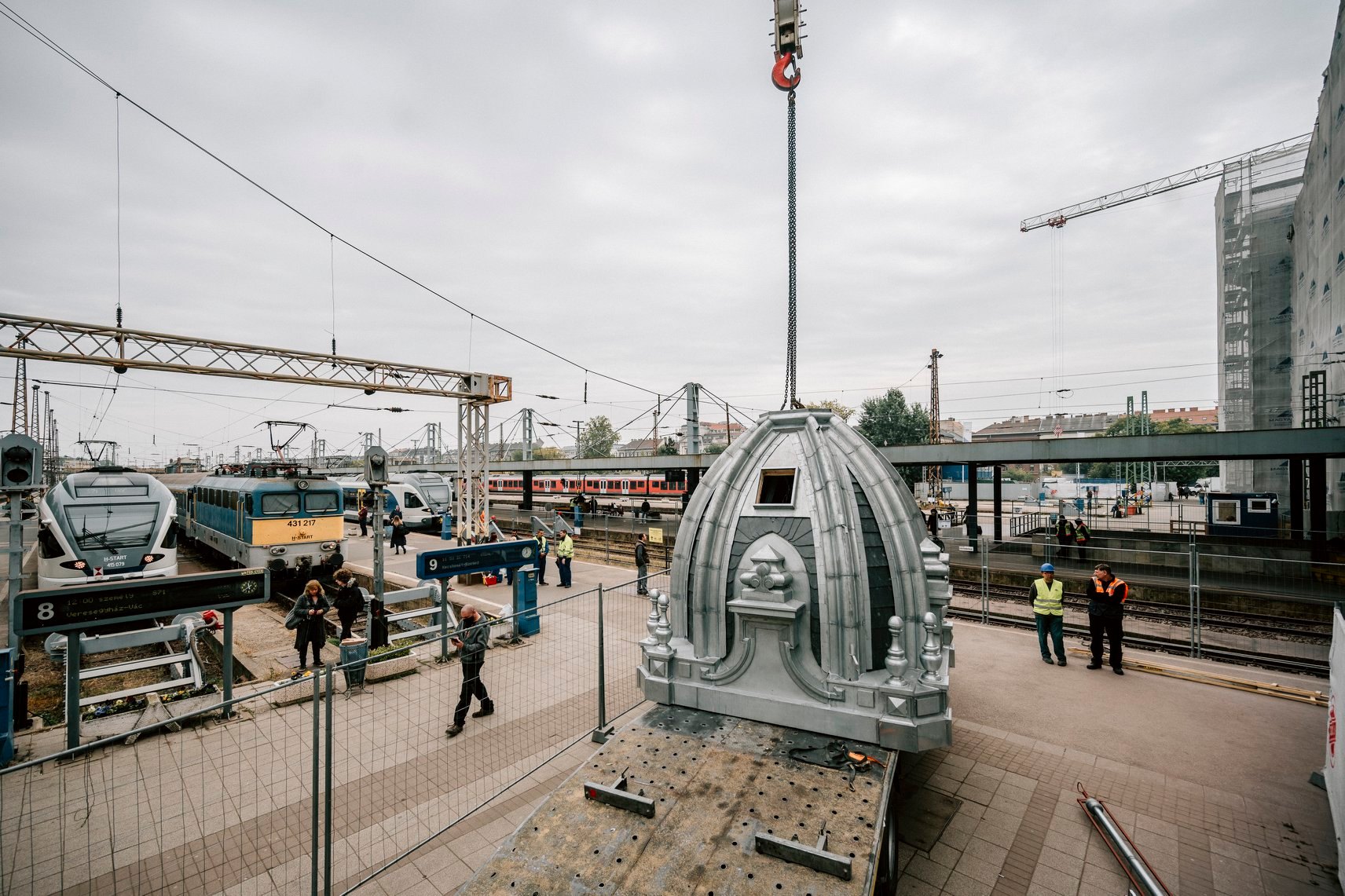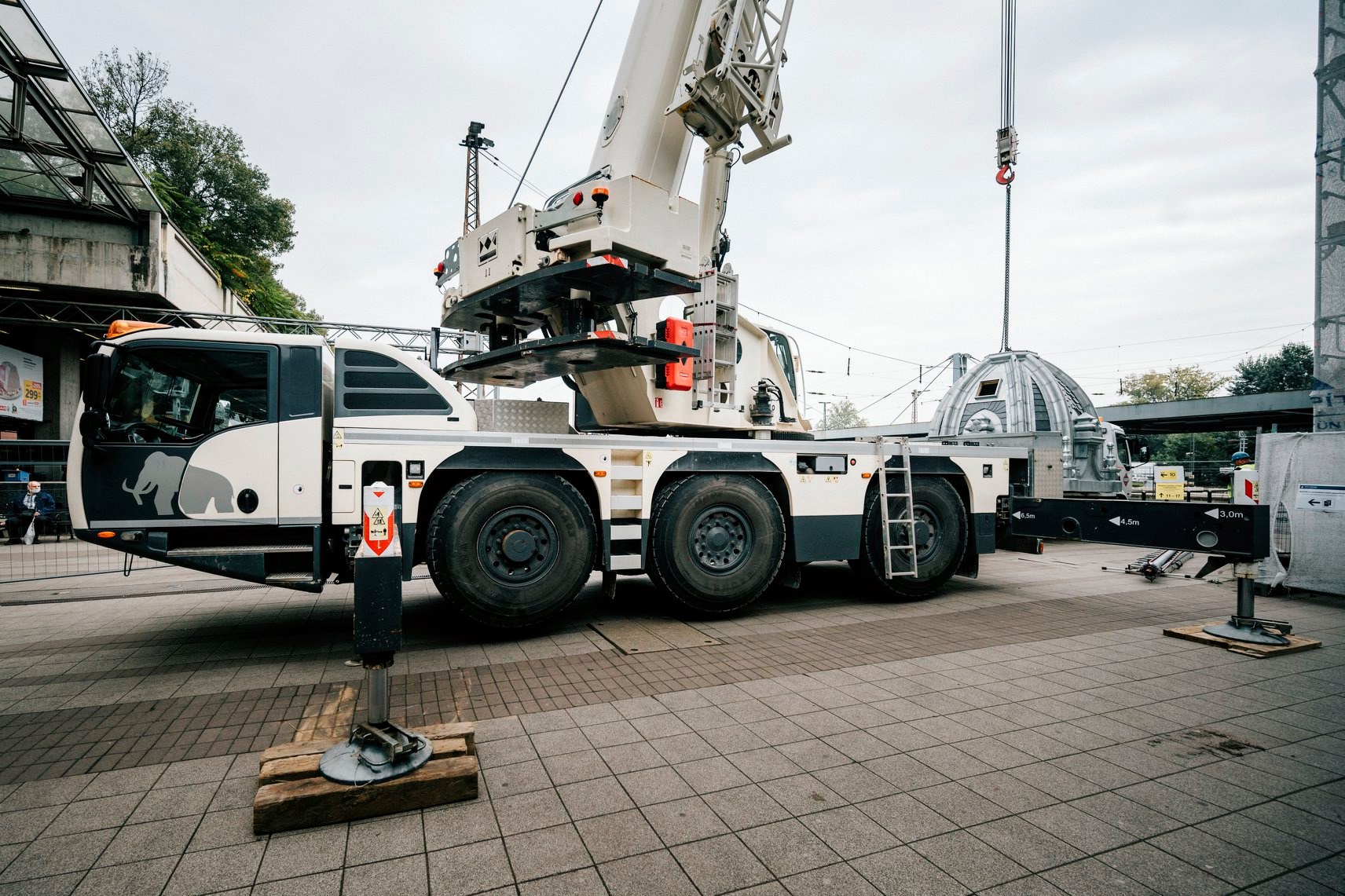 The renovated spire arrived at the construction site on a truck and was raised onto the 19-metre-high pedestal (Photo: Facebook/MÁV)
A statement released by the railway provider states that the new panes of glass are being installed on the roof and the roof structures of the two towers on the main facade are also being torn down so they can be rebuilt later.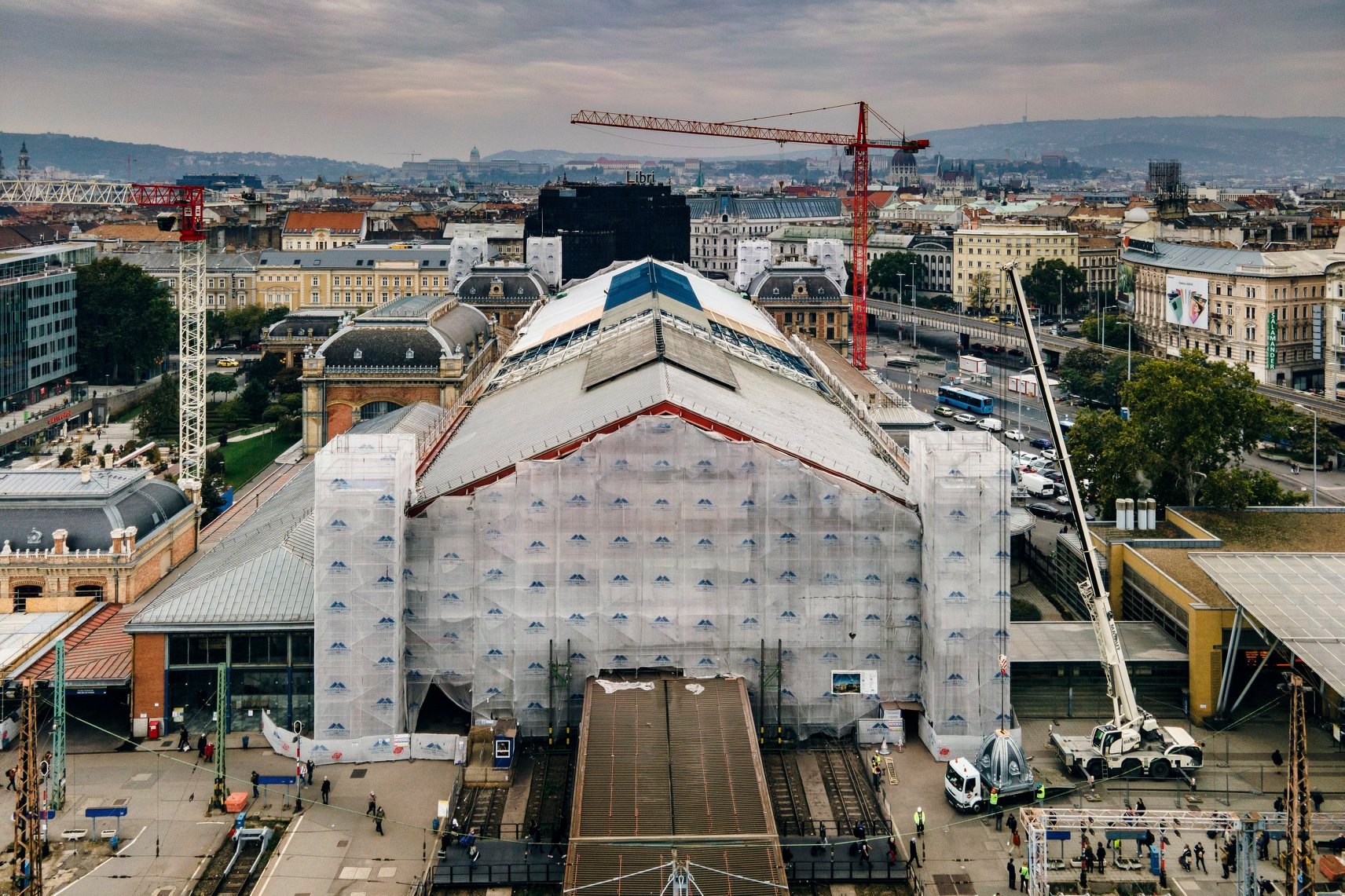 The left tower of the rear facade has been put back in place (Photo: Facebook/MÁV)
Platform signs and the station clock were also removed for renovation at the beginning of Autumn. Lights, the public announcement system and cables are also to be replaced. A new rainwater drainage system is being built alongside the renovation of platforms. Decorative carpentry works are underway, as is restoration work on the main ledge, new plaster decorations and ornamental roughcast are being put down.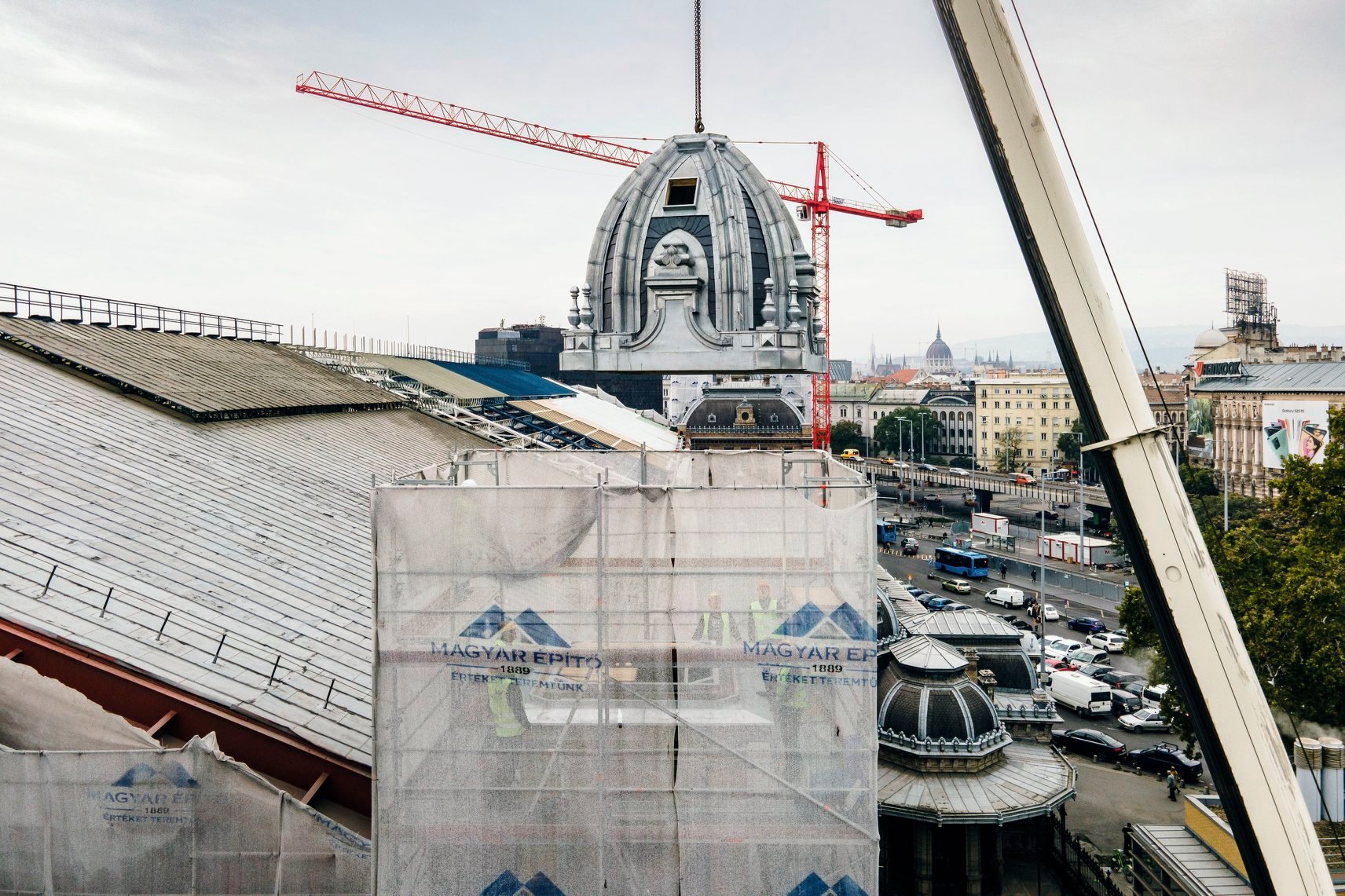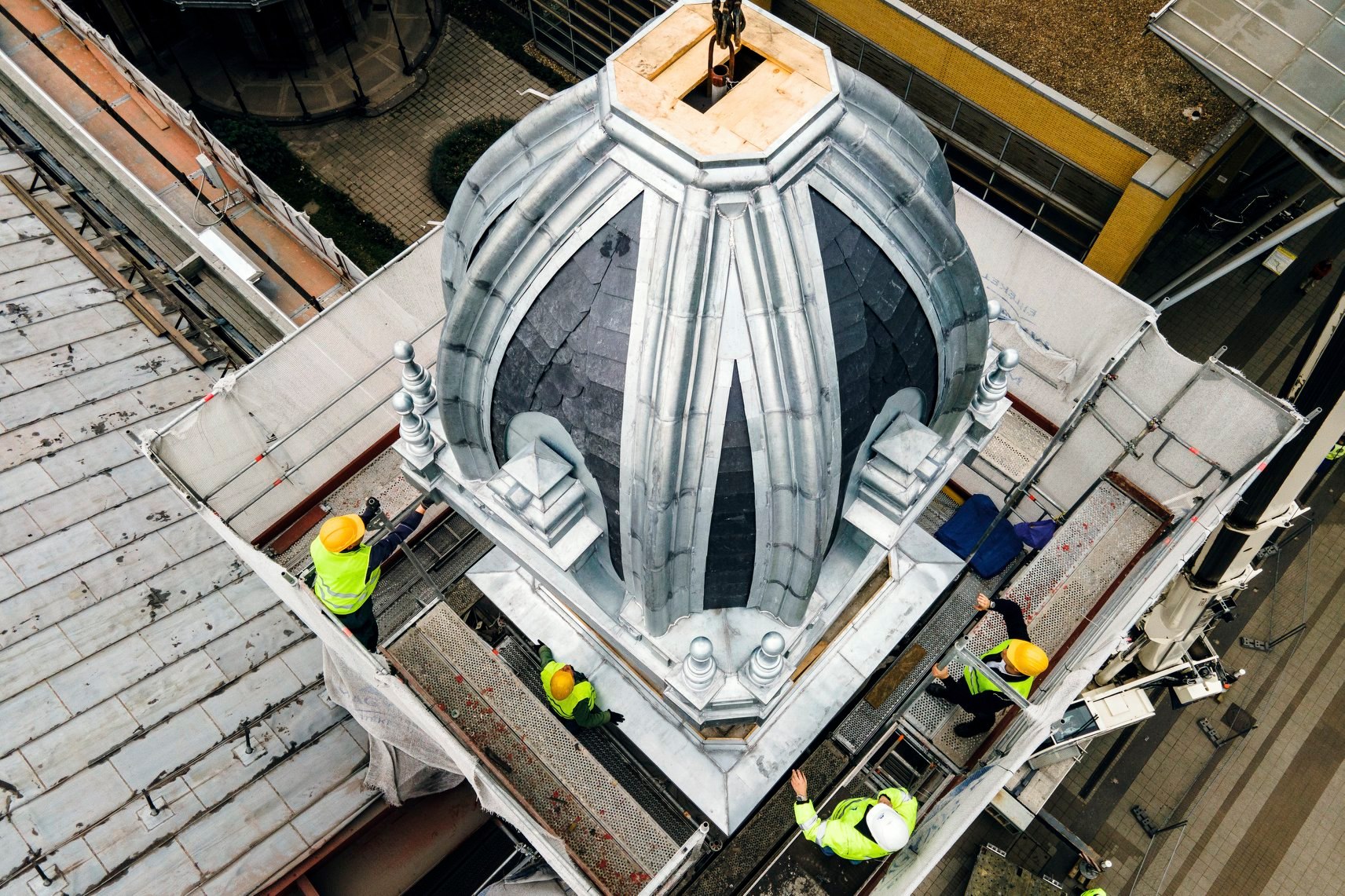 Fitting the tower precisely was no easy task (Photo: Facebook/MÁV)
The train power lines were fixed and temporary bumpers to close of platforms 10–13 installed previously. Trains currently use the external platforms of the station. A 70,000 cubic metre scaffold has been built in the main hall of the station, and a 7,000 square metre safety net was installed to protect passengers and workers. Further scaffolding work is underway.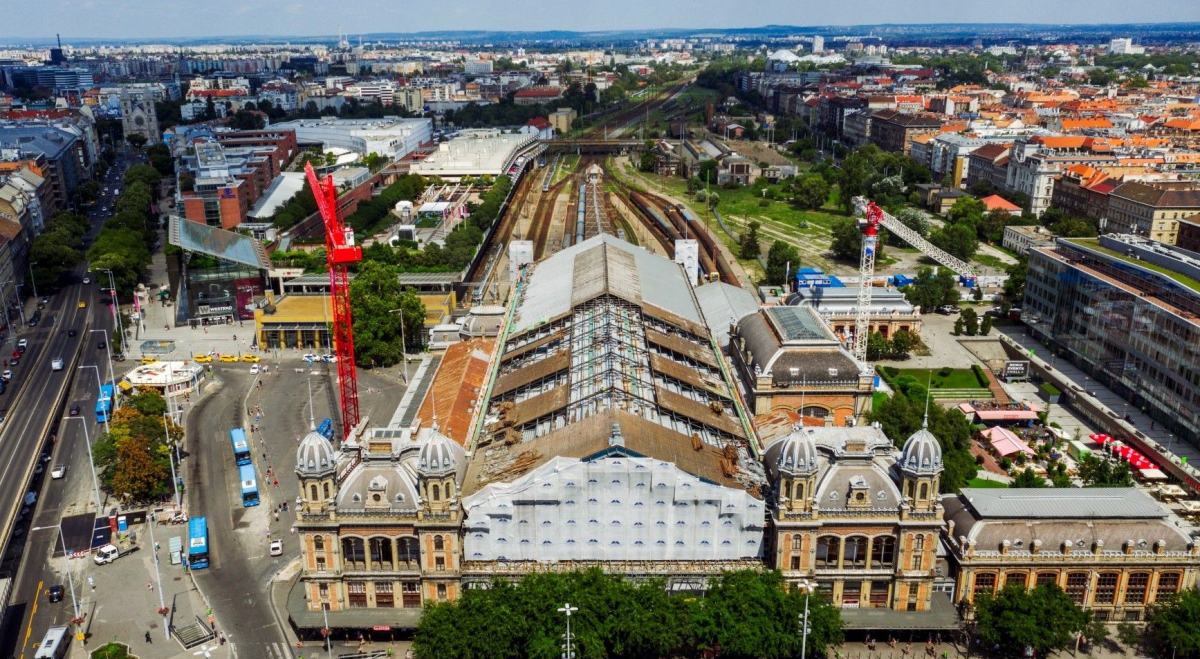 The railway station under renovation in August 2020 (Photo: MÁV)
As previously reported, due to the condition of the roof, the important role the building plays in rail transport and to preserve its historical values, renovation of the railway station – used by over 18 million people each year – became critical. Beyond the tasks detailed above the glass curtain walls at either and of the main traffic hall will also be renovated.
Source: MÁV Zrt./pestbuda
Cover Photo: Facebook/MÁV