MTI reports that the first section of the Pest intertwining tram network has been completed. As a result of the Haller Delta project, a new pair of tracks was lain between Haller Street and Soroksári Road connecting Haller Street to the city centre section of tram line 2.
At the opening ceremony on Friday, Mayor Gergely Karácsony emphasised the goal of the project was to create a tram network similar to that found in Buda, and improve transfer-free transportation in the city. This small but vital project – completed from 2 billion HUF – is a major step to ensure this, he added.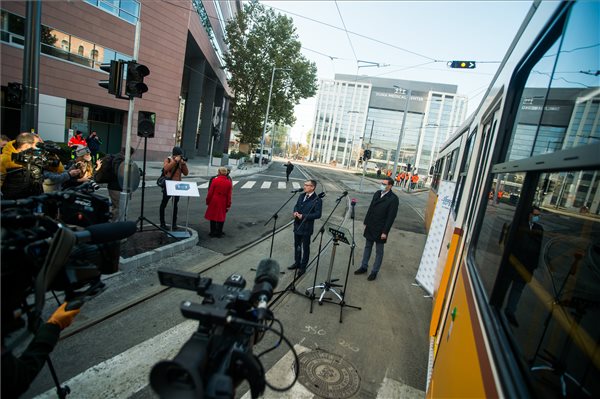 The first section of the Pest intertwined tram network has been completed. new tracks were lain between Haller Street and Soroksári Road to connect to the city centre (Photo: MTI/Zoltán Balogh)
The mayor also noted that the completion of the project would support traffic diversion during the renovation of the central section of metro line M3, as it will provide a tram connection between Nagyvárad Square at the city centre. The Mayor also pointed out that in the long term, the development project will also enable direct tram connections toward Ferencváros and Pesterzsébet.
Tibor Bolla, CEO of BKV Zrt. called the Haller Delta project one of the most significant tram-related developments of the year. The project, which was funded by 1,8 Billion HUF from the Budapest budget began in the spring and was completed on schedule. The CEO noted that 1,2 km of tracks had been lain with 770 metres of telecommunications wires and 750 meters of street lighting cables. Nine trees were felled because of the construction work, but fifty-one new saplings planted.
Traffic on the new line will commence on Saturday, added Mr Bolla, emphasising the line could be an alternative route during the reconstruction of the M3 line's central section.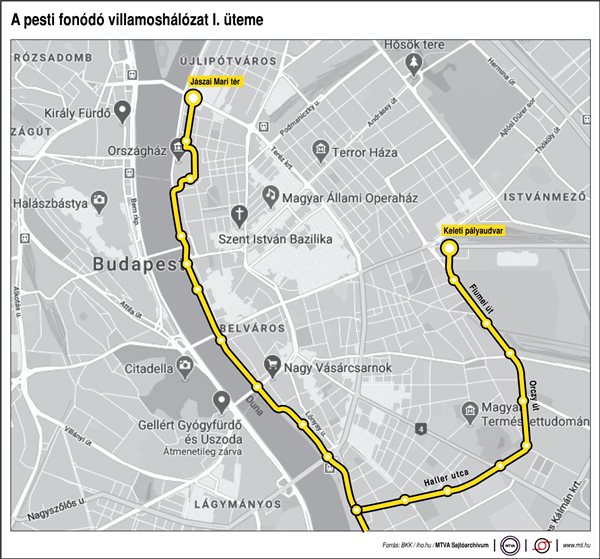 Construction of the first phase of the Pest intertwining tram network began on 23 May 2020 (Source: bkk.hu)
BKV and the Budapest Transport Centre announced in a statement that the 2M tram would offer service towards the city centre from Saturday. The new line departs from Keleti Railway Station on the tracks used by tram line 24, reaching Nagyvárad Square it will turn from Haller Street onto Soroksári Road and follow the line of the No. 2 tram to Jászai Mari Square, connecting to several mayor junctions in the city centre.
Tram line 2 (Photo: bkk.hu)
The statement added that 227 metres of drinking water mains had been replaced, along with 29 powerline pylons, and new energy-efficient LED lights were also installed to improve street lighting. Tram stops in the junction have also been renovated and made accessible to those with limited mobility.
Due to the complex nature of the project, developments unconnected to tram traffic may continue until the end of the year.
Source: MTI
Cover photo: Tram line 24 (Photo: Wikipedia)