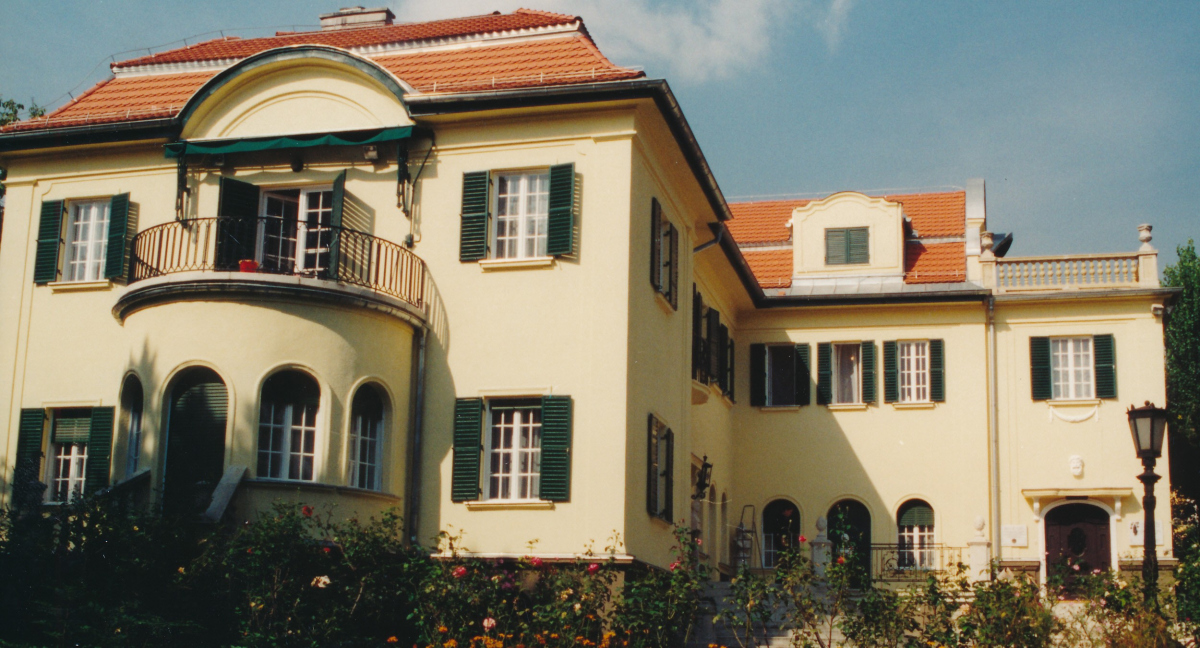 An unexpected safe haven – Actress Gizi Bajor sheltered the hunted during the terrors of World War II
Hungarian version of the article: A 70 éve elhunyt Bajor Gizi villája sok üldözött számára nyújtott menedéket
February 12, 2021 at 7:00 PM
The outstanding Hungarian actress, Kossuth prize-winner Gizi Bajor died seventy years ago. Her name is known by everyone that is even slightly interested in Hungarian theatre. What is less known is that her villa was a safe haven in 1944 and 1945, where she sheltered, among others, Jews and famous writers in hiding. Since her death, the villa on Stromfeld Aurél Road in the 12th District has preserved her memory as the Gizi Bajor Museum.
Gizi Bajor was born on 19 May 1893 in Budapest, with the name Gizella Beyer. She attended the school operated by the Sister of Loreto and continued her studies in the Academy of Performing Arts between 1911 and 1914. From there, she joined the National Theatre, where she performed until her death. Her portrayals have become legendary in several cases. She could be seen as Juliet in Shakespeare's Romeo and Juliet, Margaret Gauthier, in Alexandre Dumas's Camelle, Lady Milford in Schiller's: Intrigue and Love, or Countess Diana, Cleopatra or Titania. She was elected a life member of the National Theater in 1925, and received the Corvin Wreath in 1930, and made a member of the Order of Freedom in 1945.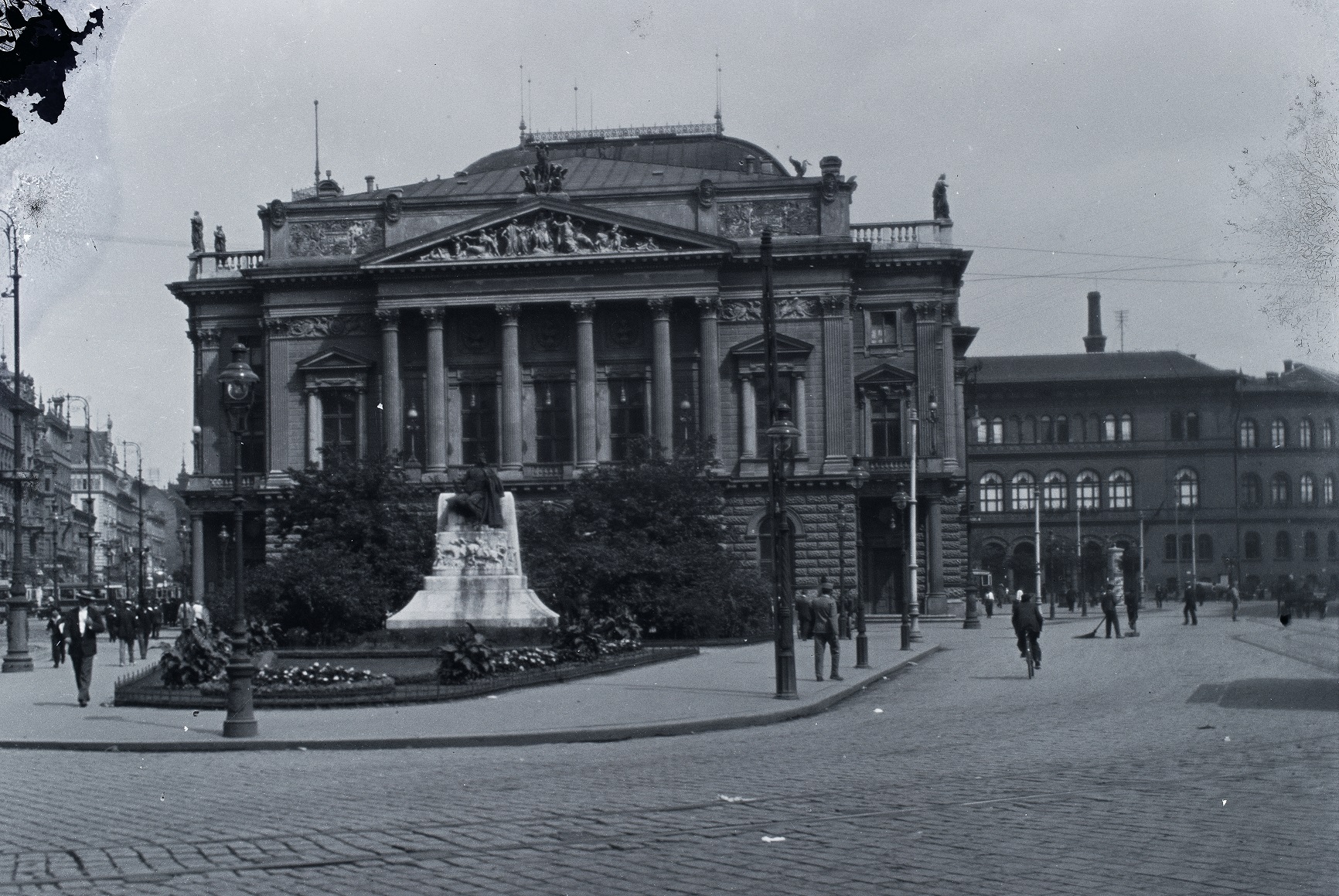 The National Theater on Blaha Lujza Square in the 1920s (Photo: Fortepan/No.: 175054)
Gizi Bajor converted her originally single-storey villa into an elegant home in 1928. She moved into the house with her third husband, Tibor Germán, a well-known laryngologist. They began their life together here, at 16 Stomfeld Aurél Road (Piłsudski Road at the time).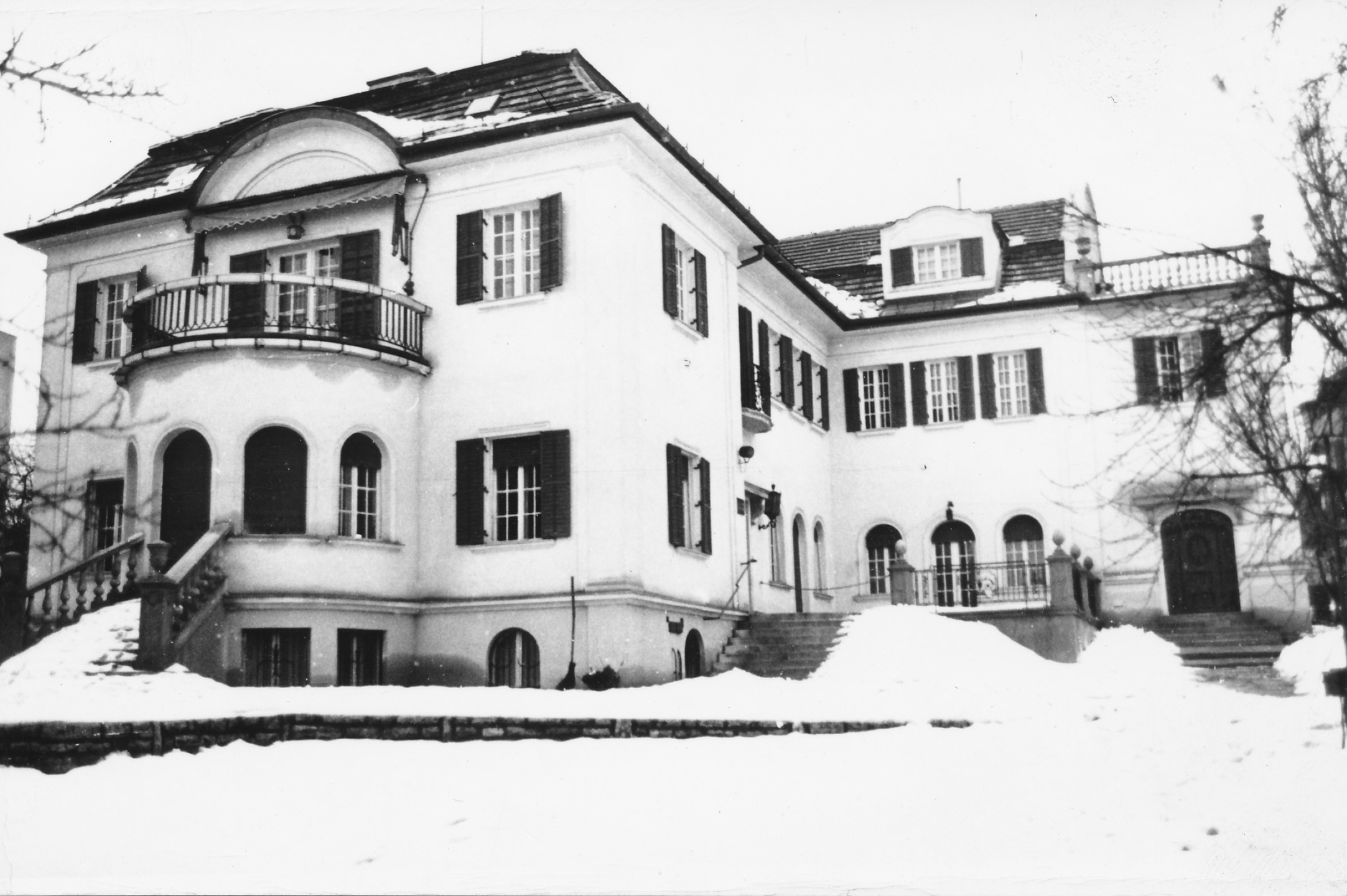 The remodelled villa at 16 Stromfeld Aurél road today (Photo: Hegyvidék Local History Collection)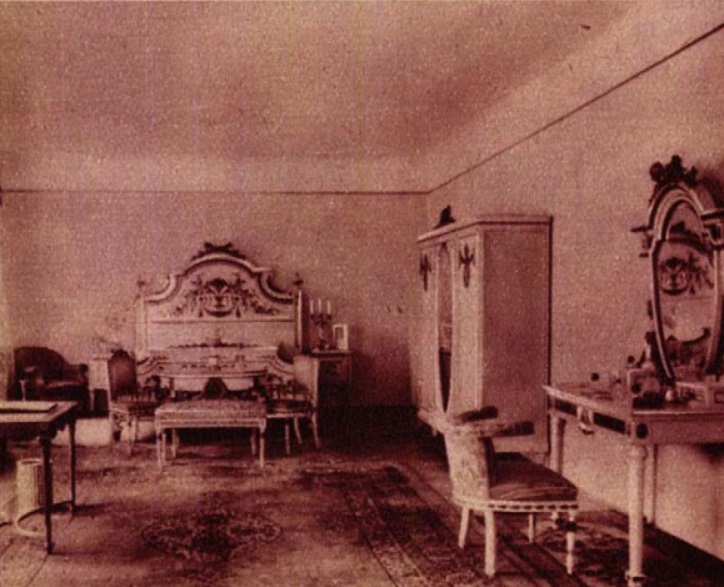 Gizi Bajor's bedroom in 1933 (Source: Színházi Élet, 1933/10)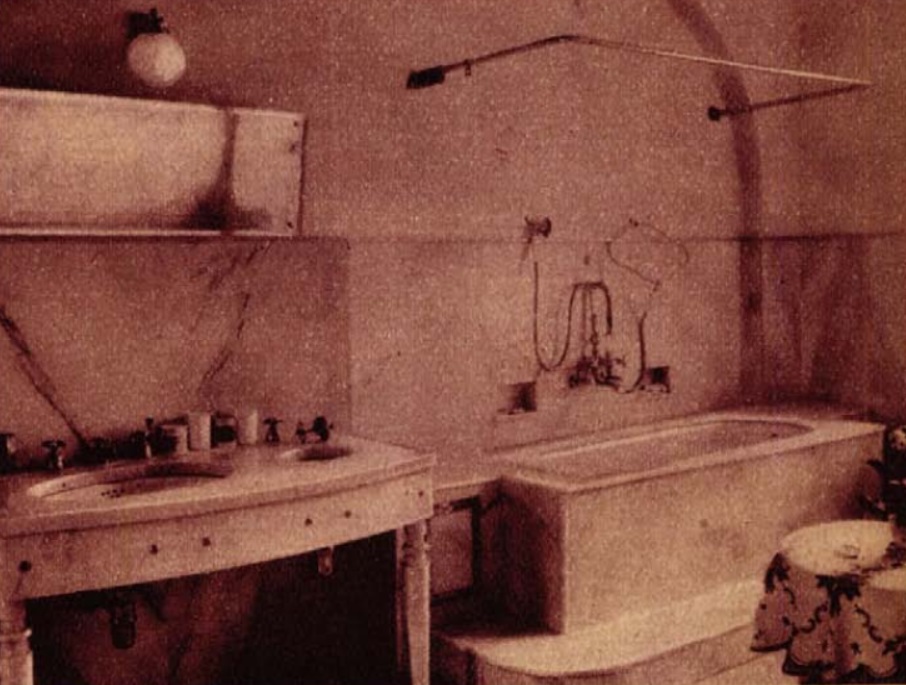 T
he bathroom of Gizi Bajor's new house in 1933 (Source: Színházi Élet, 1933/10)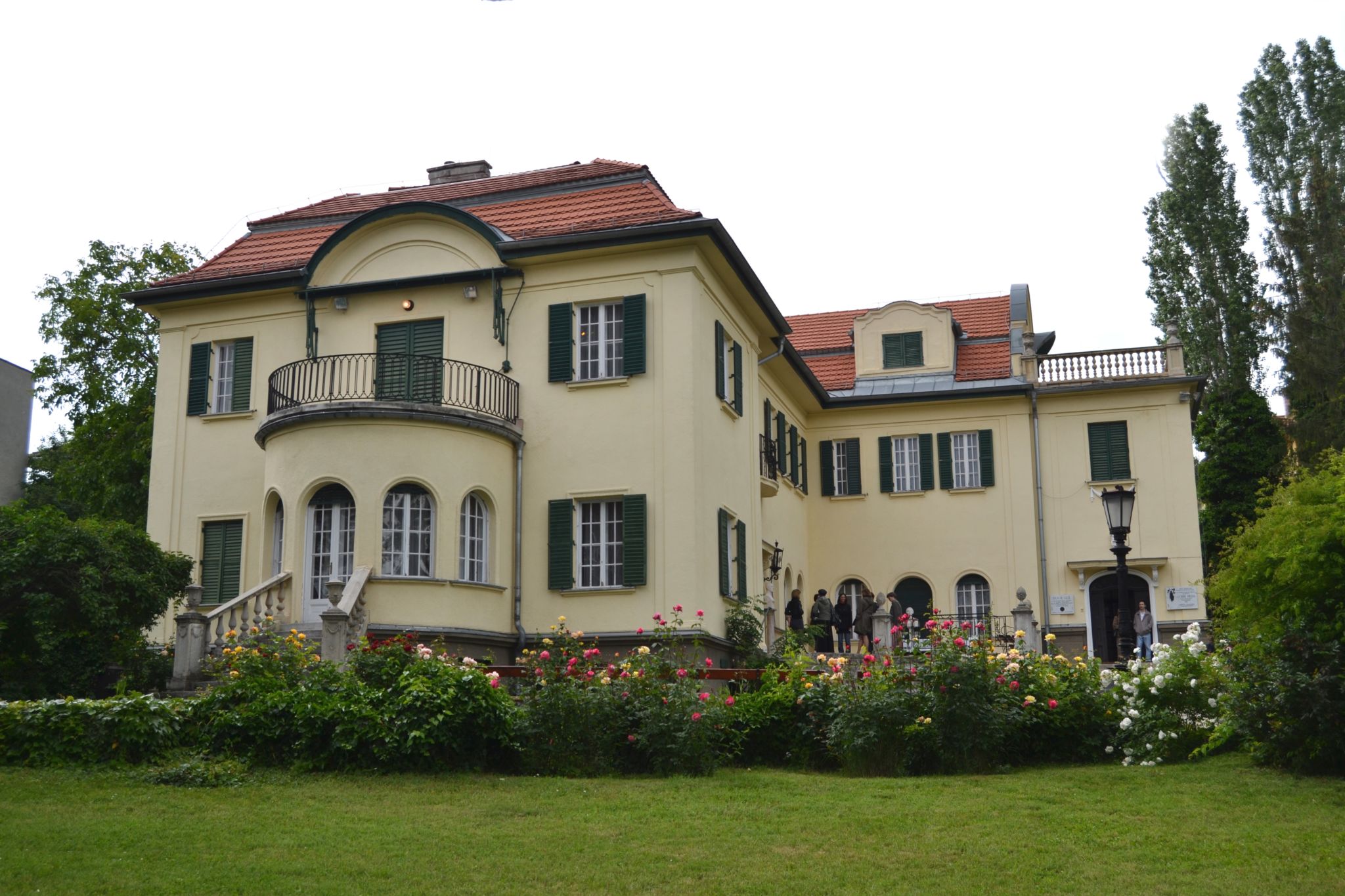 The former villa of Gizi Bajor, today the Gizi Bajor Museum (Photo: Hungarian National Museum of Theatre History)
The building soon became a popular meeting place for artists in Budapest. As Gizi Bajor was not a fan of bars and clubs, she invited her friends and acquaintances to relax in her villa or visited others.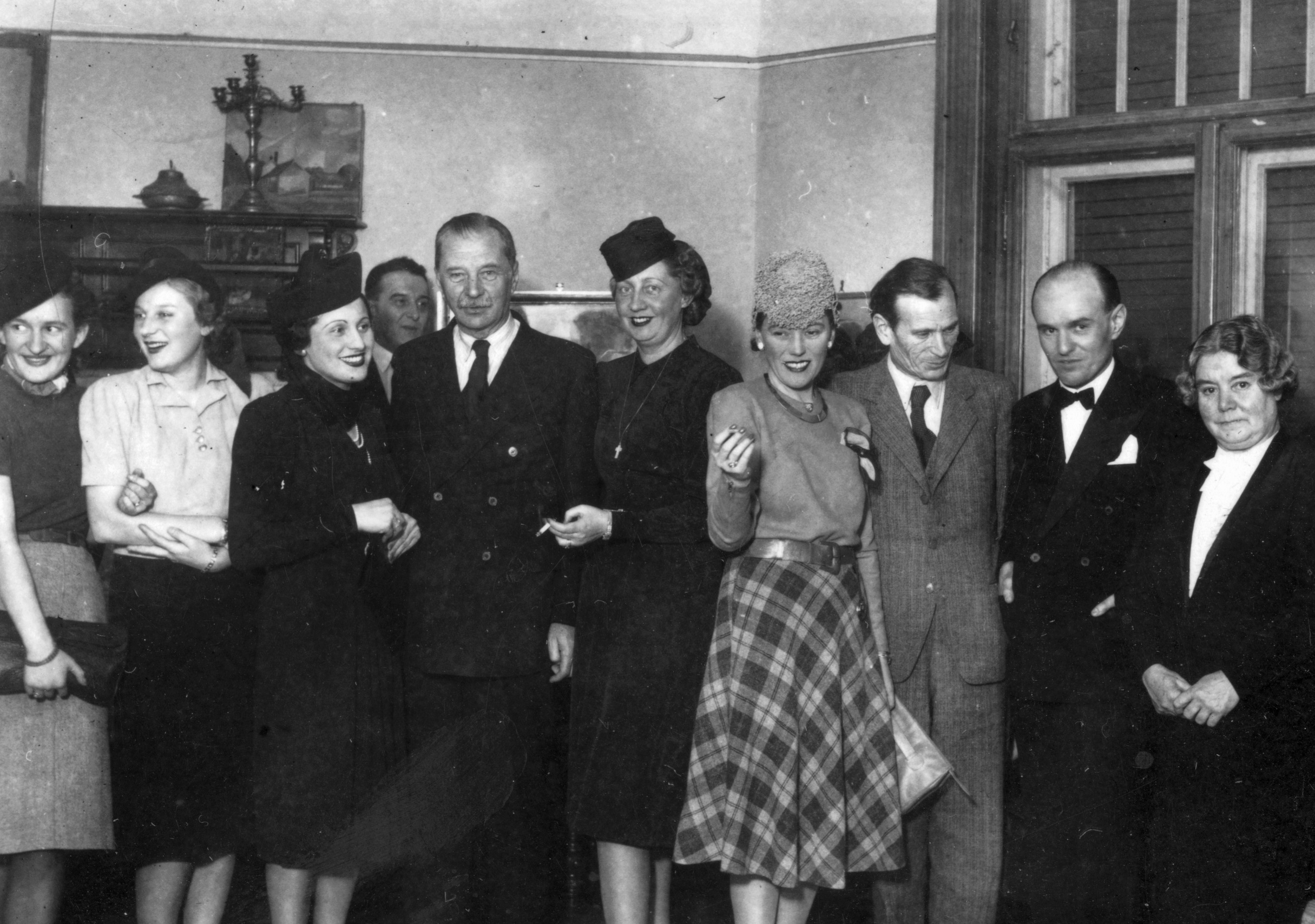 In the studio apartment of the painter József Egry at 18 József Attila (gróf Tisza István) Street in 1939. Egry József, third from the right and Gizi Bajor fourth (Photo: Fortepan/No.: 7452)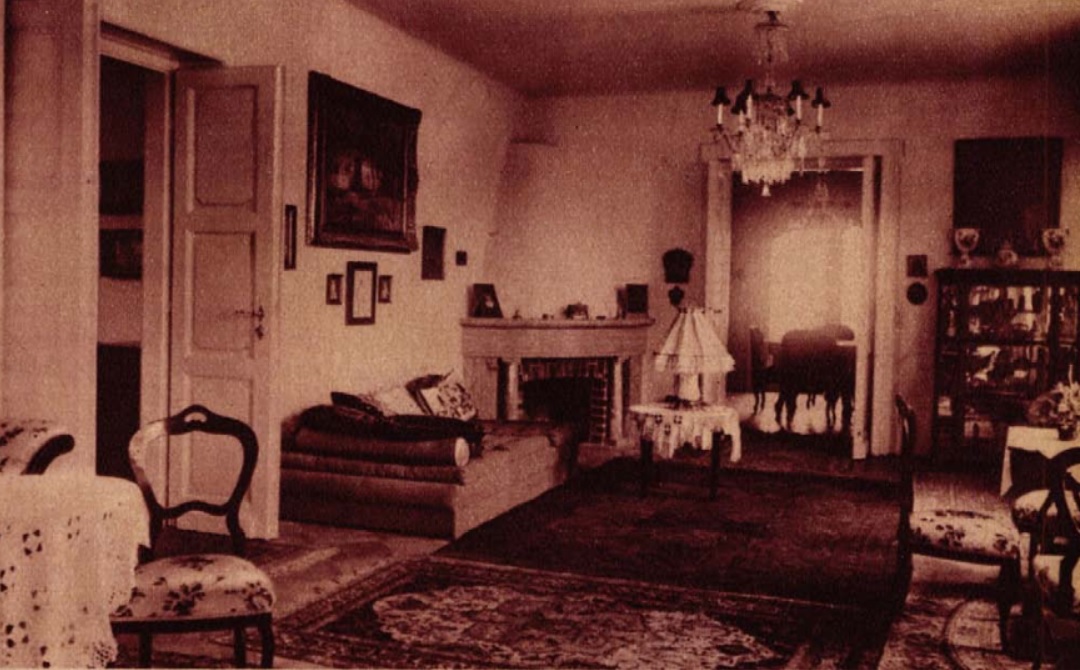 Salon of Gizi Bajor's new home in 1933 (Source: Színházi Élet, 1933/10)
The villa, which is completely closed off from the outside world with high walls, was of interest to many. Unsurprisingly, it was featured repeatedly in various newspapers, such as Film, Színház, Irodalom, which visited the actresses home on 6 June 1942.
"She has agreed: we can go and see what Gizi Bajor is up to!" writes the paper and then continues, "The villa on Pilsudski Road is similar to the Spanish palaces of Hollywood. It blazes in the June sunshine as we open the bastion-like gate. Our old acquaintance, the twelve-year-old good old dog Peggy comes to meet us, and as we turn our attention to this old dog a voice sounds in the background. It's her, Gizi! We see her pulling sandals onto her damp feet – she's been helping her old helper Ms Kati, collect hay as the gardener had just cut the grass that morning, and in their work, they could not resist the cool water of the park pond, in which two geese bathe instead of swans." Two geese. A gander and his mate. The gander is mean and terrifying, hissing at everyone but Gizi, despite her bear legs."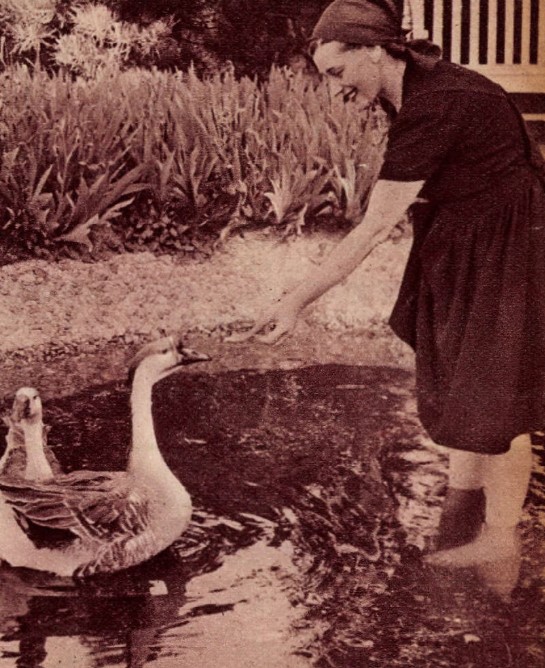 Gizi Bajor barefoot in the garden pond of her villa in 1942 (Source: Film, Színház, Irodalom, 5 June 1942)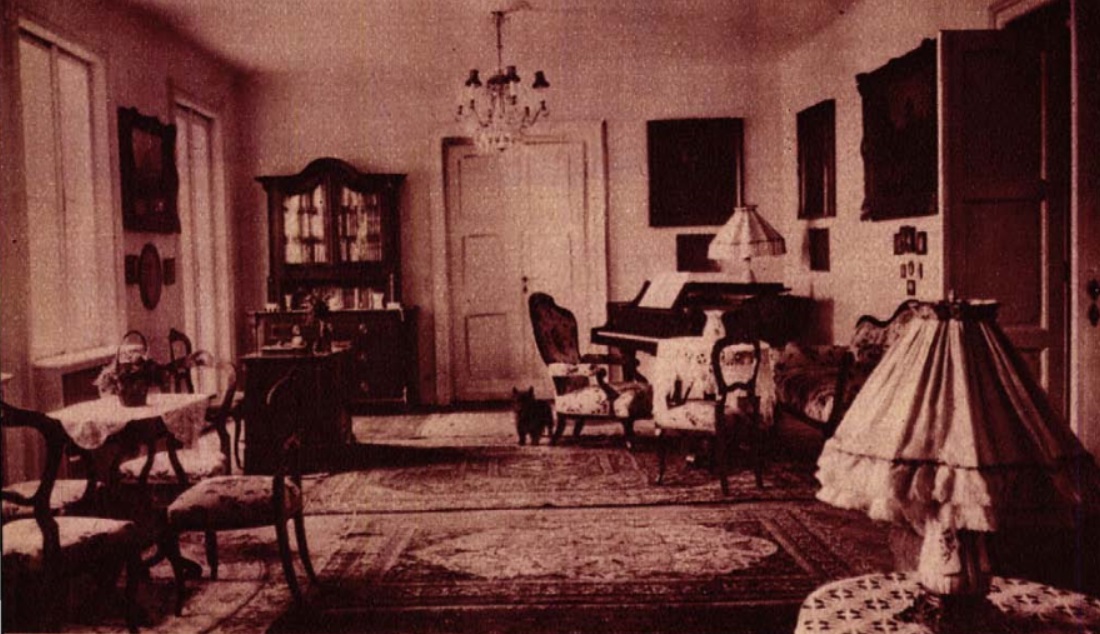 Gizi Bajor's salon with her dog, Peggy in 1933 (Source: Színházi Élet, 1933/10)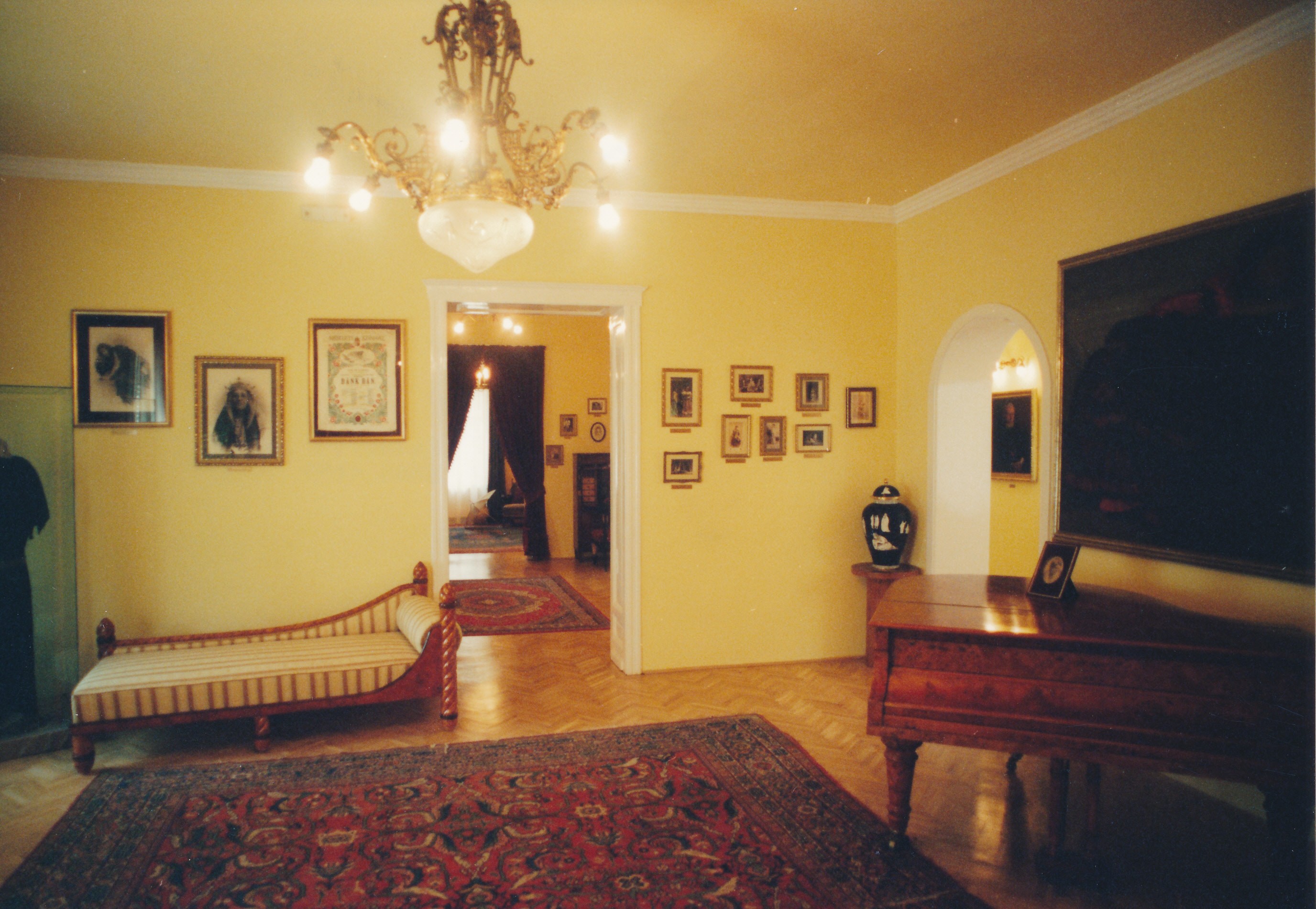 A room in today's Gizi Bajor Museum in the early 2000s (Photo: Hegyvidék Local History Collection)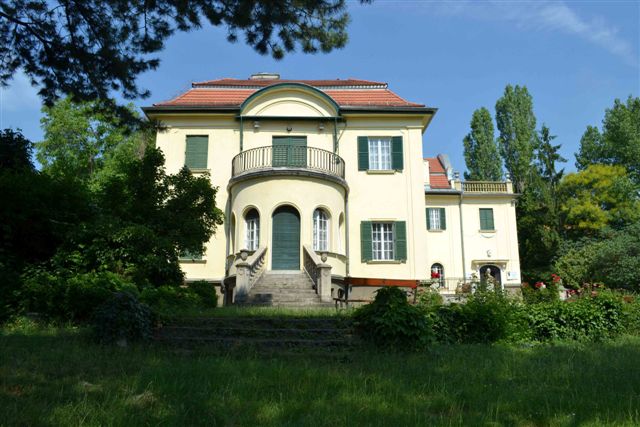 Former villa of Gizi Bajor today (Source: Hungarian National Museum of Theatre History)
Laden with pictures, the report also noted that: "This Spanish villa is a true escape, here one can forget the struggles and excitements of life, the fight for bread and success, this place is destined to be a happy home for happy people." At the time, the writers did not know that the building would be more than a home in a few years. It became a refuge for those running for their lives. Gizi Bajor sheltered and hid several people in her villa during the final months of 1944.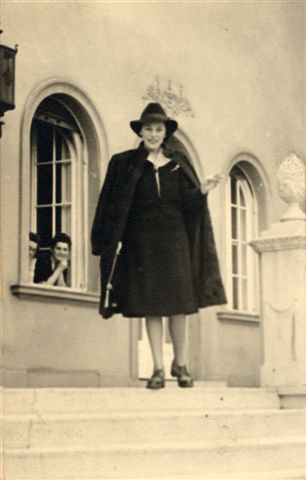 On the stairs of the villa in the 1940s (Photo: Hungarian National Museum of Theatre History)
Among others, the writer Áron Tamási survived the horrors of Arrow Cross rule and the siege of Budapest here. The Arrow Cross also hunted Gizi's husband, Tibor Germán, and Róbert Kertész, and the lawyer dr. Ödön Vajda and his family, all of whom found refuge in the villa, as did Antal Dióssy, Teréz Nagyajtay and many others. A hiding place for her Jewish friends and acquaintances was built in the villa. In countless cases, it was Gizi Bajor's standing and actions that saved those hidden in the villa, which the Arrow Cross visited several times.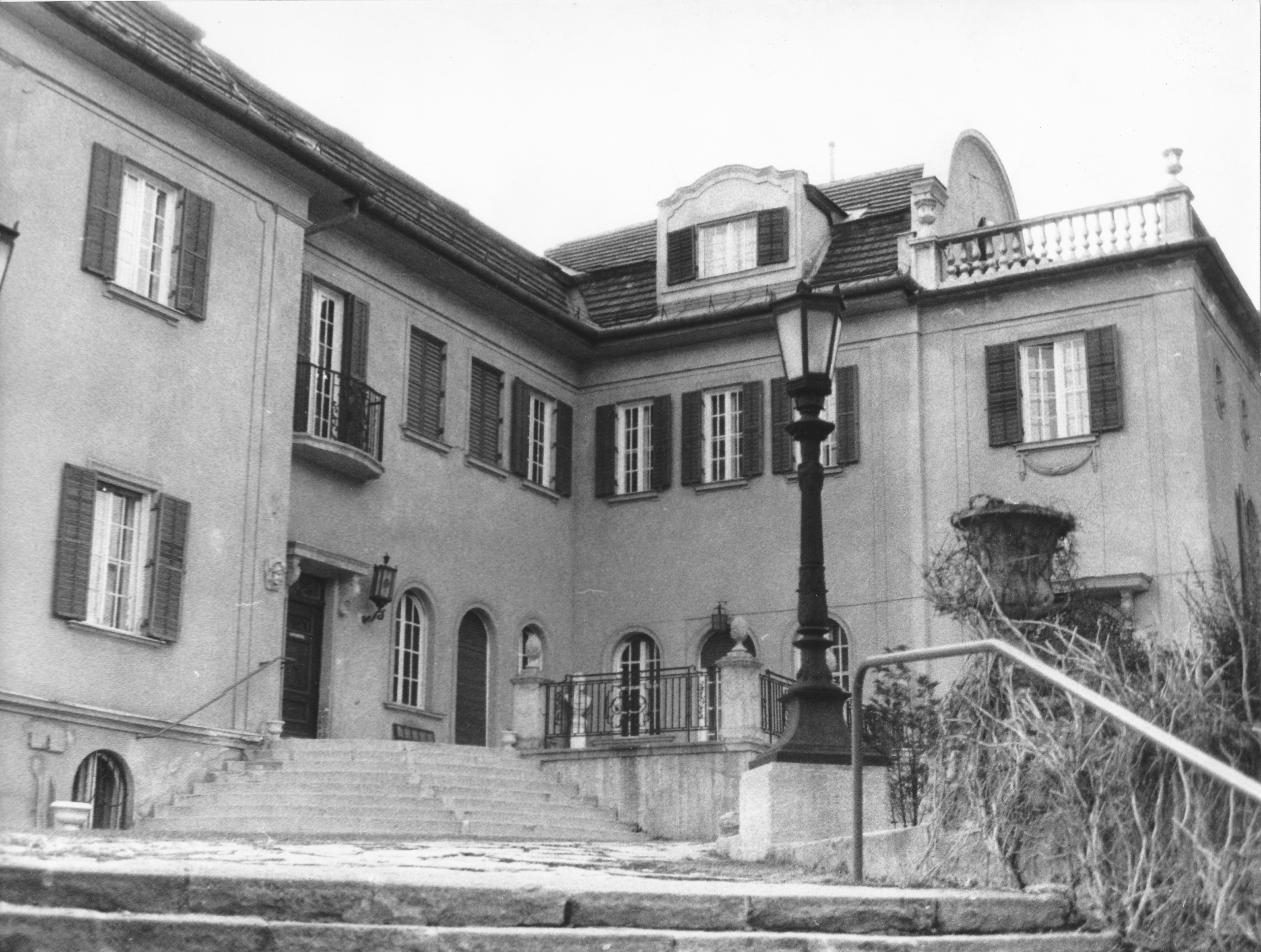 Gizi Bajor's villa from the side in the 1980s (Photo: Hegyvidék Local History Collection)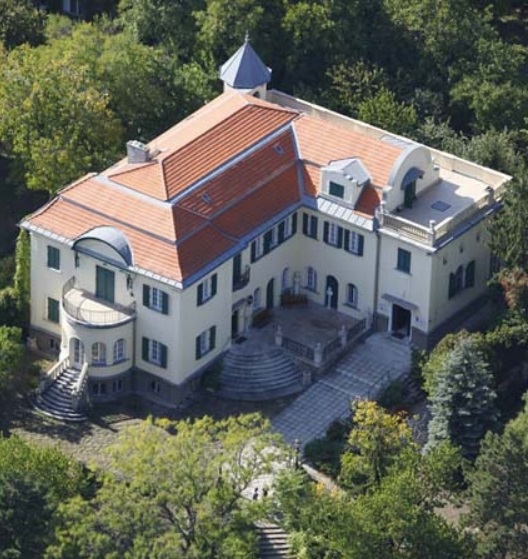 The villa from above today (Photo: legifoto.com)
In a later memoir, Miklós Vajda, who found refuge in the villa, recalled:
"My mother and I […] were arrested by Father Kún and his detachment of gunmen in the garden of Gizi Bajor's villa one evening. They searched the house for my farther and Germán. The latter was hiding behind the back wall of a built-in closet in the attic room, but his jacket was on the back of a chair in the room. They did not find him. My mother and I were taken away. This was not the first time Gizi Baor was a guardian angel. After two days in a house of the Arrow Cross on Városmajor Street – during which time we were not harmed but an old man was beaten to death before my eyes, and an Arrow Cross doctor prepared some kind of experiment to discern whether there was more Jewish blood in me than Christian or the other way round – Gizi Bajor appeared in the middle of the night wearing a hat the size of a mill wheel, and standing like a queen, with the Swedish Ambassador, who was shouting in German. We were free two minutes later."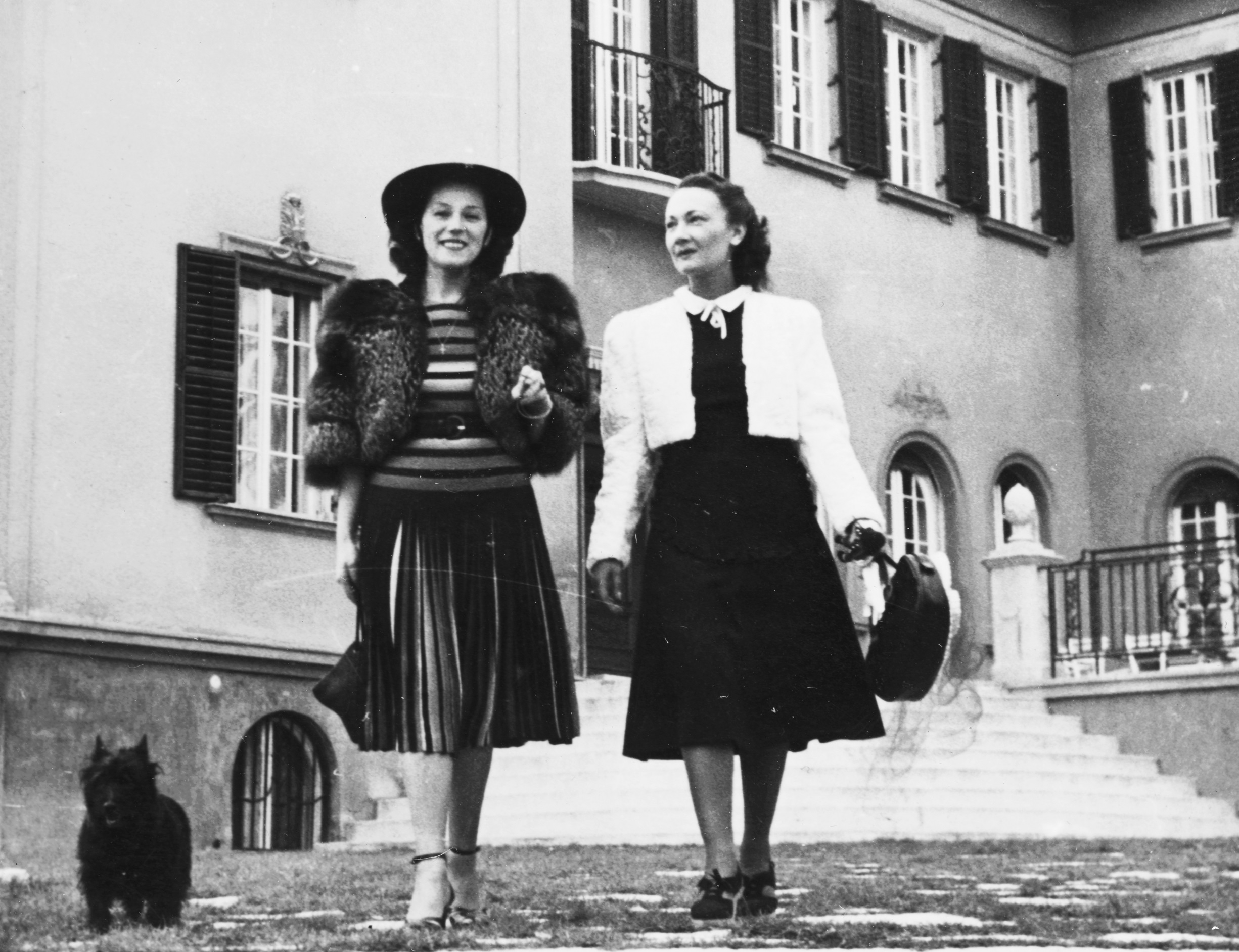 Stromfeld Aurél (Pilsudski) út, Gizi Bajor (left) with the Italian actress Elsa Merlini in 1940 (Photo: Fortepan/No.: 18365)
After the siege, Gizi Bajor moved out of the villa, possibly because of the series of disturbances. She moved back in 1948. She was among the first to receive the Kossuth Prize in 1948, and in 1950 she was named an Eminent Artist (a Hungarian honour and prize). Her friends could always count on her help, and they also helped her often in return for her selfless actions. She died in tragic, unclear circumstances 70 years ago on 12 February 1951. A year later, in 1952, her villa became the Gizi Bajor Museum through the idea and efforts of the Kossuth prize-winning actress Hilda Gobbi.
The Gizi Bajor Museum in the 2000s (Photo: Hegyvidék Local History Collection)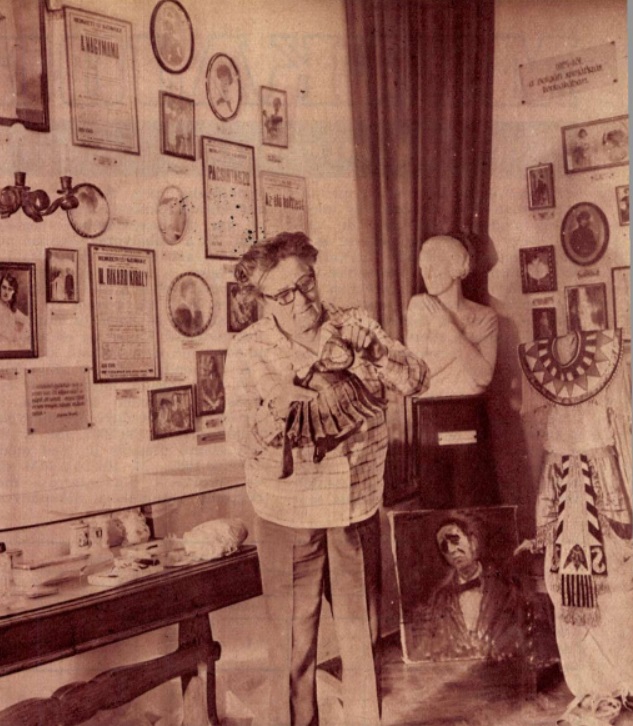 Hilda Gobbi arranges the Cleopatra costume of Gizi Bajor in the villa (Source: Népművelés, 1 June 1974)

Hilda Gobbi in the villa, in which the Gizi Bajor Museum was established (Photo: Hungarian National Museum of Theatre History)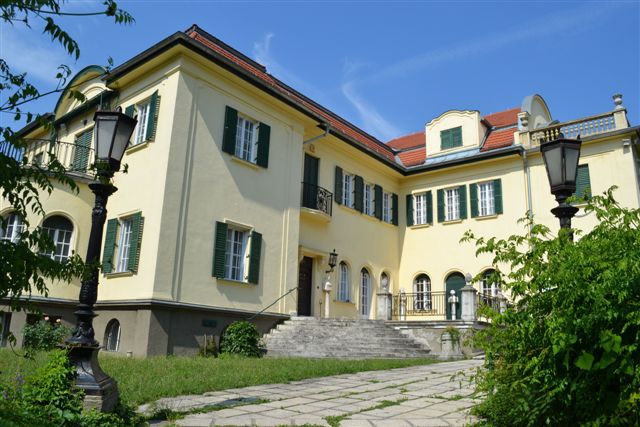 Gizi Bajor's former villa today (Photo: Hungarian National Museum of Theatre History)
Today, the villa is maintained by the Hungarian National Museum of Theatre History and houses museum rooms in memory of the museum's namesake and Mari Jászai, Emília Márkus and Hilda Gobbi, as well as other interesting exhibitions about outstanding moments of Hungarian theatre history.
Cover photo: Gizi Bajor's villa the Gizi Bajor Museum in the early 2000s (Photo: Hegyvidék Local History Collection)
Gizi Bajor
,
Actor
,
Actor Museum
,
Stromfeld Aurél Road
,
villa
,
National Theatre
,
Hilda Gobbi
,
Budapest
,
Buda
,
Pest
,
Pestbuda
,
pestbuda.hu
,
Gergely Földváry
,
Mari Jászai