Várkapitány Zrt. announced to the MTI that the turul statue has been lifted from its pedestal in Buda Castle. The neglected statue will be restored in a temporary restoration workshop created on the Savoyai Terrace. Visitors to the castle will be able to follow the work.
The turul statue has looked over Budapest for almost 120 years. Erected in 1905, the work by Gyula Dónáth was raised into place during the final phase of the Royal Palace's expansion at the turn of the century and decorated the corner of the Habsburg Gate's fence.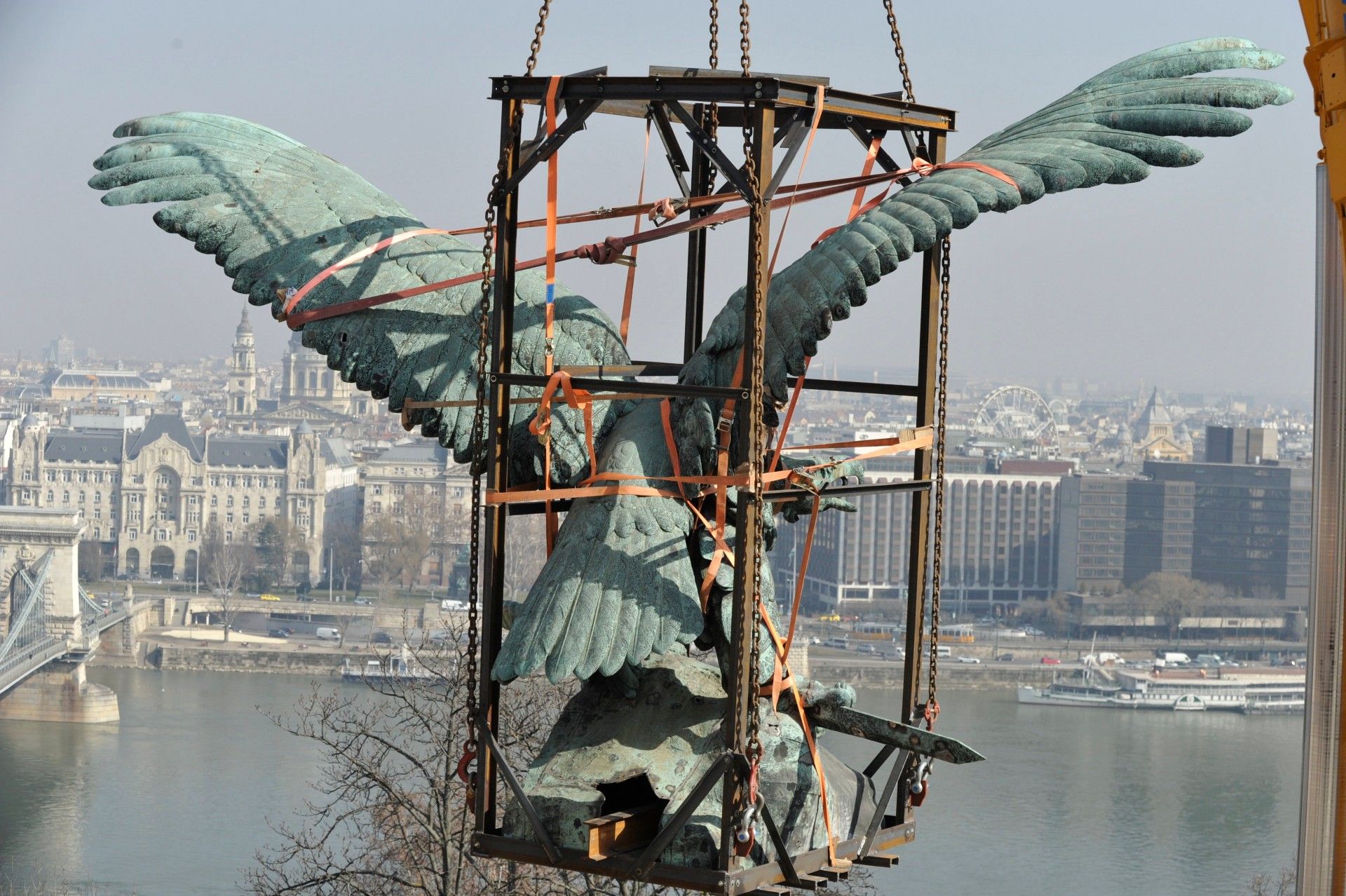 The bronze statue by Gyula Donáth is in bad condition. IT was craned into the open-air restoration workshop on the Savoyai Terrace (Photo: MTI/Zoltán Mihádák)
Holding a sword in its talons, the huge bronze bird stares over the river with its wings opened in preparation for flight. The statue depicting the legendary bird of the Hungarian legends is also prestigious in size: it is 10.5 metres tall, while its wingspan reaches 12.5 metres. Its stone pedestal is decorated with the historical coat of arms of Hungary.
The work survived the Second World War with damage and has undergone minor repairs since then, but its condition has deteriorated significantly. It is now fully restored as part of the National Hauszmann Program.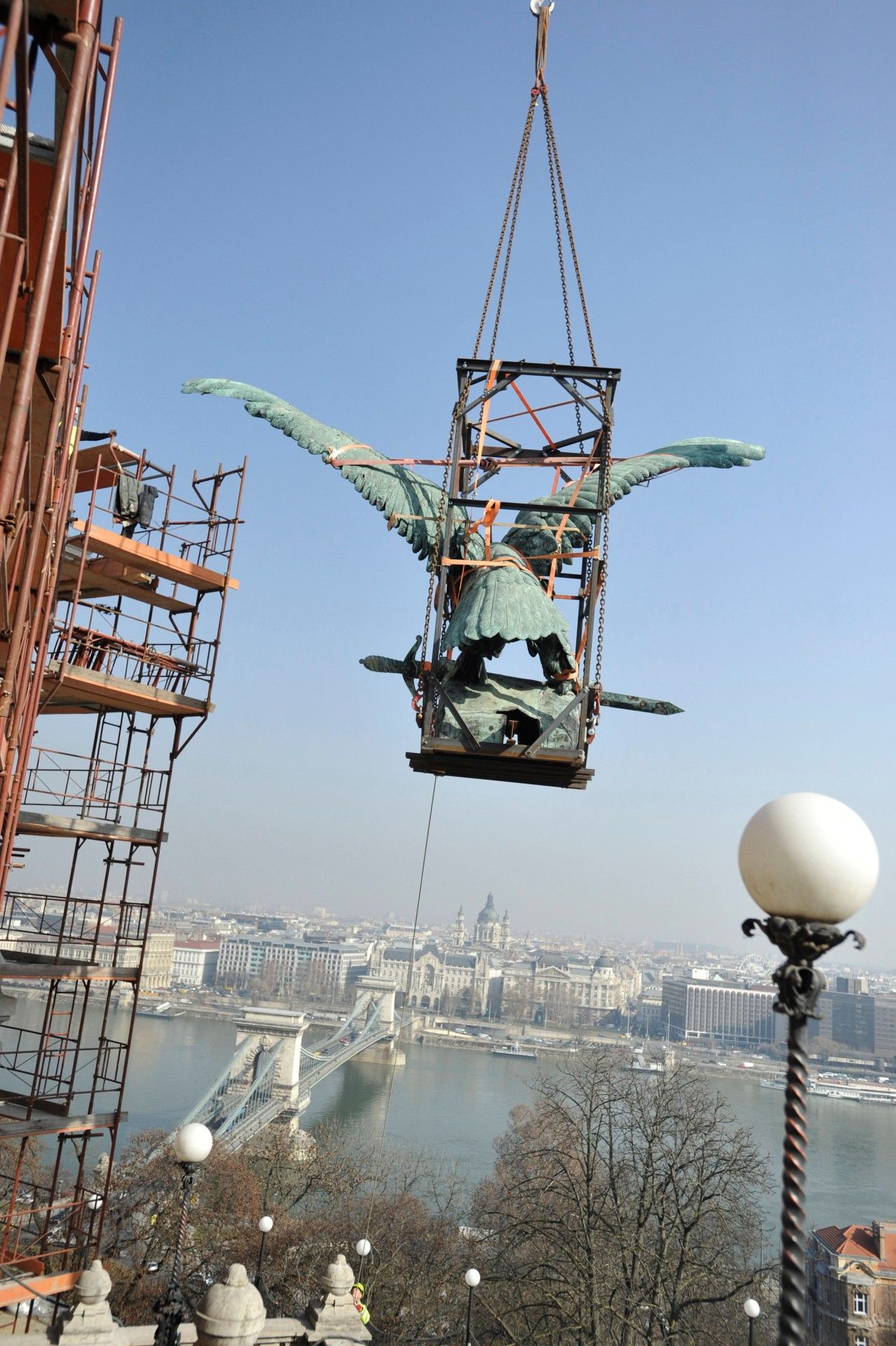 Specialists lift the 10 and a half meter high, iconic statue in Buda Castle with a large crane (Photo: MTI/Zoltán Mihádák)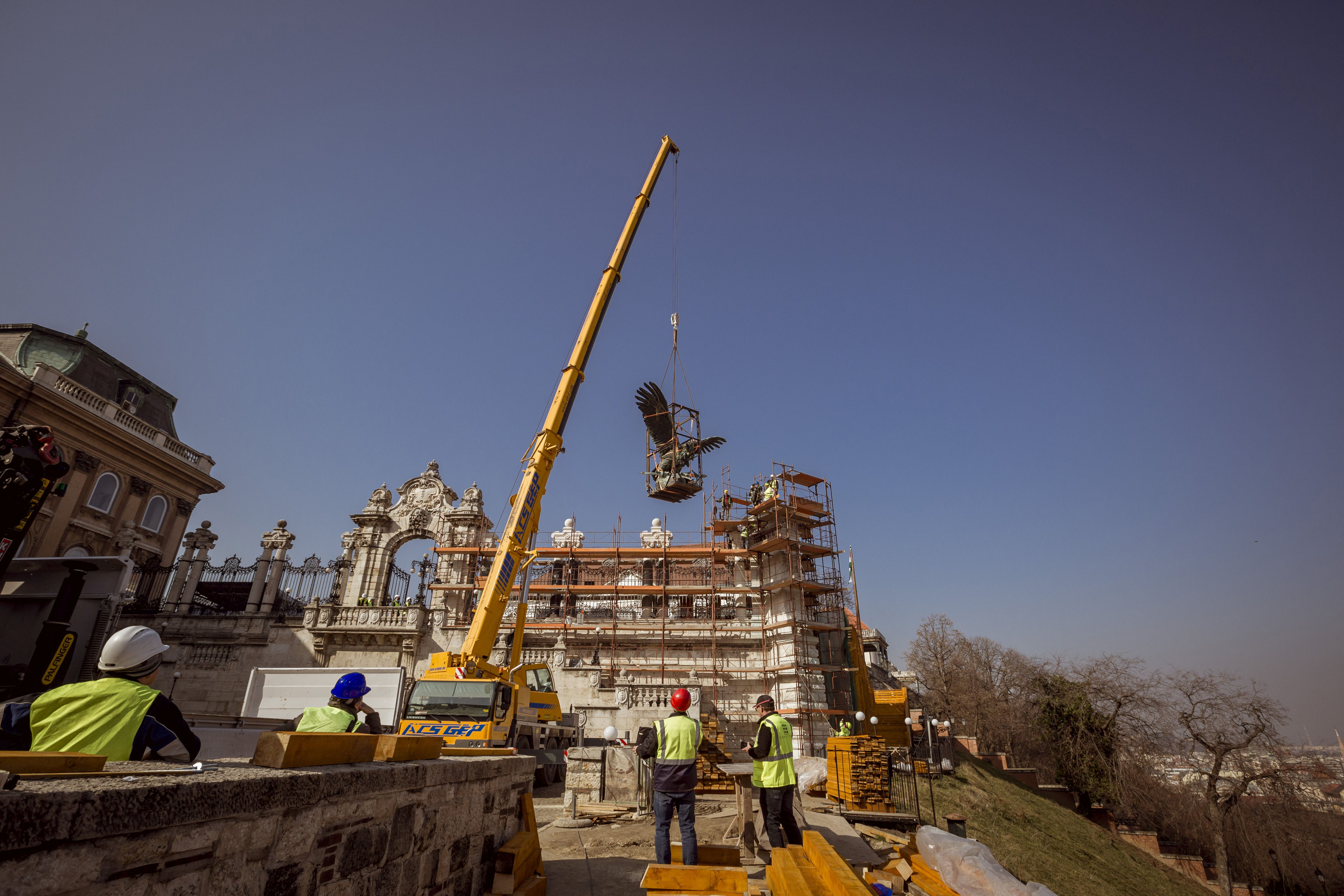 (Photo: Várkapitányság NZrt.)
Similarly to the Matthias Fountain's bronze statues, the bronze will be cleaned with a patina-preserving technology. Damage to the statue will be repaired, and the internal iron frame reinforced. The work will be carried out in a temporary workshop on the Savoyai Terrace before the monumental statue returns to its pedestal.
The Habsburg Gate, its ornamental fence, and the connected staircase were also damaged in World War II. While most of the scars were repaired in the seventies and eighties, the past decades have left their mark. The stone elements of the Habsburg gate are being cleaned, cracks and surface defects repaired, and the ornate, wrought-iron structure renovated.
The Habsburg Gate will be closed during the renovation, as will the Courtyard of the Fishing Children. A temporary walkway will be built to provide continued access to Savoyai Terrace.
Source: MTI | Abridged in translation
Cover photo: The turul statue was removed for restoration (Photo: MTI / Zoltán Mihádák)
Read our previous article: Restoration of Habsburg Gate and Turul statue in Buda Castle begins