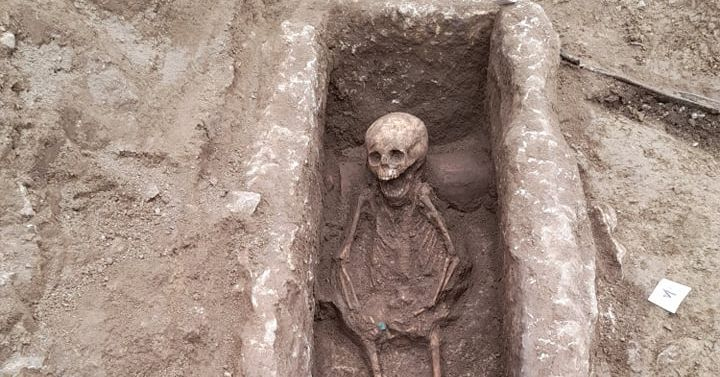 Archaeologists unearth remains of Roman child during dig near Bécsi Road
Hungarian version of the article: Római kori kisgyermek sírjára bukkantak a régészek egy Bécsi úti építkezésen
April 18, 2021 at 2:00 PM
A grave from the late Roman era has been excavated on a construction site near Kolosy Square in Óbuda, in the former cemetery of the Military City Aquincum. The tomb housed the remains of a small child who was once buried with pots and coins, and a headrest made of tiles was placed under his head.
Excavations are underway at 68–84 Bécsi Road before construction of an office building begins. Experts from the Aquincum Museum unearthed several graves, which is not surprising since the area once belonged to the cemetery of the military city Aquincum.
Although most of the excavations have been completed, further digs had to be completed near the end of plot 70 due to the construction of a service road. In doing so, archaeologists came across another grave that housed the remains of a small child, according to a short video published by the Aquincum Museum.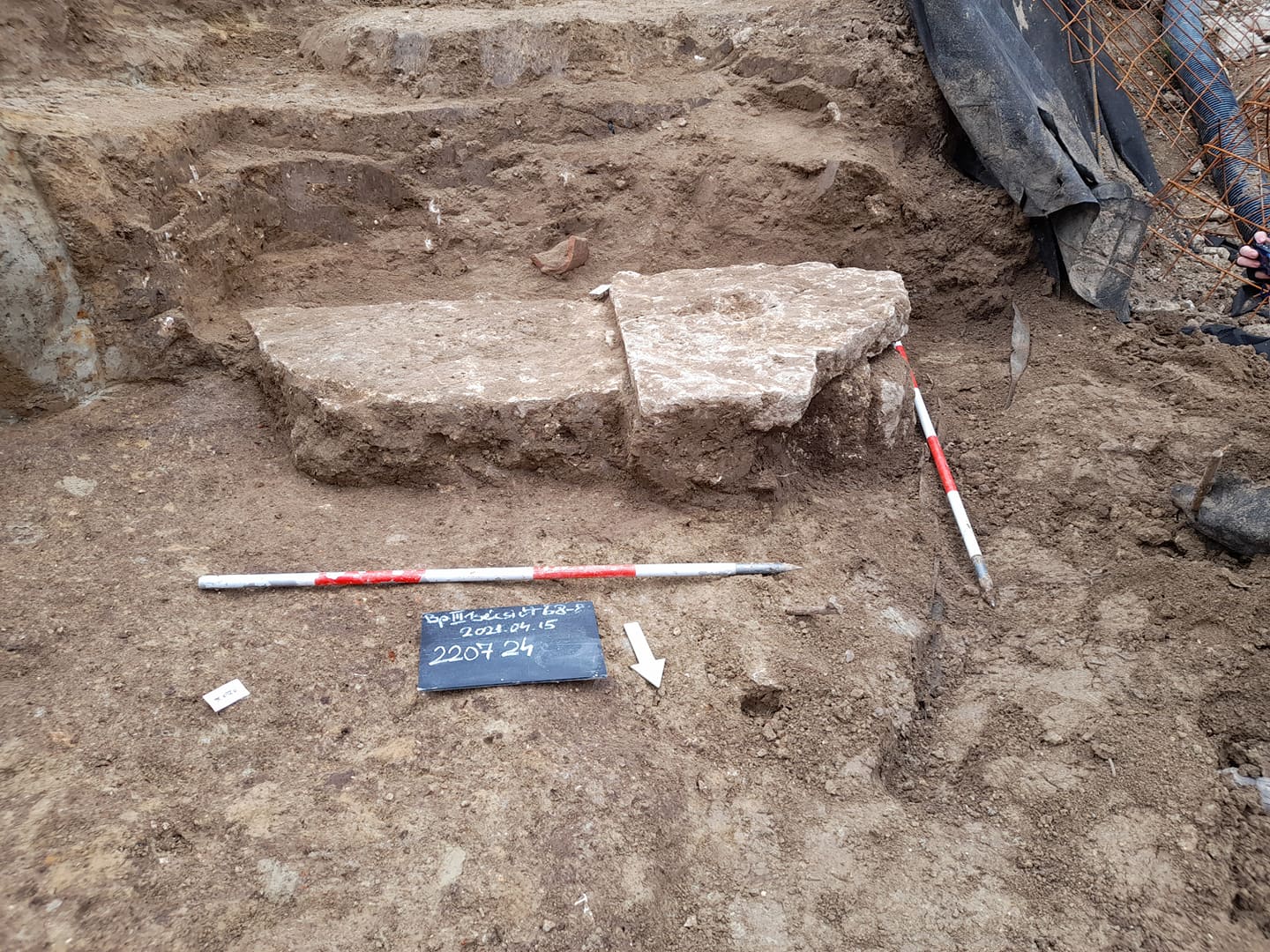 The late Roman stone cemetery was assembled from various stone slabs from elsewhere; this method of burial was very characteristic at the time (Photo: Facebook/Aquincum Museum)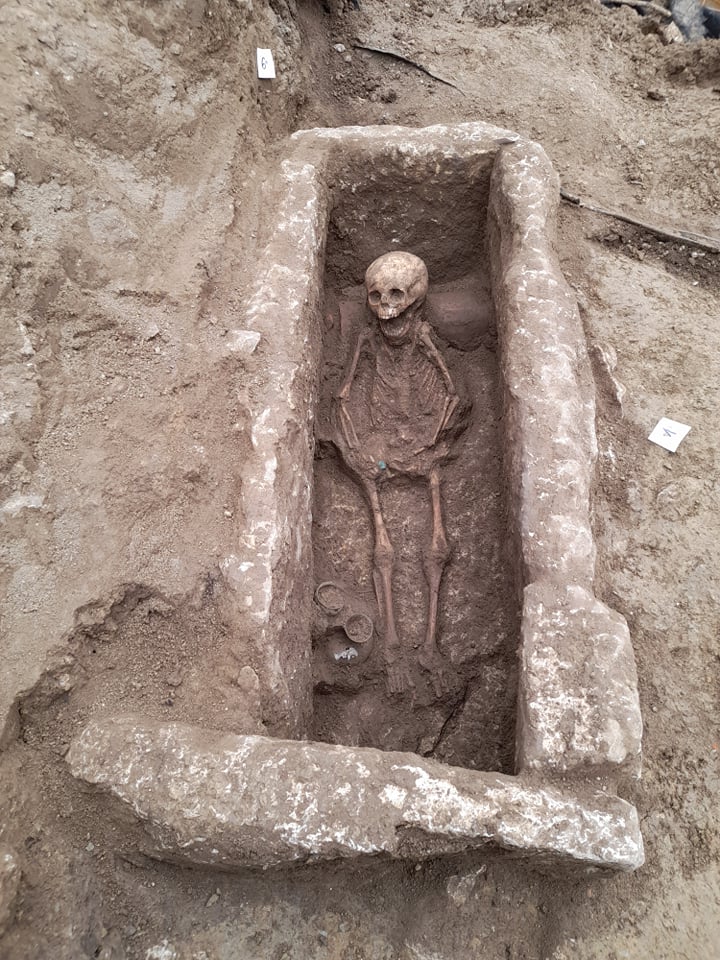 The remains of a small child were found in the grave (Photo: Facebook/Aquincum Museum)
The opening of the Roman stone tomb on 16 April could be watched live by anyone, as the excavation was broadcast live by Aquincum Museum. Dr Péter Vámos, an excavating archaeologist, revealed what the stone coffin, which had been closed for many hundreds of years, hid.
It was said that the excavated stone tomb dates back to the late Roman era when this kind of burial was widespread as an attempt to imitate the carved stone sarcophagi of richer citizens. In doing so, a box was assembled from all sorts of stone slabs carved in different ways from elsewhere, which was then covered with stones, the archaeologist explained.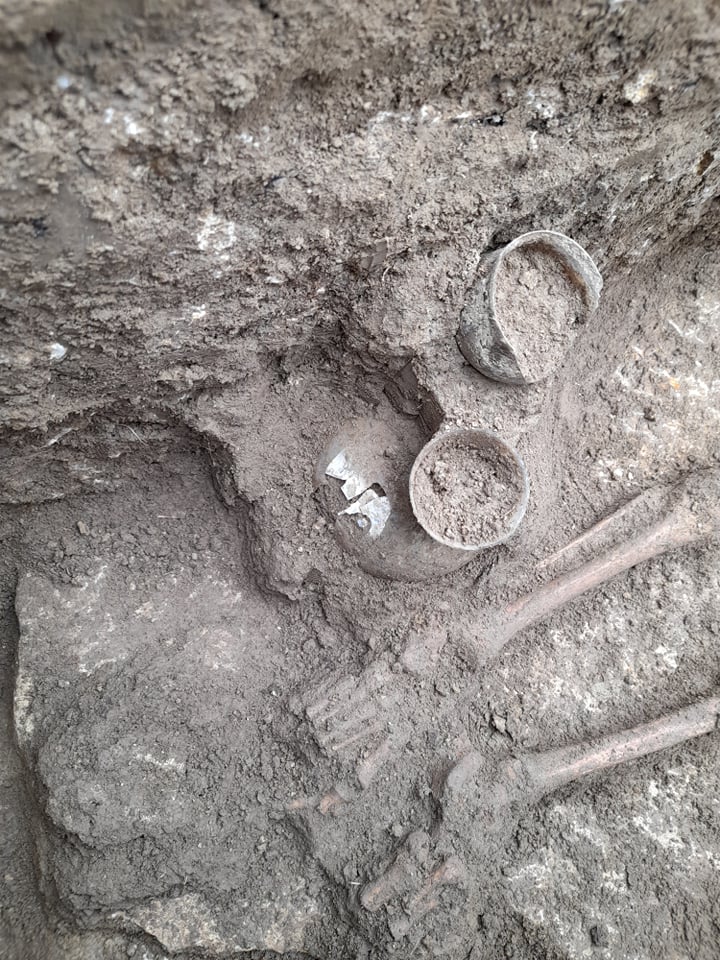 Two glass jars were buried next to the body (Photo: Facebook/Aquincum Museum)
After the tomb was opened, it became apparent that a small child was buried in the stones, a coin, two glass jars, a glass and a bottle were found next to it, and a headrest made of cone pots called imbrexes under his head. As it turned out, the toddler's grave was found in an undisturbed condition apart from the earth that filtered in, i.e. it was opened for the first time in hundreds of years.
Cover photo: Roman tomb found on Bécsi Road (Photo: Facebook/Aquincum Museum)