Next steps for a car-free City Park – Planning of the new Pest overpass begins
Hungarian version of the article: Újabb lépések az autómentes Városligetért – Kezdődik az új pesti felüljáró tervezése
Another milestone towards a car-free City Park has been made. The Budapest Development Center has signed a contract to design a new overpass in Pest over the Rákosrendező railway station. It has also announced a public procurement procedure for designing a P+R car park to be built at the Mexikói road underground station.
Several investments are being prepared for the improvement of transport in Budapest and making City Park car-free, based on the decision of the Budapest Public Development Council and the government. The goal is to make the Kós Károly promenade and Heroes' Square pedestrians areas for those who want to relax. This can be solved by diverting current through traffic and developing public transport.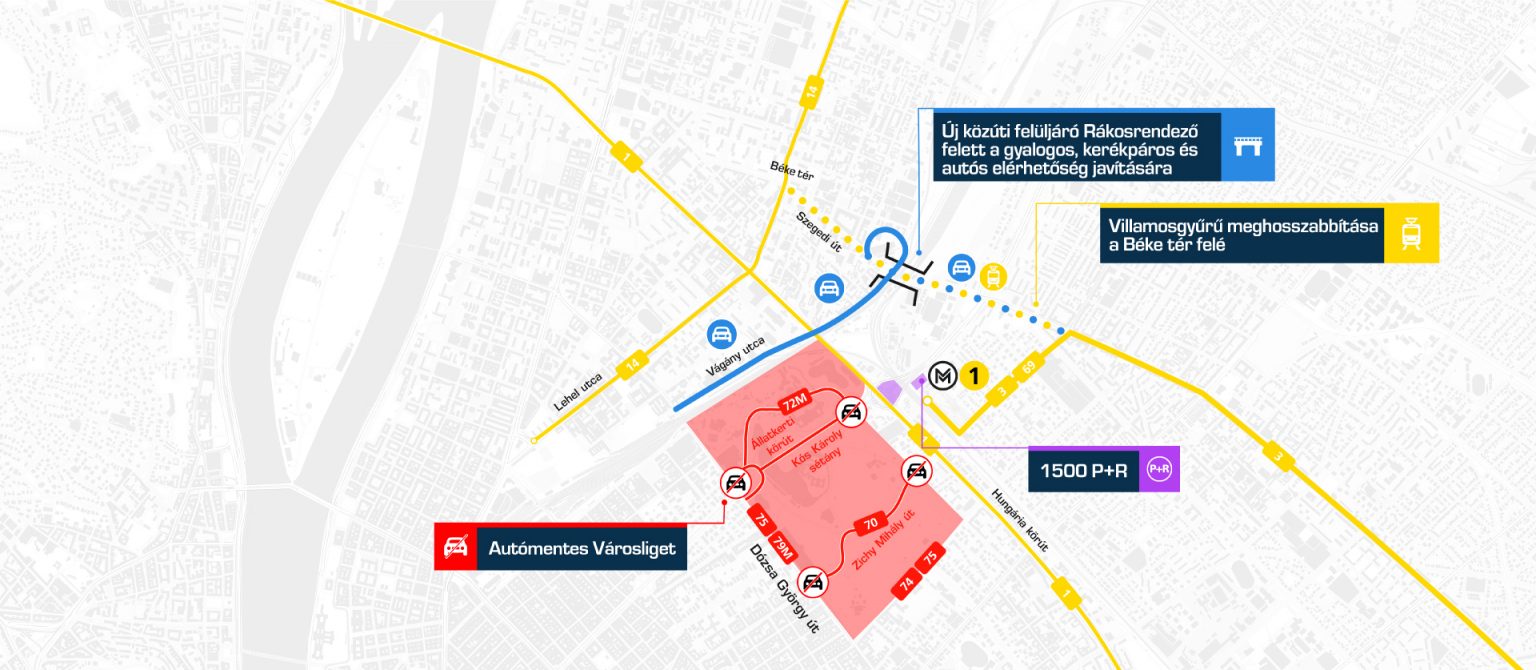 Transport development plans: new overpass and P+R car park (Source: Budapest Development Center)
To this end, a new overpass is being planned above the Rákosrendező railway station. The overpass to be built as a continuation of Szegedi Road will ensure the extension of tram line 3 and connect Angyalföld and Zugló.
The public procurement procedure was announced in January, and the contract was signed with the winner by the Budapest Development Center in early May. The winning designer is the Speciálterv – as announced by Dávid Vitézy, CEO of the Budapest Development Center, on his social media page.
Another element of the development program is the creation of a P+R parking garage at the junction of the M3 motorway in-road – Hungária Boulevard – Mexikói Road, at the Kisföldalatti (metro line 3) terminus on Mexikói Road. The Budapest Development Center announced the public procurement procedure for the planning at the beginning of May.
Those interested can find out about the plans of the car-free City Park on a new website, www.automentesvarosliget.hu. Residents and commuters will be able to comment on questionnaires on the site.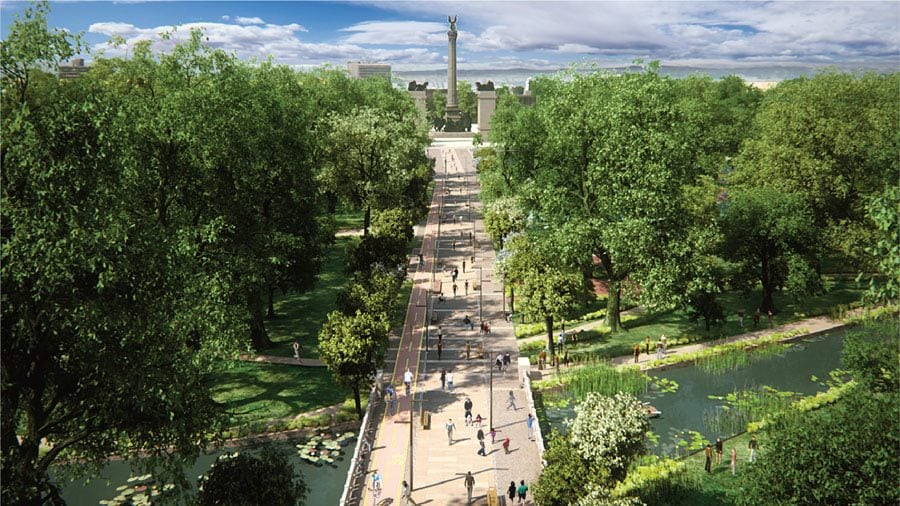 The Károly Kós promenade in City Park will be for pedestrians and those who want to relax. Render of the car-free promenade (Source: Városliget Zrt.)
The government – accepting the Budapest Public Development Council (FKT) proposal – decided in 2020 to close the Kós Károly promenade from car traffic. This will make City Park a pedestrian and cyclist area in its entirety. Heroes Square will be completely car-free in front of both the Art Gallery and the Museum of Fine Arts, and on-surface parking in City Park will be banned (except for a short section of Zoo Boulevard).
Parking is provided by the underground garage on Dózsa György Road built as part of the Liget Budapest project and the planned new P+R on Mexikói Road.
Cover photo: Heroes Square will become a pedestrian zone, alongside the Kós Károly Promenade (Photo: Balázs Both/Pestbuda.hu)