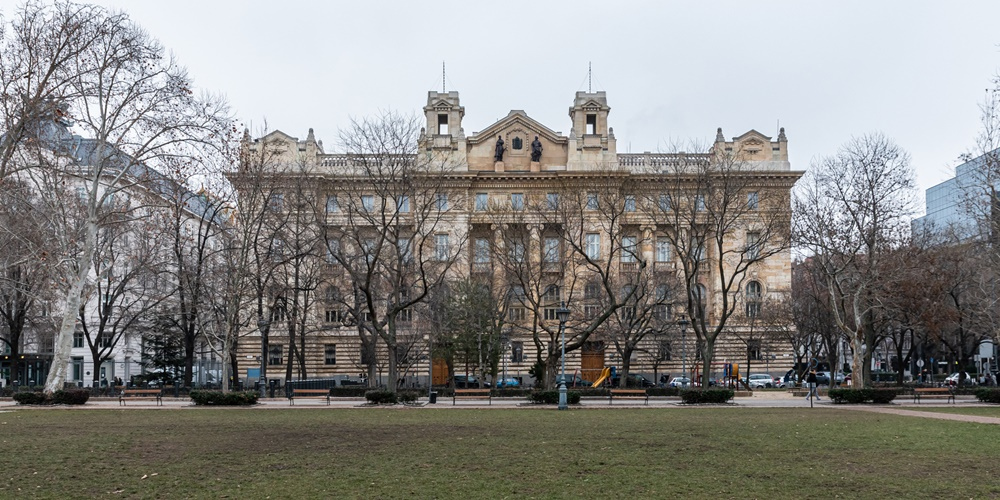 Main building of the Central Bank of Hungary under renovation
Hungarian version of the article: Kívül-belül felújítják a Magyar Nemzeti Bank Szabadság téri székházát
On the centenary of the founding of the central bank in 2024, the headquarters of the institution will be renovated to their original form on Szabadság Square. The building was built in 1905, its external appearance has not changed since then, but its interiors were significantly remodelled after World War II, undermining its historical value. Now its original beauty will return, inside and out.
The Magyar Nemzeti Bank (MNB 'Central Bank of Hungary') has started the complete restoration of its headquarters on Szabadság Square. According to the announcement, the solemn handover of the listed building will be renewed inside and out to regain its original splendour. Completion of the project is planned for 2024.
The current headquarters were originally built as a bank building to house the Budapest branch of the Austro-Hungarian Bank. Ignác Alpár designed the historicizing, neo-baroque palace, and it was built between 1902–1905. Since its construction almost one hundred years ago, it has served as the main building of the central bank since its creation.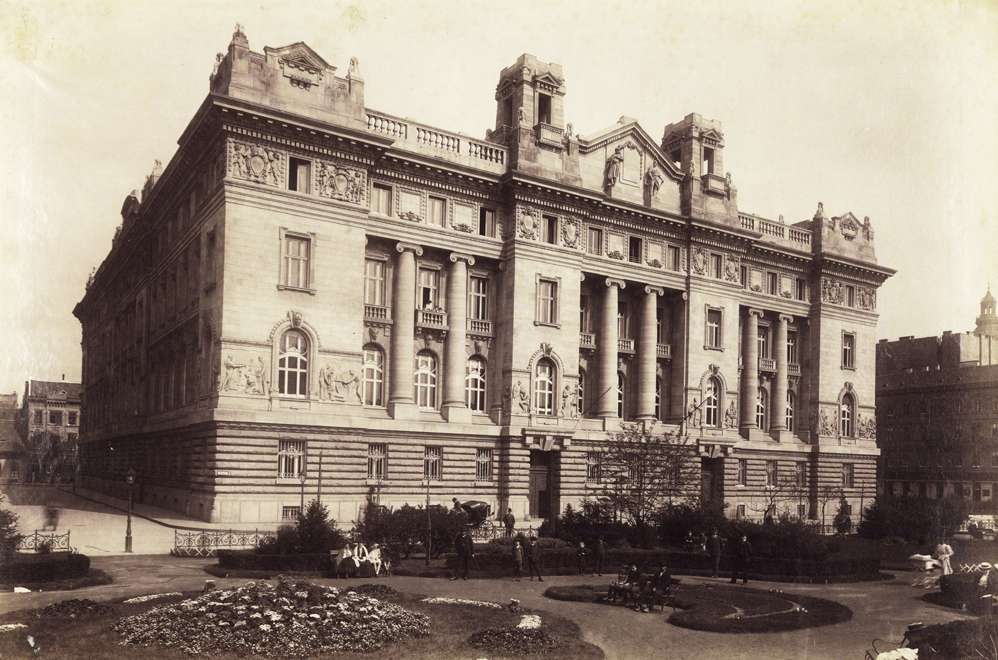 The building of the Austro-Hungarian Bank, later the Central Bank of Hungary, in 1905. The building on Szabadság Square was designed by Ignác Alpár and significantly remodelled after World War II. For the 100th anniversary of the Central Bank of Hungary's creation, the palace is being to its original form inside and out (Source: Fortepan, Budapest Capital Archives. Reference No.: HU.BFL.XV.19.d.1.08.120)
In its external appearance, the building has remained virtually unchanged since 1905. However, after World War II, its interior was changed significantly. Ignoring Alpár's original concept Ignác the first floor was split in two, and an extra floor installed: the floor lost half of its ceiling height, replacing the light, airy space with narrow, dark offices.
The originally open inner courtyard was covered, and the open loggias on the third floor were removed. In addition, serious aesthetic damage was also caused, as some of the painted glass windows made by Miksa Róth were covered with new masonry and ceilings.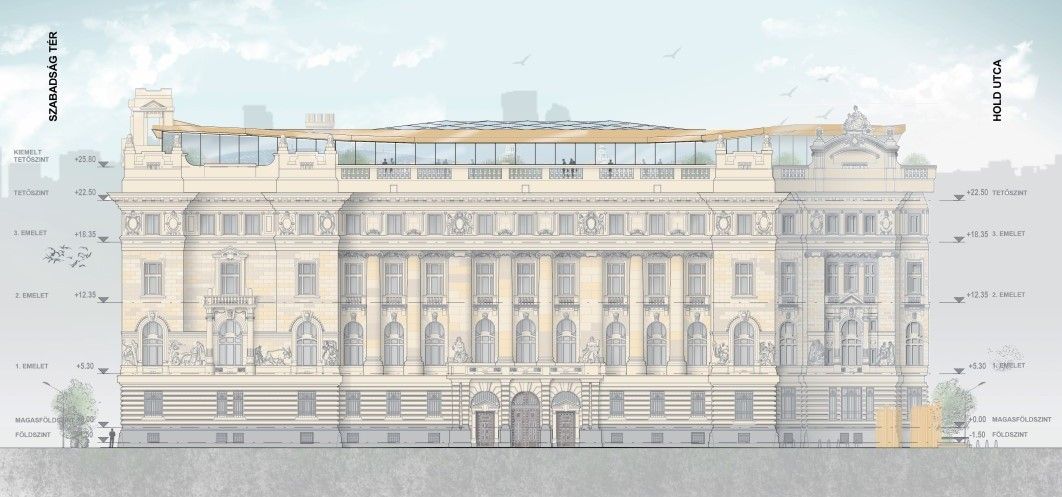 Render of the central bank's renewed facade (Source: MNB)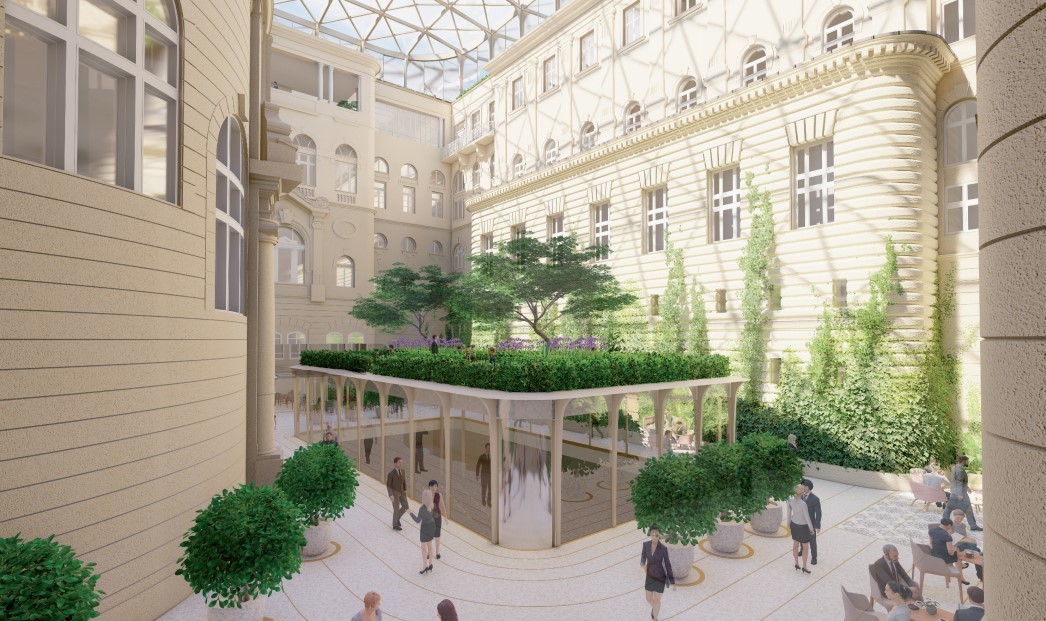 The inner courtyard will return (Source: MNB)
Monumental staircase of the Szabadság Square headquarters (Source: MNB)
From a technical point of view, the MNB's headquarters have never undergone any major renovation. The electricity, water supply, cooling, heating and drainage systems are obsolete and would pose operational risks in the future.
Due to the unsustainable technical conditions, renovation has become inevitable, during which the original, pre-World War II plans are being recreated. At the same time, attention is being paid to ensuring that the central bank operates in a modern, energy-efficient building.
The central bank will continue its work in the office building at 55 Krisztina Boulevard during the renovation. According to the plans, the MNB will move back into its central building on the 100th anniversary of its creation in 2024.
Cover photo: The headquarters of the Central Bank of Hungary on Szabadság Square (Photo: Balázs Both/pestbuda.hu)