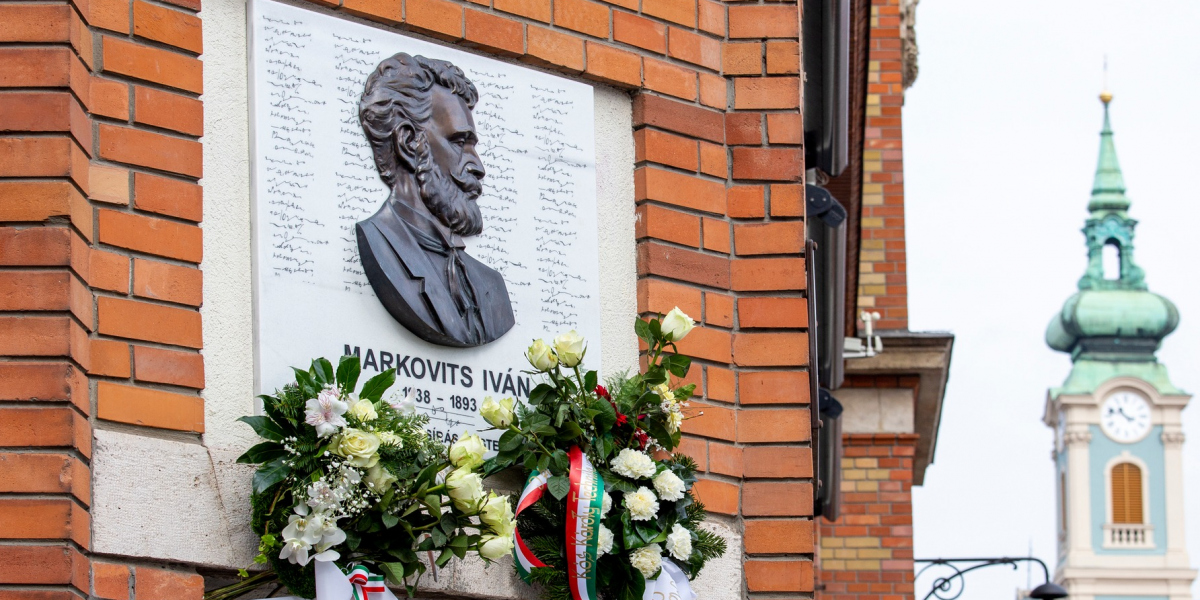 A memorial plaque was inaugurated on the building of the Batthyány Square Market Hall
Hungarian version of the article: Emléktáblát avattak a Batthyány téri vásárcsarnok épületén
At the junction of Markovits Iván Street and Batthyány Square in the 1st District, on the wall of the market hall built according to the plans of Pál Klunzinger, handed over in 1902, a memorial plaque was unveiled in honour of Iván Markovits, the creator of Hungarian shorthand.
On 6 March, the memorial plaque for Iván Markovits was inaugurated at the intersection of Markovits Iván Street and Batthyány Square in the 1st District, reads the Facebook page of the Budavár Local Council. The Hungarian Stenographers and Typers National Association also participated in the opening ceremony organised by the 1st District Local Council.
The plaque commemorating the namesake of the small street connecting Batthyány Square and Iskola Street, the creator of Hungarian shorthand, was placed in the empty wall part of the 45-degree corner of the Battyhány Square Market Hall. The relief plaque is the work of sculptor József Kampfl.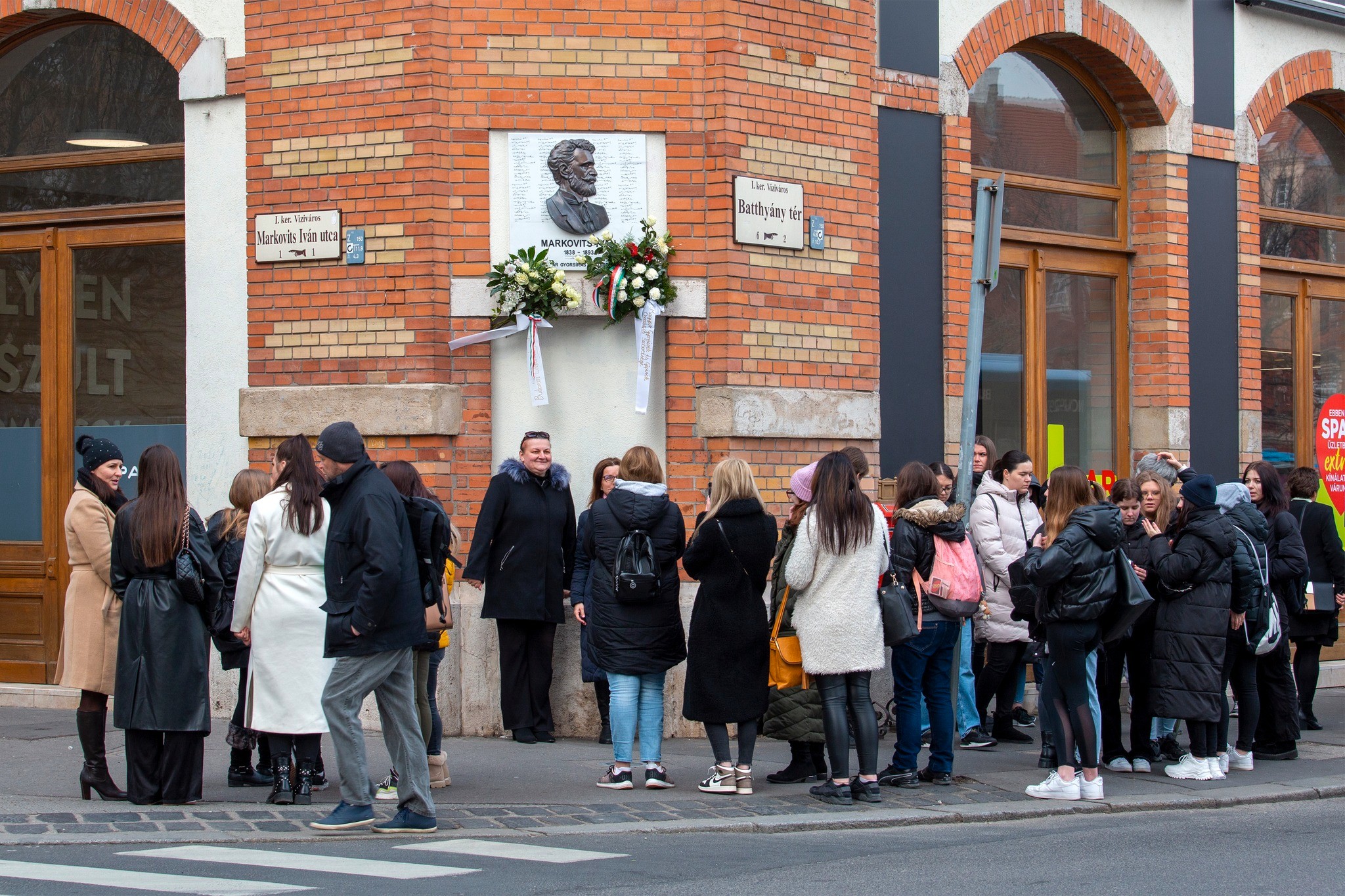 The expert opinion issued by the Budapest Gallery in 2021 reveals that the memorial plaque was originally supposed to be inaugurated in 2020, but this was postponed due to the coronavirus epidemic. It can also be read in this document that the portrait on the commemorative plaque has classical formal features, "adjusting to the character of the supporting architecture".
The Batthyány Square Market Hall is owned by the Budapest City Council, and its trustee is Budapest Vásárcsarnokai Kft., so the approval of the General Assembly of Budapest was also necessary for the placement of the plaque.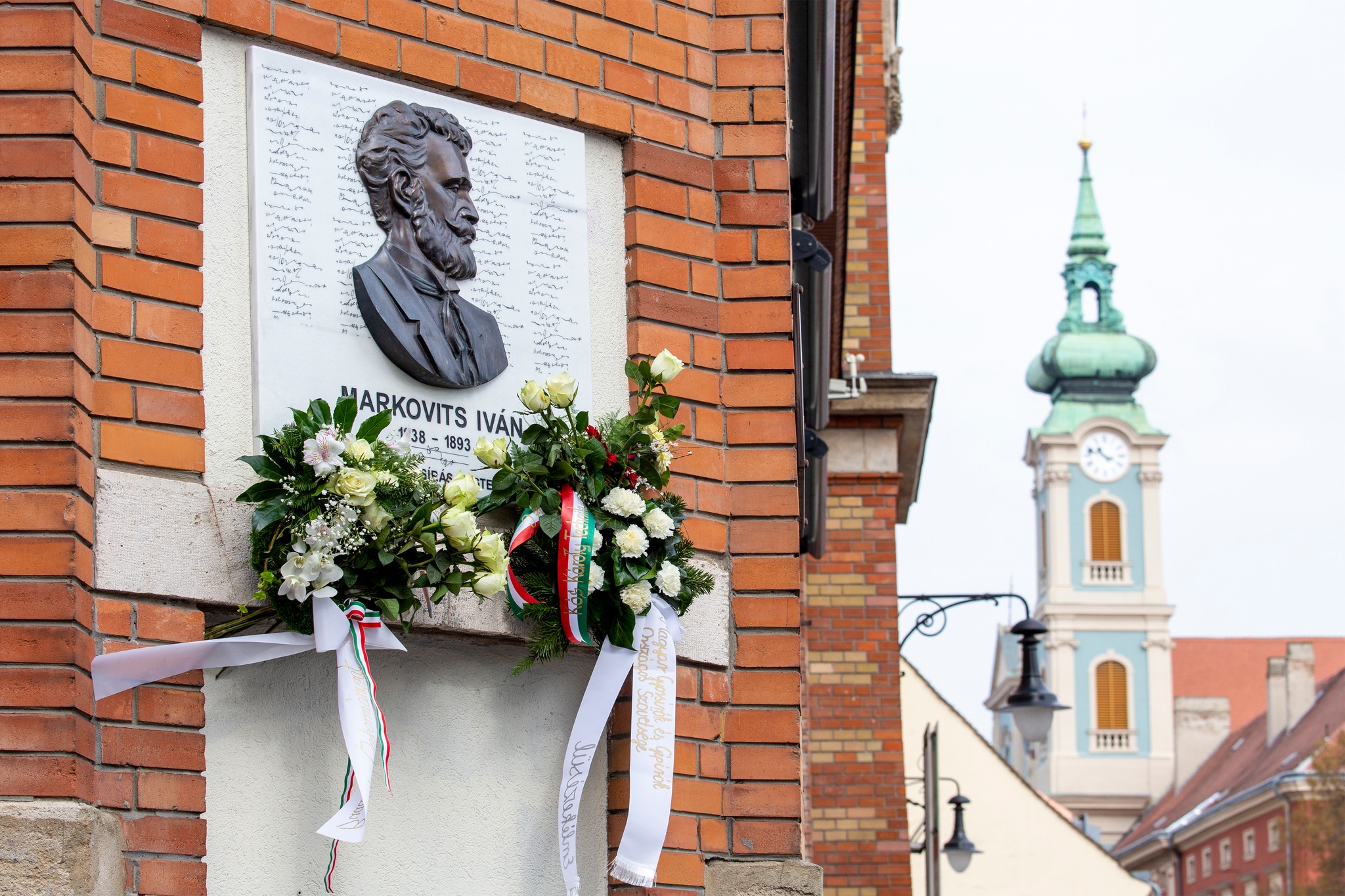 Probably few people know today who Iván Markovits was, who was born 185 years ago and died 130 years ago, even though his bust once stood in Budapest, it was unveiled in 1913, not just anywhere: on Szabadság Square, in the park section between Nádor Street and Október 6 Street (then Bálvány Street). The work was demolished in the 1960s, its fate is unknown.
The National Heritage Institute, which ensures the preservation of the protected grave of Iván Markovits in the Fiumei Road Cemetery, remembers the former head of the Hungarian Parliament's stenographer's office on its website: "Iván Markovits was the stenographer of the Imperial Council of Vienna (1861–1866), the so-called auditor-stenographer of the stenographer's office of the Hungarian Parliament (1866–1886), the chief of the stenographer's office (1886–1896). Founding member of the National Commission for Examining Stenographer Teachers (1872–1893). President of the Hungarian Stenographer Association. The editor of the journal Gyorsírászát in Vienna (1864–1869), the Gyorsírászati Lapok in Budapest (1869–1885), the Gyakorló Gyorsíró (1874–1881 and 1881–1893), the shorthand journal Reform (1880– 1884) and Katonai Gyorsíró (1889–1890).
He created the organised foundations of Hungarian shorthand, revised the Gabelsberger shorthand system (Gabelsberger-Markovits correspondence shorthand), and published the new system (Gyorsírászat, 1863). Until the end of his life, he worked on the further development of the new system, created a foundation to support shorthand competitions, published works, and maintained his own shorthand office, which also organised the national shorthand courses he organised. He was the first in Hungary to teach shorthand at a university (1872–1875: Pest)."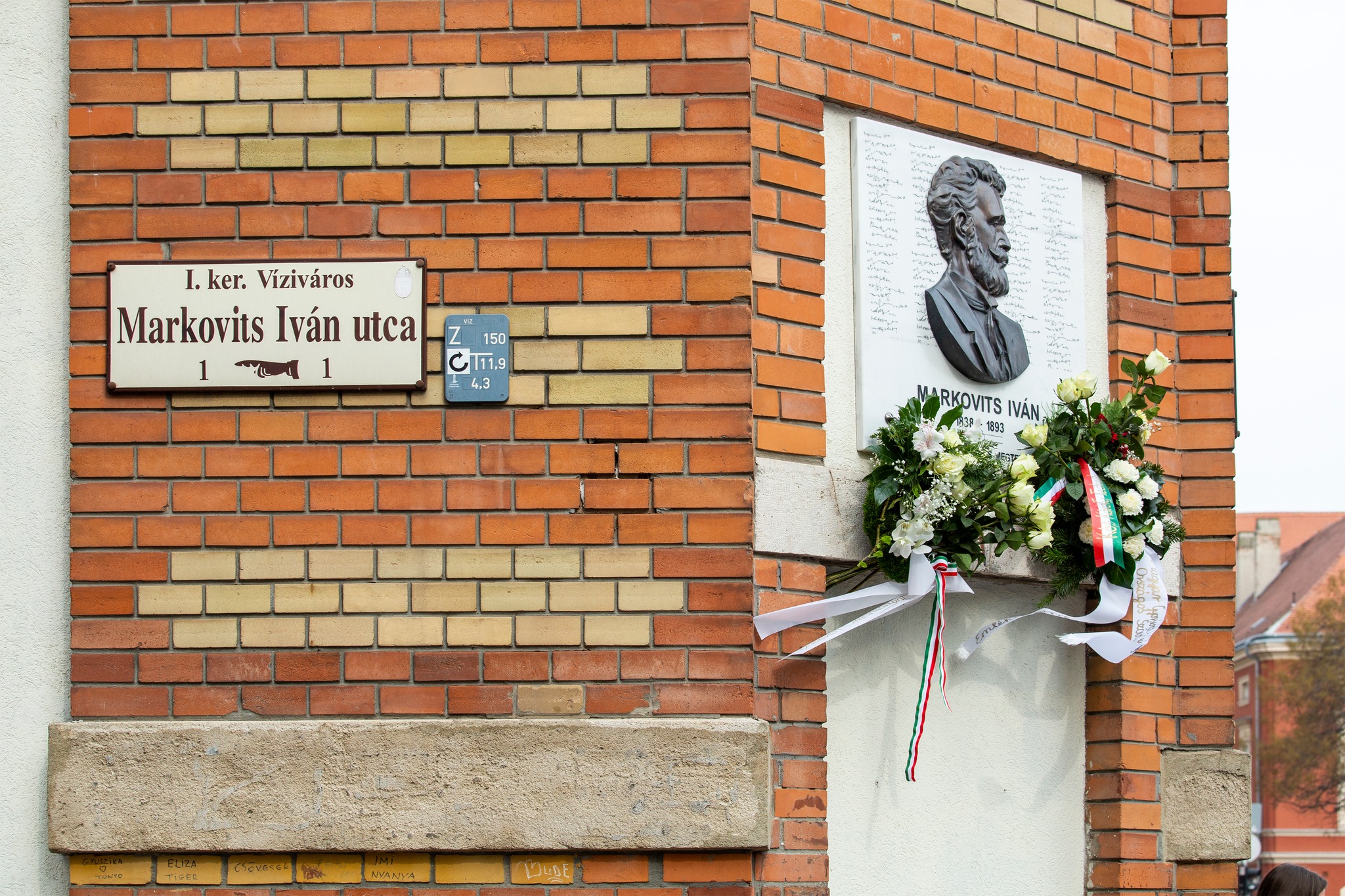 The memorial plaque of Iván Markovits, the father of Hungarian shorthand, on the corner of the street named after him, on the wall of the Batthyány Square Market Hall (Photo: Budavár Local Council)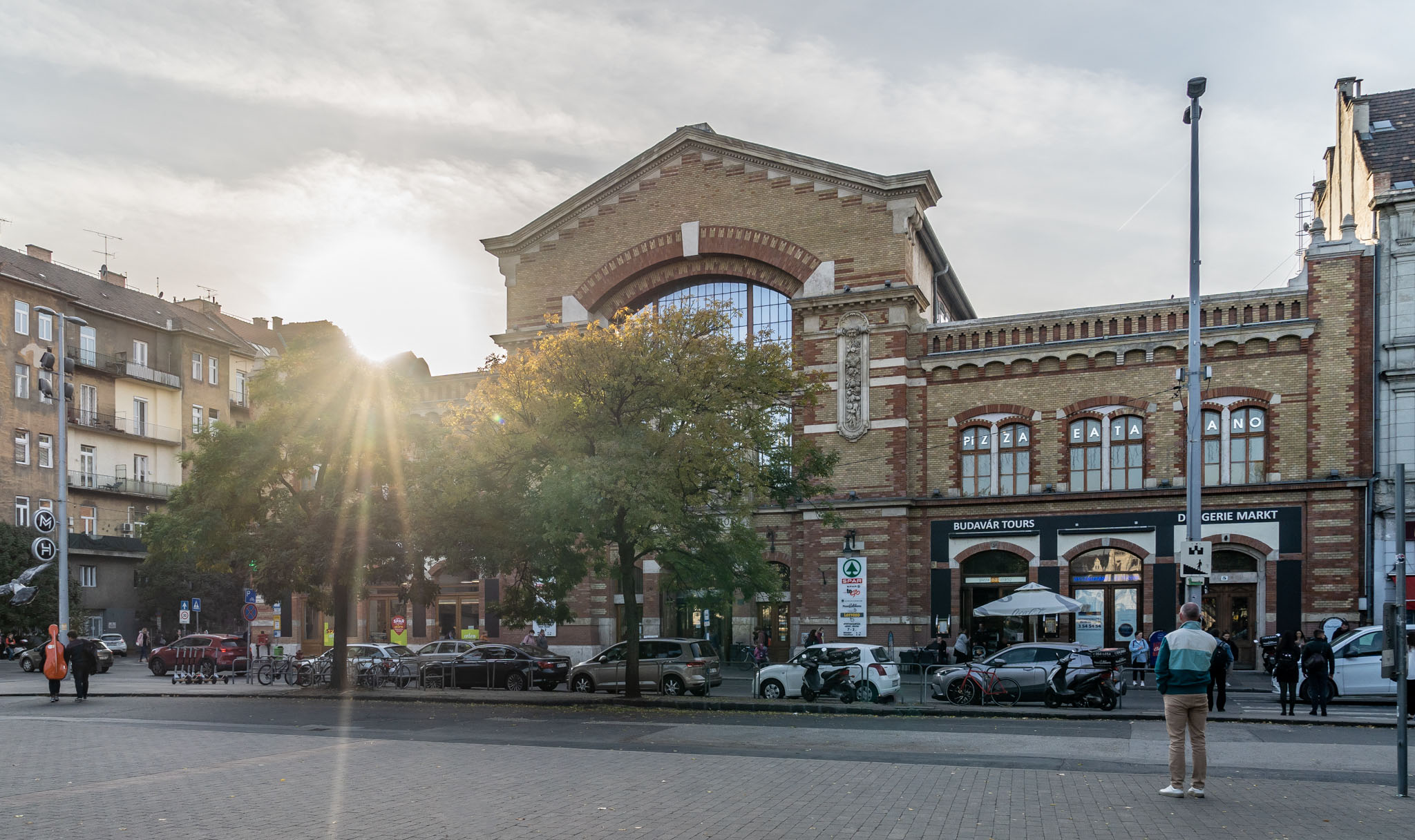 The commemorative plaque was placed on the building of the Batthyány Square Market Hall, which opened in 1902 and was built according to the plans of Pál Klunzinger (Photo: Balázs Both/pestbuda.hu)
Source: Budavár Local Council, NÖRI, Public map
Cover photo: The commemorative plaque of Iván Markovits, the father of Hungarian shorthand, was unveiled on the side of the Batthyány Square Market Hall (Photo: Budavár Local Council)
Budapest
,
Iván Markovits
,
shorthand
,
Batthyány Square
,
Batthyány Square Market Hall
,
1st District
,
Víziváros
,
News
,
Pestbuda
,
pestbuda.hu
,
Pál Klunzinger