Rákosmente has expanded with a new sports and event centre, at the opening of which on 24 September, the Minister heading the Prime Minister's Office emphasised that sports are worth investing in even in difficult times, reports MTI. Gergely Gulyás addressed the opening ceremony of the Levente Riz Sports and Events Centre (RSR) handed over in Rákosmente, the 17th District of the capital, that they had reached the end of a 23-year journey, since the local council's decision that Rákosmente needed a sports hall was first made in 1999.
He emphasised: the establishment of the centre is largely due to the district mayor, Levente Riz, who died in 2019. He was well aware back in 2008 that Rákosmente cannot be just a sleeping part of the growing capital, that for a good and meaningful quality of life, communities need to be strengthened, and that the spaces needed for communities to function and opportunities for meetings had to be created.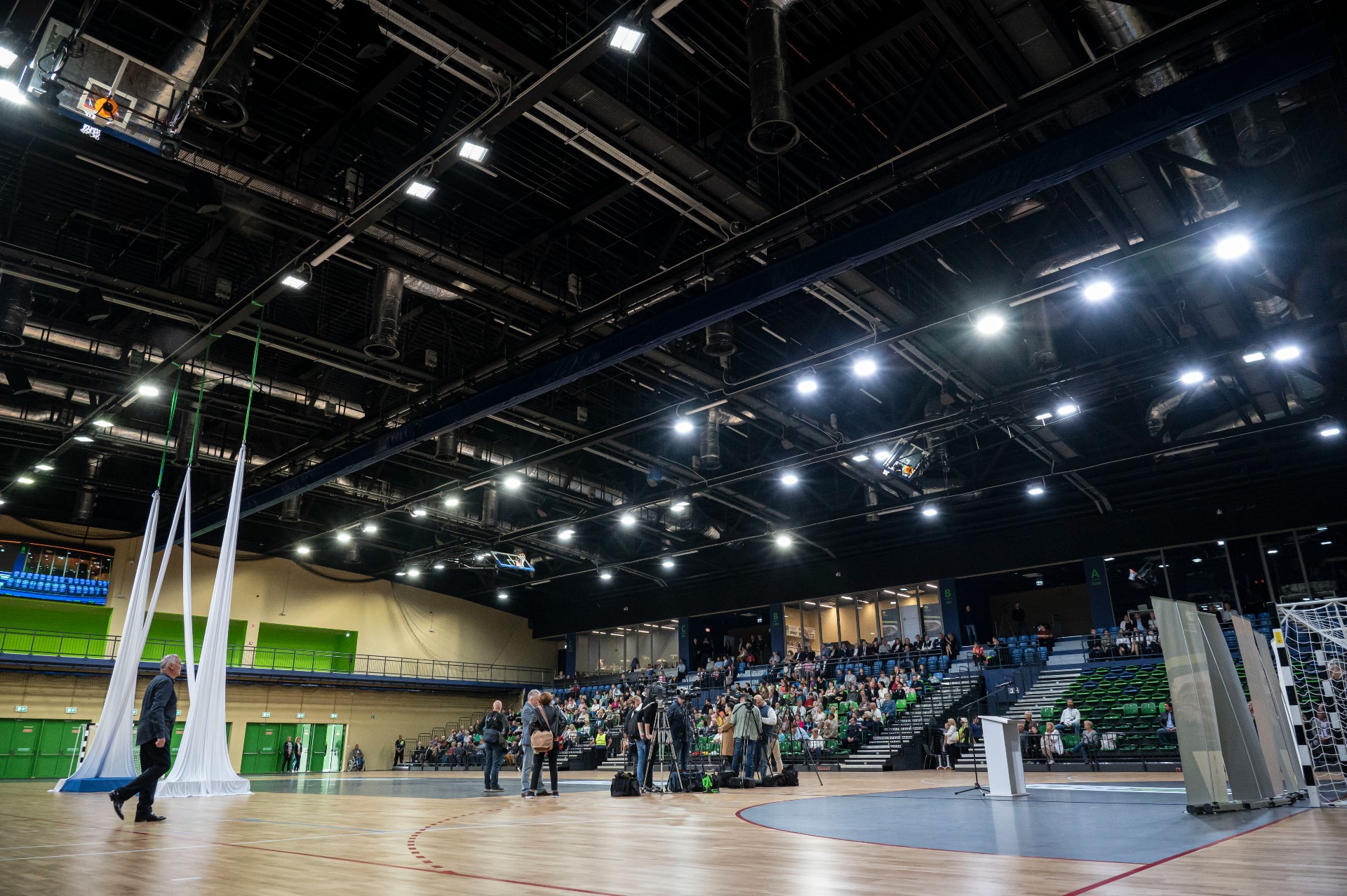 The Levente Riz Sports and Events Centre on the day of the inauguration on Pesti Road in the 17th District (Photo: MTI/Zsolt Szigetváry)
According to the minister, the 6,000-square-metre, two-story sports and event centre built next to the Néppark with government funding of more than 11 billion HUF will satisfy all needs and will provide opportunities for people living in Rákosmente to play sports, attend cultural events, and meet for generations. This also shows that sports are worth investing in even in difficult times, and the building will preserve the memory of Levente Riz not only in name but also in spirit, he said.
Tamás Horváth, the mayor of the district, called the opening of the long-awaited centre a milestone in the life of Rákosmente in the 21st century. Member of Parliament Mónika Dunai spoke about how the locals were really looking forward to this day, yet they feel a great sense of loss because they cannot personally greet the former mayor Levente Riz, with whom they shared countless successes in Rákosmente for a long time.
Construction of the sports and event centre began in 2019, it is suitable for holding international competitions in 15 indoor sports, but it can also host a wide variety of community and cultural events, it was said at the event.
Source: MTI
Cover photo: The Levente Riz Sports and Events Centre in Rákosment was handed over (Photo: MTI/Zsolt Szigetváry)