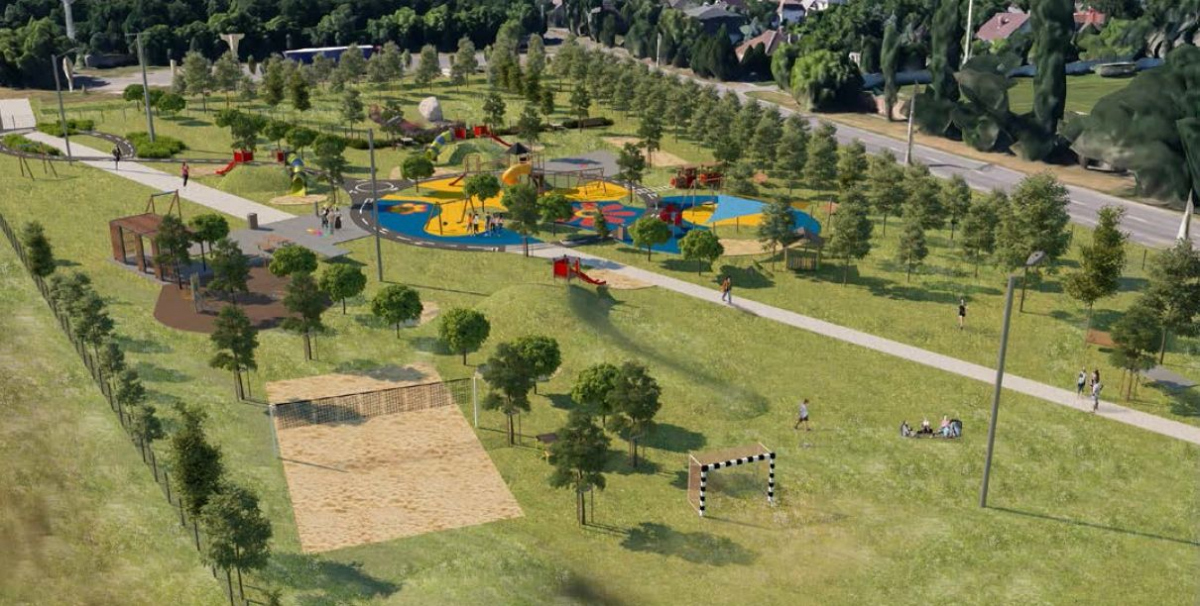 Plans for family park in Tétényi Meadows completed
Hungarian version of the article: Elkészültek a XXII. kerületi Tétény-rét családi park tervei
January 20, 2021 at 5:00 PM
The family park in Tétényi Meadows will be built around the Danube Swabian Memorial in Nagytétény in the 22nd District. Utilising the trees in the area, a thematic playground, slide park, outdoor gym, fenced dog park, ping pong tables and a small hill for tobogganing. Visual designs of the park have been completed.
The Tétény Meadow Family Park will be realised as the winning entry in the participatory budgeting initiative of the District around the Danube Swabian Memorial in Nagytétény (corner or Romhányi and Angeli Street in the 22nd District). The park will utilise the shade of the existing trees, adding a playground and dog park, ping pong tables and hill for tobogganing to the area – writes budafokteteny.hu.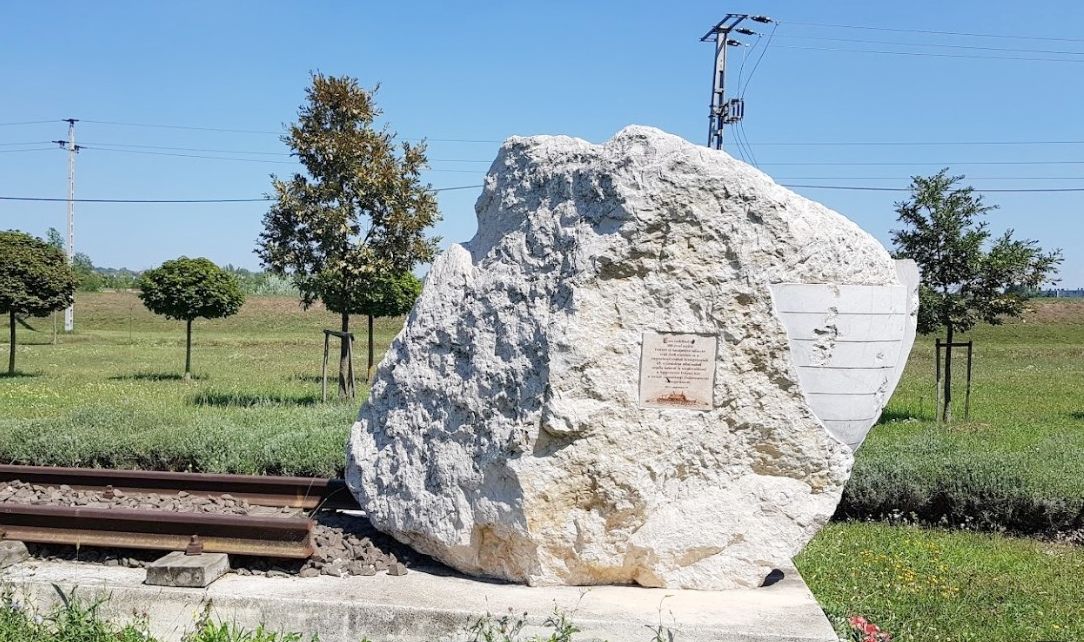 National memorial of Danube Swabians (Photo: Google maps)
According to the report in the local district newspaper, the local council worked with all entries that met the budget requirements of the tender to create the final plans. Based on these the fenced-off area will be accessible from two entrances, one on Romhányi József Street and another facing the nearby train station.
The plans include a meeting place, rain cover, ping pong tables, benches, and a drinking fountain. Children will be led to the playground through a traffic park. The playground will be lined with slides and a zipwire and divided into two sections for younger and older age groups.
The designs also showcase a central element for the thematic large playground, housing slides, a climbing wall and swings. A set of smaller swings, trampolines and other toys will be installed around it.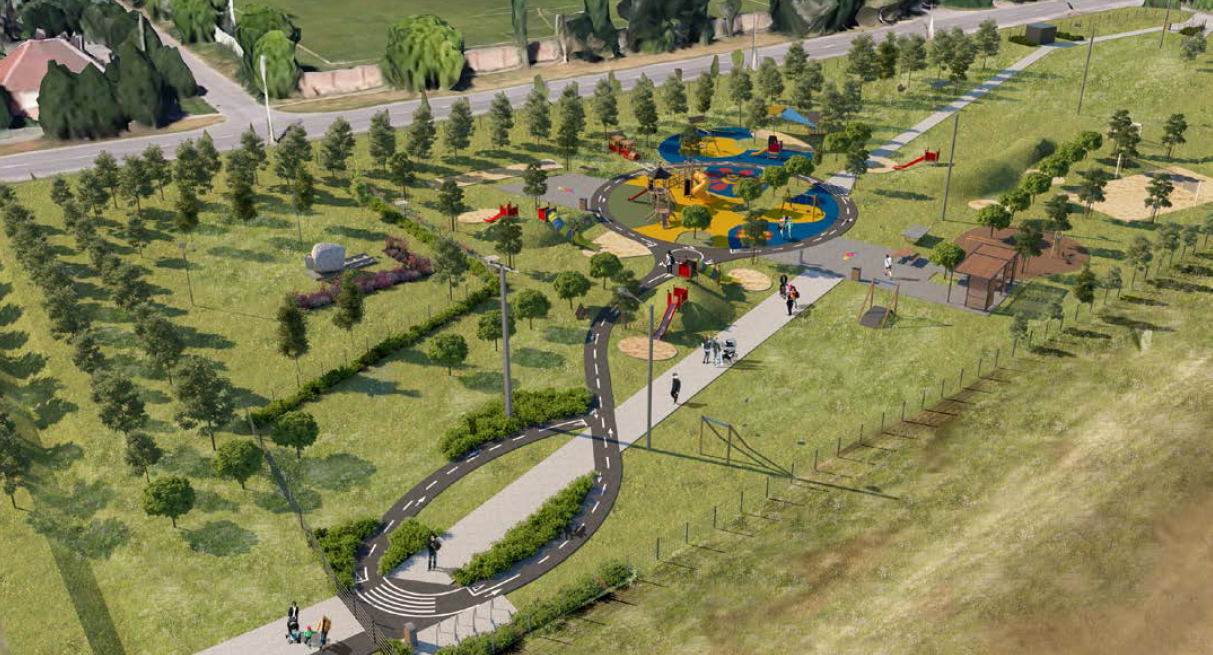 Visual of the Tétény Meadows Family Park (Source: budafokteteny.hu)
The small playground will be connected to the large one but has been designed as a separate unit. A small tower and slide will be built for children under six, with swings, a dolls house and a small toy train. The sandpit will be shaded by sail-like sunshades and sprawl near the large green meadow.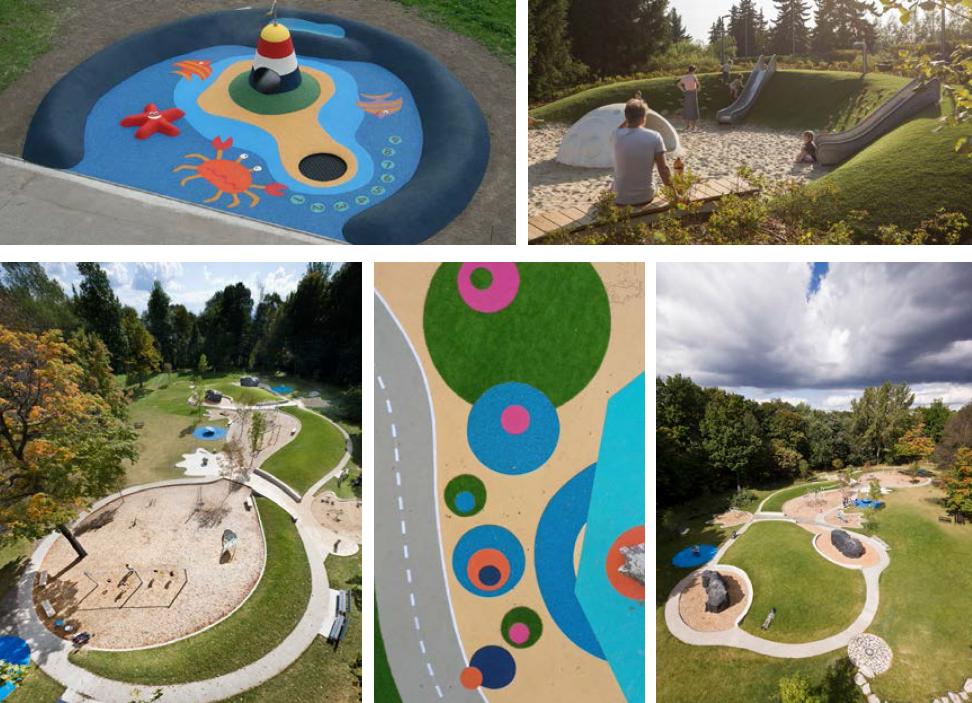 Visual of the playgorunds (Source: budafokteteny.hu)
A petanque court and two chess tables are planned for senior, while designers have included a ping pong and picnic tables further away from the rest of the park for teenagers. An outdoor gym and sandy beach volleyball court will be created for sports-lovers. Two smaller football goals will also be added at the bottom of the hill to facilitate ball games. The hill will serve as a grandstand in the summer and toboggan run in the winter.
A dog park will be built near the entrance facing the train station.
Ideas similar to the Tétény Meadow Family Park can be submitted by those wishing to apply for the second phase of participatory budgeting starting in January on kozossegreksedva22.hu.
Source: budafokteteny.hu | Abridged in translation
Cover photo: Plans of the Tétény Meadow Family Park (Source: budafokteteny.hu)