The statue of St. John of Nepomuk in Krisztinaváros is being restored, according to a statement published on the website of the 1st District local council. Although the statue opposite the Petőfi Sándor High School in the Croatian Garden is unfortunately not the original, but a copy made in 1999, it has been weathered since then and needs to be restored.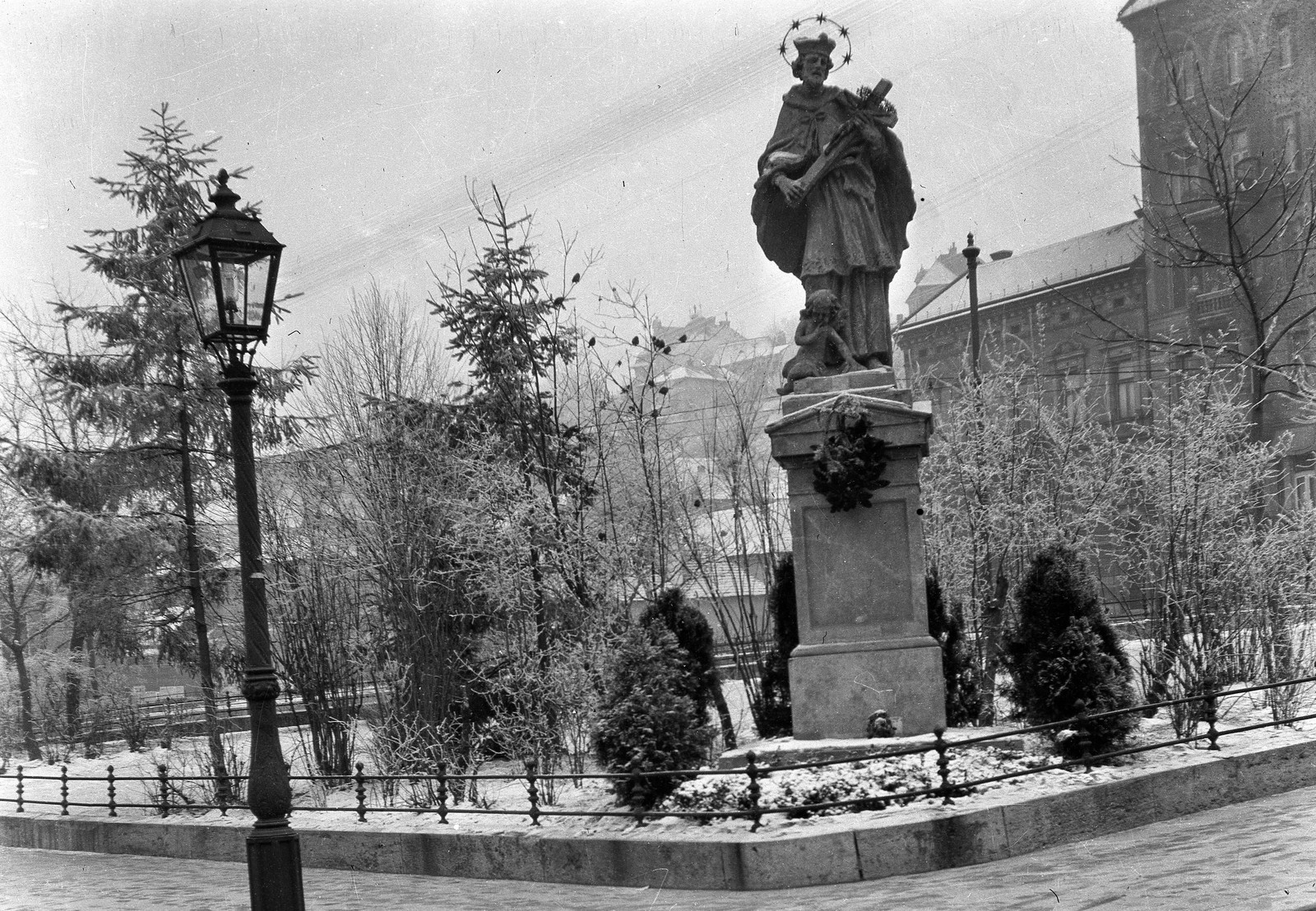 The original statue was removed from St. John's Square in 1927 (Photo: Fortepan / ID: 55667)
St. John of Nepomuk was a Czech priest living in Prague in the 16th century, who was also the confessor of the Czech queen. According to legend, King Vencel the 4th accused his wife of infidelity and expected a testimony from the queen's confessor, but John refused to violate confession secrecy. The pious priest was then first tortured and thrown from the Charles Bridge in Prague into the Vltava River, where he drowned.
After the great flood of 1837, the statue of St. John of Nepomuk was erected by the citizens of Buda (Photo: Róbert Juharos / pestbuda.hu)
The priest who died a martyr later became the patron saint of rivers, bridges, sailors, fishermen and water miners. That is why it is interesting why the statue stands in the Horváth Garden. In the first half of the 18th century, in 1837, there was a huge downpour, which flooded the Krisztinaváros. After the price subsided, a statue of St. John of Nepomuk was erected on the banks of the former Devil's Trench in gratitude. The statue depicts the saint in a baroque mass costume with a crucifix in his hand, an angel sitting at his feet, placing his finger on his mouth, alluding to the secrecy of confession.
The statue of St. John of Nepomuk, still visible today, was erected in 1999 (Photo: Róbert Juharos / pestbuda.hu)
The statue was severely damaged during the siege of Budapest due to the nearby fighting. Instead of restoration, it was demolished in 1960. After the change of regime, a faithful copy of the original statue was erected in 1999.
Source: budavar.hu
Cover photo: The statue of St. John of Nepomuk is being restored in the Horváth Garden (Photo: Róbert Juharos / pestbuda.hu)