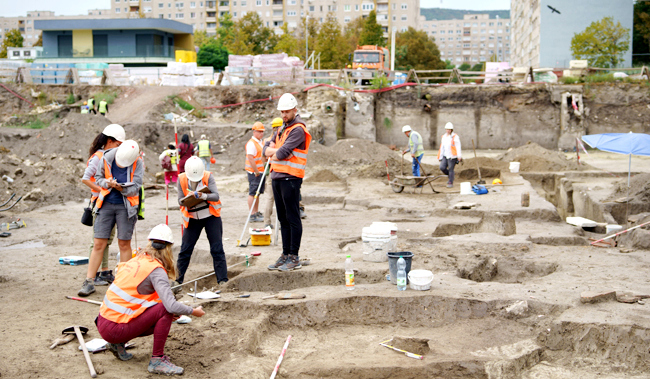 A drainage ditch system of Bronze Age origin was found in the area of Buszesz in Óbuda
Hungarian version of the article: Az óbudai Buszesz területén bronzkori eredetű vízelvezető árokrendszert találtak
October 3, 2022 at 6:30 PM
During the archaeological excavation in the area of the former distillery, Buszesz, a drainage protection structure of prehistoric origin was identified under the Roman layers in Óbuda. The ditch system ensured flood protection. Pile holes, storage and waste pits belonging to former buildings were also found.
Pestbuda already reported that the Budapest History Museum (BHM) is conducting an excavation in Óbuda, in the area of the former distillery, Buszesz (3rd District, 1 Sorompó Street).
BHM specialists also identified a previously unknown monument of Budapest's hydro-geographical history during the excavation in the Buszesz area - according to the report published on 1 October on the archaeology portal of BHM.
It can be learned from the article that in the new phase of the scientific work that has been going on for years, the excavation is still taking place within the borders of the former Roman military city. A few months ago, the remains of a Roman-era building and a built canal were identified in the area, which indicates that the area, i.e., the northern forecourt of the military town, was not only used for burials in that era.
In the skeleton graves of the 3rd-4th century cemetery, some of the dead were buried wrapped in sackcloth, but there are coffin burials, and some graves were made of tegulas, that is, broken roofing tiles. The found material is also suitable for this public cemetery, reports regeszet.aquincum.hu.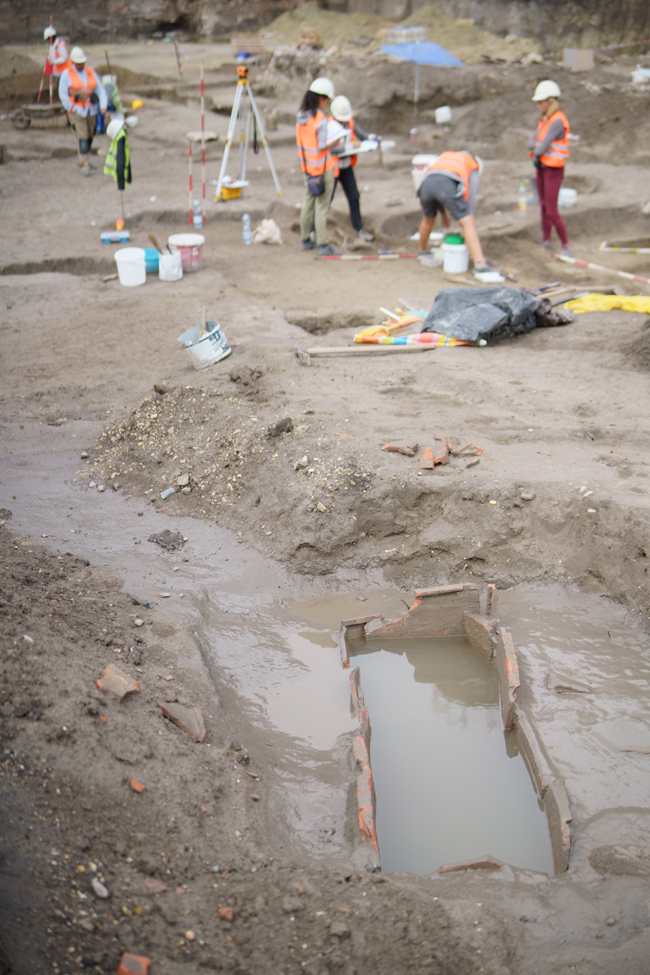 Storage and waste pits were also found during the excavation (Photo: regeszet.aquincum.hu)
The big surprise of the last few weeks was the appearance of a well-defined and contoured build-up beneath the Roman-era layers. The signs indicate that the eastern part of the excavation area was a protrusion in prehistoric times, which was also embraced from the west by a deeper terrain, which was turned into a ditch even in the earlier period of prehistoric times, thus ensuring the flood protection of the space it delimited.
Many signs of settlement, pile holes belonging to former buildings, storage and waste pits were identified on the protrusion. In the Bronze Age, numerous clay extraction pits were dug into the bed wall of the drainage protection structure, which also provided protection from the west, perhaps formed from the remnants of the former Danube river branch.
The full article can be read here (in Hungarian).
Source: regeszet.aquincum.hu
Cover photo: A drainage ditch system of Bronze Age origin was found in the area of Buszesz in Óbuda (Photo: regeszet.aquincum.hu)