On Wednesday, 9 November, the contractor's specialists completed the asphalting of the Chain Bridge. In just one day, the top layer of rolled asphalt, the so-called wear layer, was placed on the 2,400-square-metre road between the bridgeheads, the Budapest Transport Centre (BKK) announced.
The asphalt strips covering the edge of the road, as well as the coating system for the edges, will be created, as well as the road markings will be painted. Specialists will continue to work on the sidewalks and underpasses next year. In the upcoming weeks, work will continue on the connecting parts, for example, the restoration of Clark Ádám Square and the reconstruction of the original, large roundabout will begin - BKK reports on the details.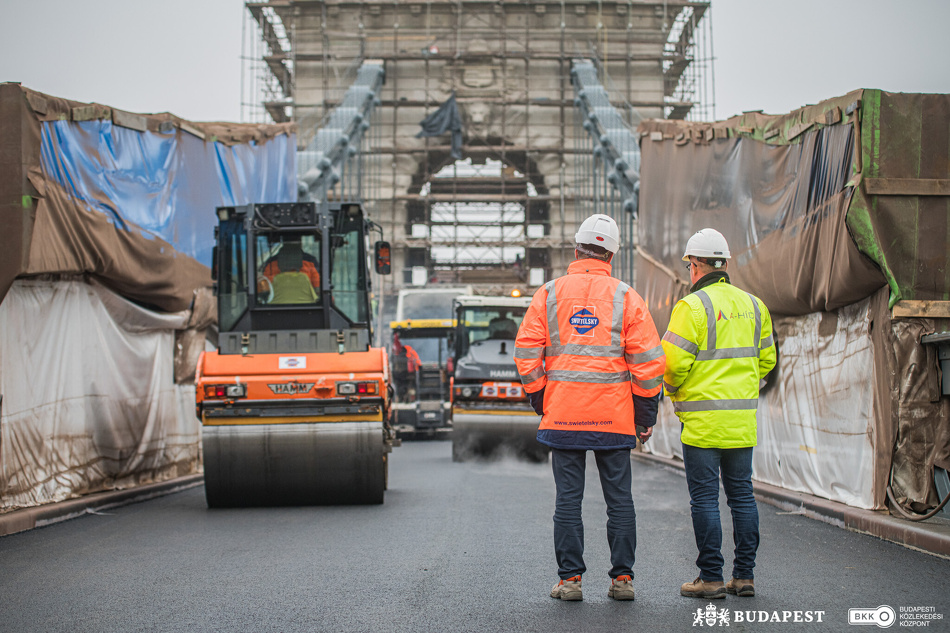 It was also announced that there will be a trial load testing of the crossing on Saturday, 12 November, involving 24 20-tonne trucks; for the duration of the load testing, the embankment section between Halász Street and Döbrentei Square will be temporarily closed to road traffic.
The report of the Budapest Transport Centre also reveals that in the weeks following the load testing, the temporary scaffolding of the pylons will be removed from the finished roadway, the construction of public lighting will continue, and the installation of the new candelabra will begin.
The construction will continue with, among other things, the renovation of the sidewalks and the reconstruction of the historical elements, so the affected areas will continue to be considered work areas and will be cordoned off.
According to BKK, the renovation work on the Chain Bridge will last until the fall of 2023.
Source: BKK
Cover photo: The asphalting of the Chain Bridge has been completed