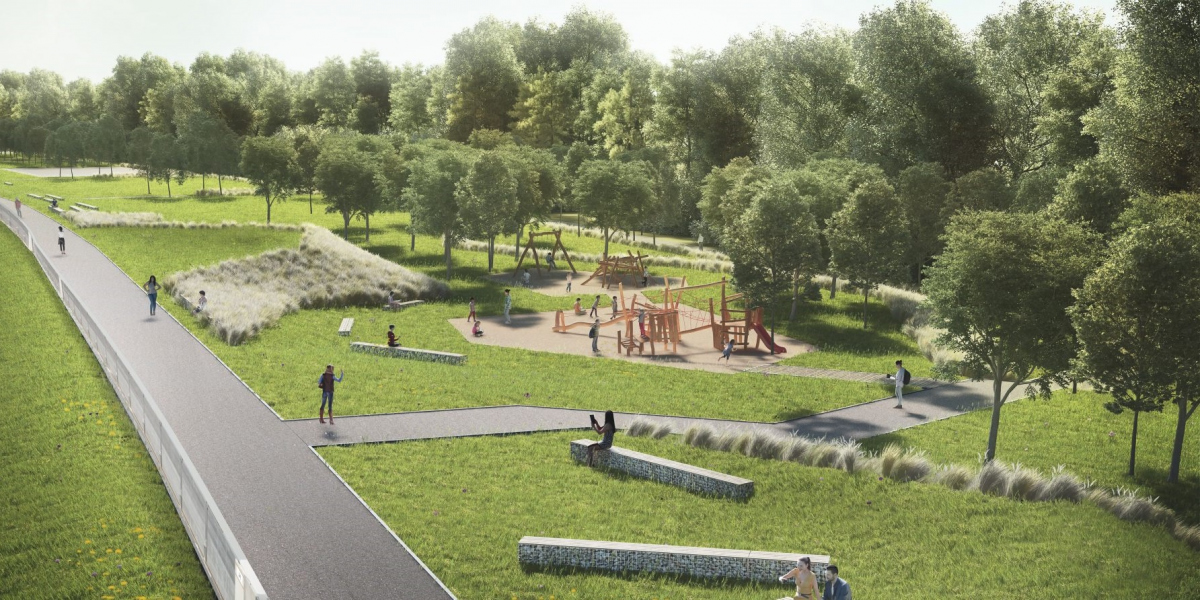 The Pünkösdfürdő Park on the Óbuda dam will be completed soon
Hungarian version of the article: Hamarosan elkészül a Pünkösdfürdő park az óbudai gáton
December 9, 2021 at 5:00 PM
Trees and shrubs are still being planted, but the playground, the campfire sites and the sports fields have already taken their final place in the Pünkösdfürdő park in Óbuda. The new park, now created on a previously grassy, barren dam site, has been divided into sections with different functions. When designing the area, the goal is to preserve the biodiversity of the place and maintain the ecological balance.
The construction of the Pünkösdfürdő Park in Óbuda started in January this year on the embankment between the Barát stream and Pünkösdfürdő. The dam is a regulated flood protection area, therefore, according to Főkert, their primary task is to maintain the ecological balance of the site, preserve biodiversity and emphasize green areas during the works.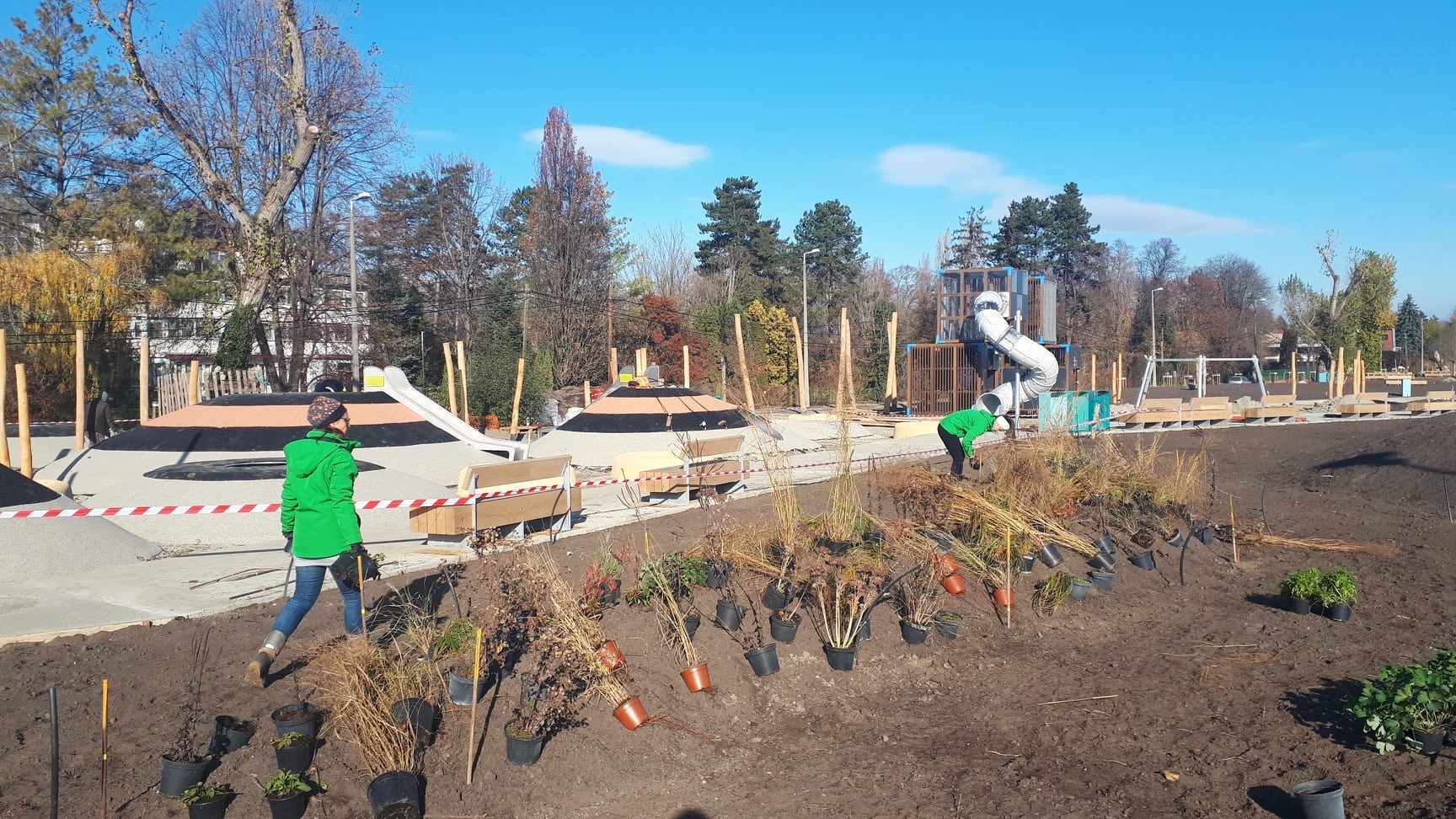 Some of the trees have already been planted in the new public park, and an orchard is being established (Photo: obuda.hu)
As we wrote earlier, the area is divided into parts with different characters, the zones with different functions are separated from each other. Between Street of the Kings 293-299. there will be a pebble promenade and a fitness center next to the trees and shrubs. In the northern part, an orchard with apple, pear, plum, sour cherry and almond trees will be established, but the experts will also plant woody, shrubby and grassy surfaces. The orchard has pétanque courts and a sandy beach volleyball court. The multifunctional sports field will be built further north, away from residential buildings.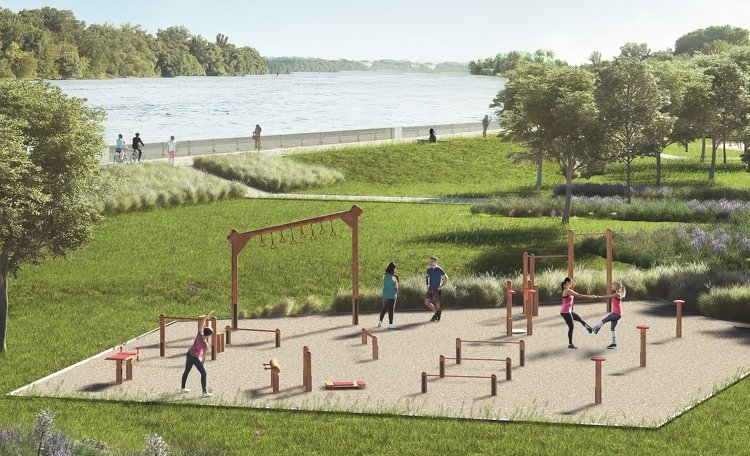 The park will be multifunctional, sports facilities, rest areas and green areas will all be located (Photo: obuda.hu)
A total of 685 trees will be planted on the 7-hectare Pünkösdfürdő Park, which is 1.5 kilometers long. The experts have already planted the perennials and started preparations for planting the trees and shrubs of the protected forest and the karst bush forest. There will be rainproof bike racks, toilets in the area, information boards describing the surrounding flora and water management of the place.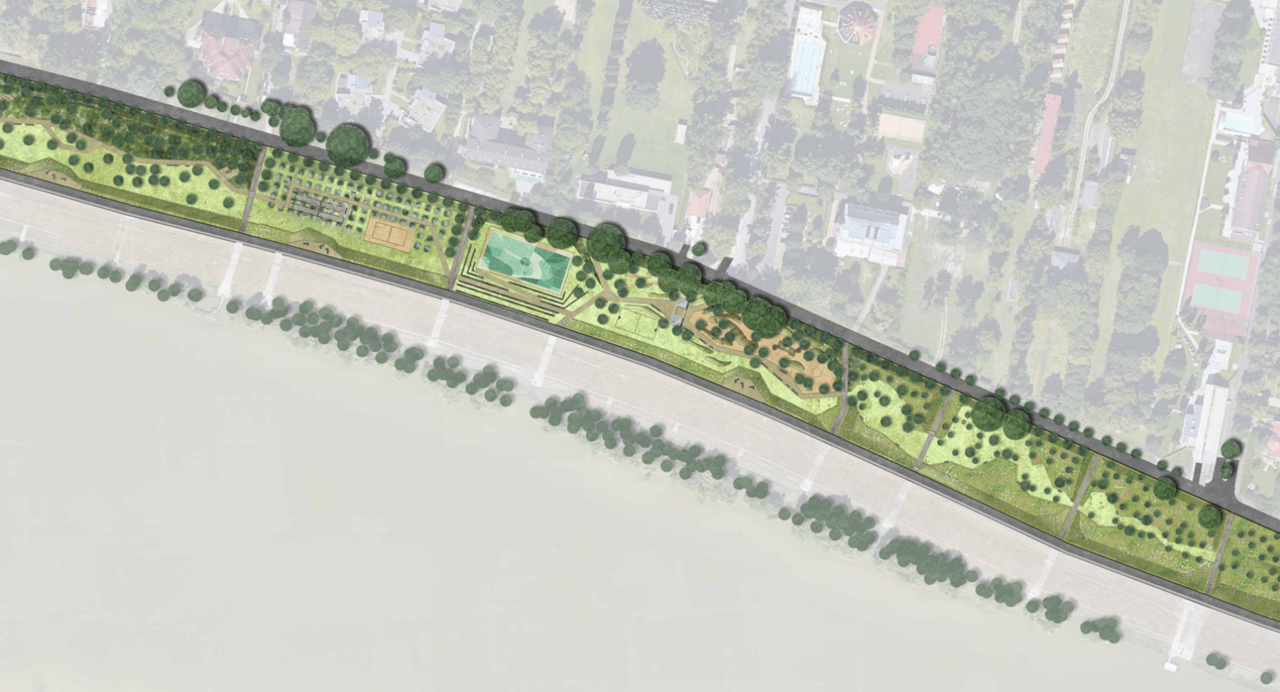 The new park will be 7 hectares in size and 1.5 kilometers long (Photo: obuda.hu)
The construction of the Pünkösdfürdő Park began in January 2021. The total cost of the green investment is HUF 1.1 billion. According to the information of the Óbuda local council, the park will be completed in December this year, but the beauty of the flora will only be visible in the spring, after the plants have turned green. Pünkösdfürdő Park is being implemented as part of the Radó Dezső Plan.
Source: obuda.hu
Cover photo: wooded and shrubby park, sports field, beach volleyball court, barbecue places will be created in the park (Photo: obuda.hu)